Luc Robitaille: Sticking to It
Former hockey star now heats up things for the L.A. Kings off the ice as president of the NHL franchise's business operations.
Monday, October 31, 2011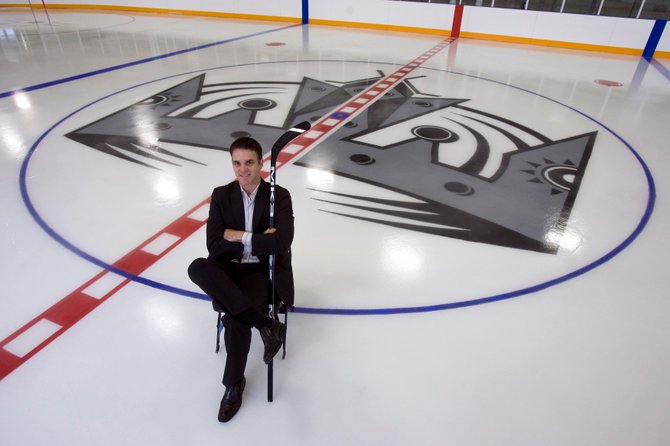 Luc Robitaille spent 19 years playing professional hockey, 14 of those as a member of the L.A. Kings. The French Canadian, better known as Lucky Luc, was drafted as a lowly ninth-round prospect in 1986, but he became such a star that his No. 20 jersey is retired in the rafters at Staples Center. He is the most prolific scoring left winger in National Hockey League history with 668 goals, his name is etched on the Stanley Cup and he was inducted into the hockey Hall of Fame in 2009. While many star athletes struggle after retirement, Robitaille has had success off the ice. Tim Leiweke, the chief executive of AEG, the majority owner of the Kings, offered him the chance to become an executive. Robitaille took his first-ever office job in 2007 as the team's president of operations, a post that involves every aspect of the hockey business, from recruiting corporate sponsors to selling tickets. Things seem to be working out. He's raised the team's sponsors from 36 to 90 and attendance has risen every year since joining the front office. Robitaille sat down with the Business Journal in his office at the Toyota Sports Center in El Segundo, where the Kings train, to talk about growing up in Montreal, making the transition to the executive suite and how he and his wife's Echoes of Hope charity got started after Hurricane Katrina.
Question: So is this your first office job?
Answer: This is the first. It wasn't a tough transition. It was easy for me. I'm overseeing everything that is revenue generating. I don't sit in on meetings, I run them.
Can you compare what it's like to being an athlete?
There are a lot of similarities. I take the philosophy that I learned as a player to the business side. Everybody on the team has a role. You have a good team as long as everybody's job is clear. Some guys play more minutes and they become leaders, but everybody has a role.
Tell us how you got the Kings job.
I have a lot of passion for the L.A. Kings as an organization. This is the franchise where I started. Wherever you start as a player, you feel like it's your team. When I retired, Tim Leiweke was really good to me. He gave me an opportunity to get involved right away.
He approached you?
He saw that I could bring passion to the business side of our company, and at the same time I would relate to our fans. Obviously, I wanted to stay in the game and be involved.
What's it like to work for Leiweke?
The biggest thing people don't know is how passionate he is towards the Kings. He sits down below right by the glass. When we lost a preseason game, you could tell that it was bothering him.
What's your day like as an executive?
I like to wake up at 6:30. I always say I'm going to work out in the morning and never do. I try to wake up a little early and do something but I don't do it as much as I want. There are so many meetings all day. We're constantly trying to meet together and make sure that we're ready. At the same time, there's one sales pitch after another.
Wait, let me get this, you, a former superstar, don't get that much exercise?
I don't exercise as much as I want to, but that being said, the exercise I like to do is hiking. I don't do it on a daily basis. I have a road bike, and I'm planning to ride the bike to work. I don't go to the gym much anymore.
So how is the team coming?
We've started to see some improvements. We've made the playoffs the last two years. Now that's not good enough. We need to take the next step.
The King's attendance has been rising, but you still don't sell out every game. Does that bother you?
As a player, you definitely don't realize how many people work behind the scenes. None of the players know. You really believe as a player that if you win more games, the building will be packed. To a certain degree that's true, if you keep winning. But you never realize how much work is put in behind the scenes because nobody explains it to you.
What about a Stanley Cup?
Our organization is geared towards winning the Stanley Cup. But when you do the business, it's about trying to be a premier sports organization. We want to be one of those franchises that people look at and talk about as a premier team. You look at the Yankees, and go, "Yeah, that's first class."
Didn't the Kings have that once?
There was a time in L.A. when we were the talk of the town when Wayne Gretzky was here. I saw that side. This city loves a winner. This city loves when you perform. I've seen where hockey can really be on the map in this city, and I'm a firm believer that we have the players now that can bring that for the city of Los Angeles.
Do you remember that time well?
I remember coming into town and the buzz around town was absolutely incredible from the preseason on, everywhere we went. Talk about one gentleman changing sports in the city.
Do you still see Gretzky?
He comes to four or five of our games a year and brings his boys.
Where did you grow up?
I grew up in Montreal. I remember when I got drafted by Los Angeles (in 1984) and I looked on a map at how far away Los Angeles was. During my first two years with the Kings, I only went to training camp for the first four or five days. The camp was in Victoria, British Columbia and I never got to come to Los Angeles.
So when did you first come?
Really, the first time was actually right before I made the team. My junior team had the big Canadian championship and the championship game was in Portland, Ore. Our flight got delayed and changed and we had a connecting flight in Los Angeles. That doesn't even make sense looking at a map today. I remember being at the airport for two hours.
That's funny. You spent the first trip at LAX. So when did you really see the city?
My real first time going through the streets of Los Angeles was when I made the team in 1986. I remember flying into the airport at about 2 in the morning from Vancouver and looking down at all the buildings and lights. I was trying to look for downtown because growing up in Montreal and seeing New York, you kind of look for the buildings. It was weird.
Did you have a support system?
I didn't have anyone and barely spoke English at the time. That's when Marcel Dionne, one of the legends for the Kings, helped. We were here about a week. I stayed at the Airport Park Hotel right next to the Forum and Marcel came after five or six days and took me to his house. I stayed with him and his family for my first season with the Kings. He took me under his wing.
You didn't want your own place?
He had asked me what I wanted to do if I made the team, and I told him that I wanted to live in a boarding house because I didn't want to have to focus on anything but hockey. He said that I was the first kid who told him that. Most kids said that they would get an apartment and have some fun and enjoy Los Angeles. It wasn't about that for me. That's why he took care of me.
What was it like to live with his family?
It was great. Marcel is like any hockey player. He was passionate. His kids were young. The idea was that I would teach his kids to speak French and the kids would help me speak English. As it turned out, none of them spoke French and they helped me to speak English. (laughs) It worked out OK for me.
Do you still see him?
I keep in touch with Marcel, but I haven't seen the kids in a few years. They are all adults now.
Do you ever go back to Montreal to visit?
I go back and visit Montreal all the time. I have a brother and a sister. My brother lives in Montreal. He works in the same scrap yard business that my dad worked for. He's got three kids. My sister lives in Ontario and has three kids.
So you had a blue collar upbringing?
Looking back at it, we didn't have a lot of money, but my parents never said no to pursuing our dreams. My dad's first office was a Volkswagen with a phone book. Then he hitched a trailer and then had a full garage. He built his business from the ground up through hard work. Now I realize how hard it was for my dad when I wanted to go to hockey school and it cost $200 to $300. But they were always there at every practice and every game.
Did you work at the scrap yard?
When I was 13 to 16, I worked in the yard every summer. I got to dismantle cars. They would give me a car and list of which parts needed to be saved. It was great. I could leave to go play if I wanted to. I worked and made a couple hundred bucks a week.
What would you have been if you weren't a hockey player?
In Montreal, I had applied to be a policeman. I took the entrance exam and qualified, but then I was drafted into the NHL.
How did you meet your wife?
I met my wife here in Los Angeles in 1990. We dated for about a year and a half and got married in 1992. It's going to be our 20th anniversary next year. We have two boys. They are both growing up real fast. She keeps me very grounded. We talk about what's important in life.
I understand that you and your wife started a charity after Hurricane Katrina.
When Katrina happened, my wife and I gave a chance to families to restart their lives. I remember the hurricane on CNN, and my wife said to me that we should finally start our own foundation. When we started, I told her it was a good idea, but I didn't think she would just turn around and do it.
What did she do?
It was the beginning of September, right before camp. She flew there. She had a cousin there who was working for a church and she flew outside; you couldn't land there. A friend of mine went with her. They went to the Red Cross shelters. At the time, the goal was to pick three or four families. She ended up picking five and we flew them to our house in Utah. The goal was to give them a year to restart their lives. By the time we were done, we helped 20 families at different levels.
What does the charity do now?
Along the way, we saw that kids and youth-at-risk need a little push. We started working with emancipated foster youth here in Los Angeles. We found out that 60 percent of emancipated foster youth become homeless.
How do you help them?
We work with kids who all have a plan to go to college. A lot of times, the success rate for those kids is like 3 percent. It's too hard, money wise. They have two or three jobs and can't keep up. We help them. Some need help with everything like a car and apartment. Some just need a cell phone or books.
Between your job and the charity, how do you find time to spend at home?
My favorite thing now is to spend time with family. I don't remember who it was, but he said to remember one thing – 'cause I'm very passionate when I get involved in something: "There's not one man today on his death bed that said 'I wish I would have worked harder.'" It's true. You have to have the right mixture of work, family and friends. Sometimes I get very involved, but you have to make sure that the important people are the ones that you take care of.
What are some of the family things you do?
My wife and I like hiking now. I try to spend as much time as I can with my youngest son. He's 16 – at that age where you can do a lot of things together. We'll go ride our bikes on the beach, we've been golfing a few times. We catch movies, go to a barbecue and do things with our dogs. It's been a lot of fun.
What's your favorite?
If I were to pick one thing right now, hiking in the Santa Monica Mountains has been a blast. I just found out about it after living here for 20 years. I love that when you get to the peak somewhere you always see the ocean. I'm a big fan of that.
Do your kids play hockey?
No, my oldest is my stepson and I've raised him since he was a year old. He's on a television show called "Vampire Diaries." He's doing well and lives in Atlanta. He played a little bit. He liked it but wasn't passionate about it.
And your younger son?
Hockey's not in him either. He loves music. He's playing and writing as a singer-songwriter. He's going in that direction. We're fortunate enough that my wife and I can help them and guide them. But at the same time it has to be their choice. If you can do that, you will have a pretty good life.
Do your kids realize how big a star you were?
To them, I was just dad, a goofy guy. The greatest thing now is Youtube because they can go and watch. My 16-year-old was watching and said, 'Dad you were pretty good.' That's when I fell in love with Youtube. They never show mistakes, only the goals. They don't show the times when the coach was mad at you.
Luc Robitaille
TITLE: President, business operations
ORGANIZATION: Los Angeles Kings
BORN: Montreal, 1966
EDUCATION: Graduated high school in Montreal; two-year general and vocational college studies.
CAREER TURNING POINT: Being drafted by the National Hockey League.
MOST INFLUENTIAL PEOPLE: Tim Leiweke; all his coaches
PERSONAL: Lives in Santa Monica with wife Stacia, son Jesse, and four dogs; adult son Steven lives in Atlanta.
ACTIVITIES: Hiking, skating, golfing, biking.
For reprint and licensing requests for this article, CLICK HERE.