Luc Robitaille: Sticking to It
Former hockey star now heats up things for the L.A. Kings off the ice as president of the NHL franchise's business operations.
Monday, October 31, 2011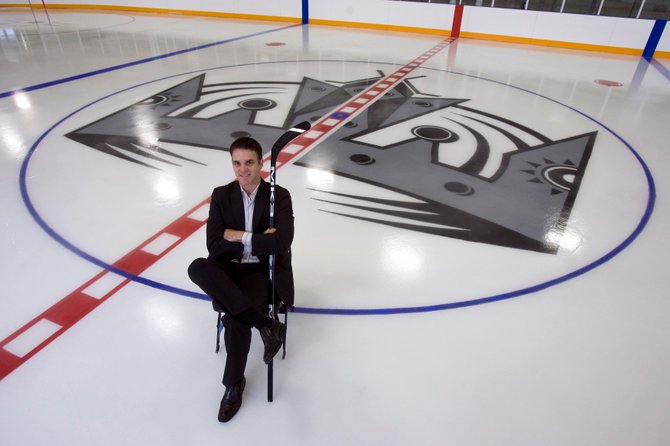 Luc Robitaille spent 19 years playing professional hockey, 14 of those as a member of the L.A. Kings. The French Canadian, better known as Lucky Luc, was drafted as a lowly ninth-round prospect in 1986, but he became such a star that his No. 20 jersey is retired in the rafters at Staples Center. He is the most prolific scoring left winger in National Hockey League history with 668 goals, his name is etched on the Stanley Cup and he was inducted into the hockey Hall of Fame in 2009. While many star athletes struggle after retirement, Robitaille has had success off the ice. Tim Leiweke, the chief executive of AEG, the majority owner of the Kings, offered him the chance to become an executive. Robitaille took his first-ever office job in 2007 as the team's president of operations, a post that involves every aspect of the hockey business, from recruiting corporate sponsors to selling tickets. Things seem to be working out. He's raised the team's sponsors from 36 to 90 and attendance has risen every year since joining the front office. Robitaille sat down with the Business Journal in his office at the Toyota Sports Center in El Segundo, where the Kings train, to talk about growing up in Montreal, making the transition to the executive suite and how he and his wife's Echoes of Hope charity got started after Hurricane Katrina.
Question: So is this your first office job?
Answer: This is the first. It wasn't a tough transition. It was easy for me. I'm overseeing everything that is revenue generating. I don't sit in on meetings, I run them.
Can you compare what it's like to being an athlete?
There are a lot of similarities. I take the philosophy that I learned as a player to the business side. Everybody on the team has a role. You have a good team as long as everybody's job is clear. Some guys play more minutes and they become leaders, but everybody has a role.
Tell us how you got the Kings job.
I have a lot of passion for the L.A. Kings as an organization. This is the franchise where I started. Wherever you start as a player, you feel like it's your team. When I retired, Tim Leiweke was really good to me. He gave me an opportunity to get involved right away.
He approached you?
He saw that I could bring passion to the business side of our company, and at the same time I would relate to our fans. Obviously, I wanted to stay in the game and be involved.
Prev Next
For reprint and licensing requests for this article, CLICK HERE.