Entertainment Site Doesn't Hesitate in Taking Credits
Database of film, TV listings reacquired by Hollywood.com owners.
Monday, October 31, 2011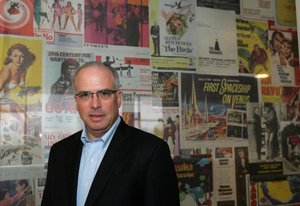 Those dimly lit film credits that scroll rapidly at the end of each movie have become the backbone of many consumer-oriented entertainment sites. And they, in turn, have become hot properties.
That's why husband-and-wife Internet entrepreneurs Mitch Rubenstein and Laurie Silvers earlier this month bought back West L.A.'s Baseline StudioSystems, a database of film and TV credits as well as other production information.
They want Baseline's data to fill out their consumer website, Hollywood.com, turning it into a more prominent movie information destination. The site gets revenue from ad sales and licensing of box office information.
Baseline's core business is selling its information to studios and production companies, which may use the credits and contact information to staff their cast and crews while they're developing entertainment projects.
But on the other side of Baseline's business, the company licenses credit information to news sites, which republish the information.
Hollywood.com currently gets its credit data through licensing with Baseline competitor Rovi in Santa Clara. Rubenstein declined to discuss that contract or whether it may be terminated.
"Sharing data and content will enhance the offerings," he said. "Some of the data that Baseline has is great for Hollywood.com."
Growing appetite
Hollywood.com's big competitor is Internet Movie Database, better known as IMDB, owned by Amazon.com Inc.
IMDB is the 27th most visited site in the United States, according to online ranking site Alexa.com. Hollywood.com comes in at No. 5,670.
Rubenstein said he plans to grow the consumer site, which has staff in Santa Monica; Boca Raton, Fla.; New York; and Paris by adding production updates from on-location filming in New York and Los Angeles, noting that movie audiences have a growing appetite for behind-the-scenes information.
"They want more info, further in advance," he said.
Rubenstein said Baseline's 35 employees get information and updates for major film and TV projects through phone calls or e-mails from studios and producers. Since the studios weren't able to collaborate on and put together a central resource for credit information, they now contribute to the various credit sites out of enlightened self-interest.
IMDB, which did not respond for comment, also largely relies on user-submitted information, but is considered less of a film industry tool and more of a consumer information site. IMDB does have a professional site, but it isn't considered competitive with the higher-level and higher-cost subscription services.
IMDB Pro charges $125 a year while Baseline's premium Studio System subscriptions can run into the six figures. Baseline subscribers include all the major studios.
Another of Baseline's competitors in entertainment data, Tribune Media Services in Chicago, owns consumer entertainment site Zap2it, which is the ranked 334th by Alexa.com.
Nick DeMartino, a media consultant and former vice president of the American Film Institute, said the credit sites are well-positioned as takeover targets for studios that want to study page views and consumers' social media sharing habits.
"The film industry needs a place where the consumer encounters information about a movie or movie star," DeMartino said. "There's no consistent, organized, scaled solution yet."
Earlier this year, Warner Bros. purchased Flixster and sister site RottenTomatoes.com. DeMartino said that deal, widely believed to be between $60 million and $90 million, provided a look at the increasing value of consumer sites and their underlying databases of entertainment information.
"The data that underlies everything is incredibly valuable," he said.
Recast
Rubenstein owned Baseline from the 1999 until 2006, under the umbrella of his publicly traded company, Hollywood Media Corp., based in Boca Raton.
He sold Baseline to the New York Times Co. for $35 million that year, but later regretted the sale.
When it was put back on the auction block this year, he came up with the highest bid, which he declined to disclose.
Since taking over at Baseline, Rubenstein has unseated the president appointed by New York Times and promoted two protégés from his prior ownership, Salvatore Capone and Amer Saleem.
Baseline is planning a redesign of its site for early next year and is also developing a mobile app.
DeMartino said a burgeoning opportunity to license Baseline's entertainment data will come as tablets become more commonplace as remote controls.
He said content providers will likely choose to give consumers more information about what they're watching – above and beyond what is currently available on cable or satellite dish channel guides.
"There are people who really care about understanding the movies they're watching," he said. "People are beginning to use these second screen devices constantly."
For reprint and licensing requests for this article, CLICK HERE.