Pain at the Pumps
L.A. Arco owners say BP driving up business costs
Monday, October 17, 2011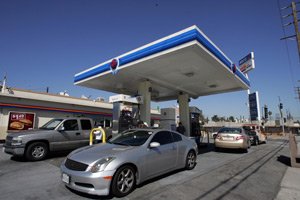 Los Angeles has become ground zero in a fight between BP PLC and a growing number of disgruntled gas station owners – a conflict that could complicate the oil giant's plans to sell off its stations in the region.
More and more franchisees of BP's Arco stations are complaining that the London company's practices are making it nearly impossible to run a profitable business. The owners have two main gripes: an expensive new software system that allegedly crashes and sometimes miscalculates purchases at the pump, and hikes in the price of wholesale gas BP sells to the stations.
Frustrations have caused 150 station owners across the western United States to start a legal battle here in Los Angeles, filing two multiplaintiff lawsuits in Los Angeles Superior Court in May and September seeking hundreds of millions in damages.
The majority of stations involved are in California, and about 10 percent are in Los Angeles County. A third lawsuit with 18 plaintiffs has been filed in federal court in Northern California.
The fight threatens to complicate BP's plans, announced earlier this year, to sell its Carson refinery and Arco gas stations in Southern California, Arizona and Nevada to help pay for cleanup of and compensation claims from the April 2010 oil spill in the Gulf of Mexico. The company, which has set aside $32 billion to cover the disaster's costs, wants to sell its Southwest operations for $4.4 billion and hopes to cut a deal by the end of next year.
Tim Hamilton, a petroleum industry consultant in Olympia, Wash., said that whatever the underlying merit of the legal action, BP may want to resolve it quickly given the company's desire to raise money and get out of the retail gasoline business in the Southwest.
"If you're buying an apartment complex and at the last minute you find out the renters association is about to hang you, or that half these people might move out, it might make you rethink the investment," Hamilton said. "It's the primary leverage that I see to motivate BP to resolve this."
A BP spokesman declined to comment, citing the ongoing litigation. But in court filings, the company has stated it has not violated any contracts or acted fraudulently.
However, Hamilton said he expects BP's impending sale of the properties could embolden station owners who otherwise might not participate in the legal action to add their names as plaintiffs.
Richard Kellner, the lead attorney at downtown L.A. firm Kabateck Brown Kellner LLP who is representing the plaintiffs in Los Angeles, claimed the problems are so severe that some station owners are borrowing money to stay afloat.
"Each one of these policies affects their ability to survive. A number of them are concerned about going under," Kellner said, adding he continues to receive calls from more station owners.
Strained relationship
BP, which bought Arco and the associated ampm brand in 2000, has hundreds of stations in California and supplies about 25 percent of the gas purchased in Los Angeles. About half of its stations are company-owned stores under corporate management.
The other half are independently owned franchises, which rely on BP for their supply of fuel. Many predate BP's takeover, and some owners bought their franchises for more than $1 million, according to Kellner.
Relations between franchiser and franchisee can often be uneasy, but problems particularly flared up in 2009, when the franchise owners said BP began forcing them to buy a software system that was supposed to better process and track gasoline and convenience store sales.
Station owners bought the software, made by Israeli company Retalix Ltd., at a cost of $30,000 to $35,000 a station. But station owners say the software charges customers as much as $1,000 for a tank of gas, or not at all, and sometimes crashes, forcing stations to shut down temporarily.
"It's been an unmitigated disaster from day one," Kellner said.
Retalix is based in a suburb of Tel Aviv with its North American headquarters in Plano, Texas.
A company spokesman said that the lawsuits were without merit, and that Retalix "has numerous ongoing successful implementations with BP across the globe."
In court filings, Retalix has argued that a California court has no jurisdiction over it as an Israeli company, and that it never signed a contract with the franchisees.
Low-cost model
In addition to complaints about the software system, owners allege that BP has moved away from the low-price model that the stations built their business on when owned by L.A. oil company Atlantic Richfield Co.
Arco stations were known for selling gas as much as 10 cents less per gallon than nearby competitors. BP continued the Arco model after purchasing Atlantic Richfield, but station owners allege that over the last three years BP has begun selling gas to its stations at higher prices relative to the market, squeezing out profits. What's more, Arco charges motorists a swipe fee to use debit cards, which other major gas retailers do not, though Arco recently lowered the fee by a dime to 35 cents.
Hamilton said a transition to higher prices would make sense for BP. Arco's lower-price model relied on cheap crude oil reserves in Alaska. However, supplies from Alaska have dwindled, and newer players such as Costco have increased competition in the low-price niche.
Nonetheless, the higher wholesale prices and other issues led to a public dispute earlier this year with a Washington state gas station owner who said he could no longer afford to buy gas from BP. The station owner put duct tape and black plastic sheets over his Arco signs and began buying gas from other sources for his 15 stations.
"Right now, you'd be hard-pressed to give me an Arco station," consultant Hamilton said. "BP's defense would be that they have a right to change their business model and do what's right for them, and that it's still possible for station owners to charge the lowest price around town and make a profit – but there's a lack of sensitivity to the small-business partners."
Discontent reached a tipping point this year, and station owners began organizing. Dozens of plaintiffs contacted Kellner's law firm as a group, the attorney said.
Meanwhile, the fight barely rates a blip on Wall Street, where BP's share price is largely driven by geopolitics and worldwide demand for crude oil. Several analysts called by the Business Journal were unfamiliar with the dispute.
Brian Youngberg, an analyst at Edward Jones & Co. in St. Louis, said that even one-time losses in court of hundreds of millions of dollars wouldn't have much impact on a company as large as BP, which operates in 80 countries and raked in $297 billion in revenue last year.
"A lot of times these things are so small in the scheme of how big these companies are," he said. "BP's share prices are up 1 percent today. That's the equivalent of a couple billion dollars."
For reprint and licensing requests for this article, CLICK HERE.
Stories You May Also Be Interested In