Investors Take Shine to Bank's Effort to Clean Up
A target for takeover last year, more steady Hanmi adds staff.
Monday, October 17, 2011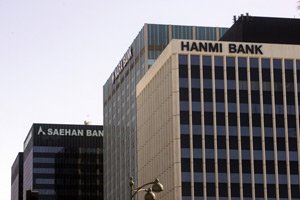 Hanmi Bank's slogan is "Life gets better." That has certainly proved true for the Korean-American lender lately.
One of the most troubled local banks during the recession, Hanmi is working its way back to respectability amid efforts to clean up bad assets, raise once-depressed capital levels and regain its stature as one of Koreatown's leading financial institutions.
The bank, a subsidiary of Hanmi Financial Corp., is also bolstering its personnel, including last week's chief financial officer hire of Lonny Robinson, a veteran of the Korean-American banking scene who recently worked at rival Center Bank.
The bank's stock, still way down from prerecession highs, was one of last week's biggest gainers on the LABJ Index, rising nearly 19 percent to close at $1.03 on Oct. 12. (See page 26.)
As recently as last year, competitors were openly speculating on the likelihood of Hanmi's failure. Analysts now believe the bank's deepest troubles are behind it.
"It looks like they're going to be a survivor," said Joseph Gladue, an analyst with West. L.A.'s B. Riley & Co., who initiated coverage on Hanmi last week. "They have made strides. They've shrunk the balance sheet and it looks like they do have the capital to make it through the remaining difficulties. They still do have a significant market share in that market."
Hanmi has not necessarily overcome all its challenges, however. Share value remains at a fraction of prerecession highs, the bank still has bad assets to work through and Hanmi may have to raise capital again in the near future, analysts said.
But the institution is expected to report a modest profit when it announces earnings this week, which would mark the fourth consecutive quarter in the black after losing more than $400 million between 2007 and 2010.
Gladue said he expects the bank to remain profitable for the foreseeable future.
Once the largest Korean-American bank, Hanmi had fallen to the No. 3 spot, but this year climbed back to No. 2 as rival Wilshire State Bank stumbled. Hanmi executives said size does matter and the bank is looking to grow.
David Yang, investor relations manager for Hanmi, said the bank has hired additional loan officers and is engaged in a multifaceted marketing campaign to bring in both new customers and ones that left the bank over the past few years.
"We're campaigning to bring back our customer base," Yang said. "We would like to stay competitive. We're in much better shape than a year and a half ago."
Large losses
Hanmi's problems first surfaced in 2007.
As the economy tailed off, the bank's stock price fell by roughly two-thirds to less than $7 a share, leading to a massive write-down and a $100 million fourth quarter loss. Hanmi followed that up with losses in nine of the next 11 quarters as defaults rose on business and commercial real estate loans, forcing the bank to pad loss reserves.
Yang acknowledged that the bank, like many of its peers prior to the financial crisis, did not pay enough attention to underwriting when competing for the limited amount of business in the local Korean-American community.
"The Korean-American banking community at the time was more about quantity than about quality," he said. "People were pressured at the time to just get the loans on the books."
Hanmi was hit with a regulatory enforcement order in late 2009, and many bankers and analysts believed it was on the verge of collapse. In a Business Journal article last year, Min Kim, then chief executive of Nara Bank, said that the institution was looking to acquire a failed bank and had looked at Hanmi.
But Hanmi got a lifeline last year when Seoul, South Korea, financial conglomerate Woori Finance Holdings Co. agreed to invest up to $240 million. Though the deal failed to receive regulatory approval and was called off this year, the prospect alone allowed Hanmi to raise $120 million through a stock and rights offering from existing shareholders.
With its capital back in compliance with regulatory standards, the bank has since been focused on cleaning up its loan portfolio, Yang said.
"One of our main focuses in this current environment is our asset quality," he said. "We've been very aggressive in terms of our loans sales."
B. Riley's Gladue noted that there are still a number of bad loans on Hanmi's books, but that the bank "has made considerable progress" in disposing of them.
The difficulty for now, Gladue said, is returning to its primary business.
"The (challenge) is sort of regrouping and getting back on track in terms of lending," he said. "Attention has been diverted from making loans, but they are starting to look at growing their loan portfolio."
For reprint and licensing requests for this article, CLICK HERE.