Who's Who in L.A. Law
SPECIAL SECTION: This year, the Business Journal shines its spotlight on the dealmakers: the L.A. lawyers who pull off the biggest mergers and acquisitions.
Monday, October 10, 2011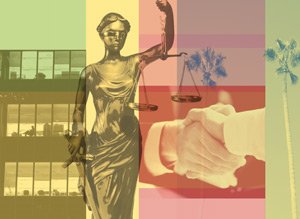 Prominent attorneys in Los Angeles handle deals with a lot of zeros.
Consider Mark H. Kim, who helped arrange the $50 billion merger of Monsanto with Pharmacia & Upjohn. Or Linda L. Curtis, who was involved in Del Monte's $5.3 billion leveraged buyout.
They're among the top 40 dealmakers selected by the Business Journal featured in this year's Who's Who in L.A. Law. To pick the lawyers who made the list, legal reporter Alfred Lee surveyed local experts and attorneys to zero in on those best known for closing the biggest deals. The skill set requires understanding the thinking of your client and opposing counsel, as well as the stamina for the all-nighters needed to beat deadlines.
Sometimes they even get to play a role in history – for better or worse. Brian J. McCarthy advised the Chandler family in the sale of the Los Angeles Times to Tribune. "A little piece of historic Los Angeles was going to be traded away," he said. "There was a certain sadness to it." They've got some lighter stories, too. Warren Loui's college roommate was one of the founders of the MIT blackjack team – and gave him some unusually effective tips.
"I've been kicked out of two casinos and permanently banned from one," Loui said.
For reprint and licensing requests for this article, CLICK HERE.