A New Look
Formerly fashioncentric Melrose Place looks for broader retail mix to revive buzz and foot traffic.
Monday, November 14, 2011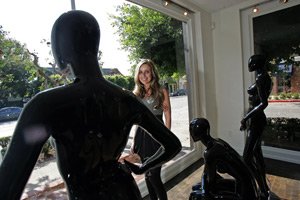 When the economy was thriving, life for retail tenants on Melrose Place was good, albeit expensive. But things have changed on that short, tree-lined street: almost a quarter of its storefronts sit empty.
Since the late 1960s, the street was home to mostly antique dealers and home furnishing boutiques. But it took a turn toward fashion – and high-price rents – in 2005 after Marc Jacobs signed a lease for the highly visible property at Melrose Place and Melrose Avenue just east of La Cienega Boulevard. Other well-known fashion boutiques quickly followed.
By 2008, as prospective tenants fought over each space, lease values skyrocketed from about $5 a square foot a month to $20 in at least one case, said Jay Luchs, executive vice president of West L.A.-headquartered CBRE Group Inc., who represents property owners on the street.
Now, rents have crashed to between $6 and $8. At least nine of 40-some total storefronts stand empty.
But Melrose Place – a name made famous by a '90s TV show that was set in an apartment complex, not on a retail street – may be on the brink of yet another change. Several new tenants that represent a more diverse mix, including a coffee shop and a restaurant, are in various states of serious negotiation, said real estate sources.
In fact, one new business, Stylehaus, began moving into a 2,000-square-foot space at 8459 Melrose Place last week and will officially open Monday. It is a styling boutique, which brings personal stylists to a retail setting. Stylehaus is members only – clients are accepted after filling out an application – and serves customers by appointment.
"We really felt like Melrose Place was the perfect neighborhood for our kind of business," said Marina Monroe, creative director for Stylehaus. "It's so intimate, and there are so many quality stores. The vibe just felt perfect."
Amid the vacancies, Marc Jacobs has remained. Also staying on are boutiques for some of fashion's most celebrated designers such as Carolina Herrera, Oscar de la Renta and Chloe.
When fashion retailers flocked to the area, so also did real estate investors that saw an opportunity. West L.A.'s Nasa Group was one such player to buy and manage property along the three-block stretch.
Chuck Dembo, a partner at Beverly Hills' Dembo Realty Inc. who represents one of the vacant properties, said Nasa paid aggressive amounts of money to buy tenants out of their leases and landlords out of their mortgages.
"They paid eye-popping prices and then pushed their rents up. And some people came along and played ball, but most of the people who did have already gone out," Dembo said.
Some of the businesses that came and left quickly included fashion firm Bird, shoe and accessory maker Lambertson Truex and shoe store Dolce Vita.
Josh Zad, a consultant with Nasa, said the price spike was driven by the market.
"It's all supply and demand," said Zad. "At the end of the day, the retailers agree to a contract to pay a certain price. They want to be there."
But today, the lower lease rates are making the shopping street marketable again.
"Now that the rents are back down to a modest level, people are able to survive, the tenants can come back," said CBRE's Luchs. "They can look again and feel comfortable coming back to the street with rents where they are. To pay a top-dollar rent and be on a street with no foot traffic doesn't make sense."
Luchs said he is in negotiations with one prospective tenant for 8454 Melrose Place, a recognized "luxury fashion brand that might normally be found on Rodeo Drive or Madison Avenue."
Nasa has plans it hopes will bring more life to the street, too. In addition to connecting the people who put together the deal that brought New York-based restaurant Fig & Olive to Melrose Place in March, the group has leased the property at 8475 Melrose Place to another New York restaurant group set to open in the second quarter of 2012. In addition, a small storefront in the Kate Somerville building at 8428 Melrose Place will be converted into a chic neighborhood coffee shop that Zad is designing himself.
"The biggest driver for retail is having food and coffee options, and Melrose Place didn't have that for a while," he said. "The food options will make it more accessible for everyone. It will make it a friendlier, more frequented street."
Landlords are counting on the success of the additions. But Stylehaus, though it plans on long-term success, negotiated a six-month trial lease.
"They were not able to pay the market rent for a long-term deal," said Luchs. "But the landlord was fine with it because they thought (Stylehaus) would bring energy and people and a good vibe to the street."
For reprint and licensing requests for this article, CLICK HERE.
Stories You May Also Be Interested In