L.A. Effects Firm Not So Special?
Digital Domain looks for less with IPO.
Monday, November 14, 2011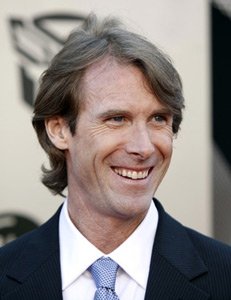 Sure, movie fans will spend hundreds of millions of dollars for tickets to see a "Transformers" film. But Wall Street has been far more reserved when it comes to spending on the firm that wowed people with the blockbusters' special effects.
Digital Domain Media Group Inc., the parent company of Venice visual effects firm Digital Domain Productions, has resuscitated its initial public offering. But this time it wants to raise just $60 million – about half of what it had hoped to raise earlier this year – as it tries to make the transition to a publicly traded company.
The company, which has dabbled in feature film production, hopes to raise enough cash to become a major player in co-producing blockbusters and making its own animated films. The idea is that box office hits will help dig the company out of losses incurred over the past two years as the special effects business has become increasingly competitive.
"It's a very different company than it was," said Scott Ross, who co-founded the company, which was sold in 2006 for $35 million to a Florida investment group led by director Michael Bay and current Chief Executive John Textor.
The company expects to price its shares sometime this week in the $10-$12 range and trade under the ticker DDMG on the New York Stock Exchange. It plans to sell 5.5 million shares, or a roughly 14 percent stake in the company, implying a market valuation of close to $430 million.
Digital Domain had filed a prospectus with the Securities and Exchange Commission in May for an initial public offering of $115 million before the markets tumbled. It had previously attempted an IPO in 2007 before the financial crisis.
Whether this latest IPO will fare better remains to be seen, said Tom Taulli, who runs the website IPOPlaybook.com. He said deals in the $50 million-$60 million range can be difficult to pull off because they attract small institutional investors easily put off by market volatility.
"You don't want to see days like this right before an IPO," Taulli said last week on a day the stock markets skidded. "Investors go into fear mode and it can be a buzz kill."
A company spokesman said Digital Domain would not comment, saying the company was in a quiet period leading up to its IPO.
Groundbreaker
Digital Domain has some big credits – including 1997 blockbuster "Titanic," right up until this year's "Thor" – that may prove convincing enough for some investors.
"Investors want to be part of a cool company or a cool technology. That could be a key attraction," Taulli said.
However, in the case of special effects firms, blockbusters don't pay the bill. Most are paid in upfront fees. Digital Domain has been losing substantial money, recording a loss of $112 million for the six months ended June 30.
And it doesn't expect to turn a profit in the near future. The company projects operational losses to widen for the quarter ended Sept. 30, since the majority of work comes in during the first six months of the year.
Part of the losses can be attributed to the hypercompetitive visual effects industry, in which work continues to be outsourced to countries with cheap labor and increased competition drives down prices, even for high-profile gigs.
Digital Domain produced groundbreaking effects more than a decade ago, but now faces heightened competition from studio-backed firms such as Sony Pictures ImageWorks.
Even so, it has been busy this year. It worked on major 2012 releases that include "Jack the Giant Killer," a fairy tale set in the present day, featuring Ewan McGregor, and "47 Ronin," the story of a group of samurai soldiers who set out to avenge the death of their leader, which stars Keanu Reeves.
Still, according to the prospectus, the company would like to move heavily into co-producing feature films. It already is co-producing "Paradise Lost," an action-movie adaptation of the epic poem, as well as "Ender's Game," based on the science-fiction book of the same name. "Paradise Lost" will be distributed by Warner Bros. Pictures; "Ender's Game" will be distributed by Summit Entertainment.
The goal is to follow in the footsteps of companies such as Walt Disney Co.'s Pixar and 20th Century Fox's Blue Sky, which made the jump from effects shops to production partners with major studios.
Still, many special effects houses have failed in making that switch, which requires a major studio distributor, a big-name storyteller and a track record of taking ideas from scratch to finished product, said Ross, the one-time investor.
"There have been only a handful of companies that have transitioned into the content business," he said. "It's a difficult transition."
Multiple businesses
Digital Domain will have to make that transition without "Transformers" director Bay, who was a key investor in the Wyndcrest Holdings LLC group that bought the company in 2006. He had wanted to make Digital Domain into a video game powerhouse, but sold his stake last year. The company is not abandoning plans to pursue video game development, but it hasn't released any big titles.
The company has remained afloat, according to the prospectus, partially because of $132 million of cash, land, financing and tax incentives the company has received from the state of Florida in the past two years.
While the special effects house and its 372 employees are based at its offices in Venice and Playa Vista, parent Digital Domain Media Group is based in Port St. Lucie, Fla., where Textor and Wyndcrest are based.
The company owns a 3-D conversion company in Port St. Lucie called In-Three, and is finishing up building a nearby animation studio that is called Tradition Studios. The studio has been hiring animation veterans from companies such as Pixar this year and is developing its first release. Slated for 2014, "Trembo," tells the story of an elephant separated from its family.
Given the recurring losses and challenges to the visual effects business, the company's IPO has surprised some who don't see the effects industry's fortunes improving anytime soon.
"Most people who know this business say, 'Why would I invest in the visual effects business?'" said Robert Coleman, owner of Digital Artists Agency, a talent agency for visual effects artists. "It's low margin and capital intensive."
For reprint and licensing requests for this article, CLICK HERE.