Shortage of Tape Sticks L.A. Firms With Big Bills
Loss of Japanese plant sends prices soaring for video format.
Monday, May 23, 2011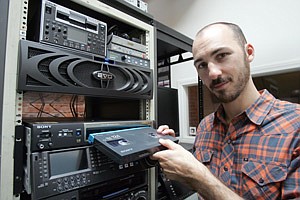 The earthquake and tsunami that hit northern Japan in March caused tremendous devastation, and the folks at Fancy Film Post Production in Silver Lake say they know their problems pale in comparison.
But the fact remains that Fancy Film was hurt by the tsunami. The Sony Corp. manufacturing facility in Miyagi was destroyed in the disaster, and it was the only factory in the world that made the high-end videotapes used by Fancy Film to edit and color-correct television shows and movies for their filmmaker clients.
Although there are other brands of high-end videotapes, they cannot be used by entertainment companies equipped with Sony systems.
This has made the existing supply of HDCAM-SR tapes a coveted commodity – especially on eBay, where one seller last week priced a single 124-minute tape for $950. Before the tsunami, that tape would have retailed at most places for about $200.
"It's like going into a restaurant and paying market price for the fish," said Fancy Film online editor Matt Hopkins. "Every day the price is changing and you don't know what you are paying until that day."
Fancy Film, a small business that has been operating out of a nondescript office on Santa Monica Boulevard for eight years, recently worked on the documentaries "Undefeated" and "Gone," which premiered at film festivals this year.
The company had previously bought the tapes on an as-needed basis, so it had no stock on hand when the crisis hit. It has been able to avoid the eBay prices by leveraging long-standing relationships with several vendors to buy $4,000 worth of tapes on credit – but for more than double the usual price.
For a boutique firm with just three employees, such a move was expensive but necessary to reassure nervous clients.
"Even the perception that you can't buy tapes is hurting our business," owner Bill Macomber said. "I think the future is really unclear with this stuff. It's unclear when the supply of tapes is going to be here."
Sony said in a statement late last month that the plant has undergone extensive restoration and repair, and that manufacturing of the magnetic tape would resume at the end of July. The company could not be reached for further comment.
For Fancy Film, the shutdown came at a particularly bad time. Macomber had spent $200,000 late last year to buy the newest Sony editing equipment that can only be used with HDCAM-SR tape.
"I have these expensive decks that are supposed to pay for themselves over time," he said. "It's like buying a diesel car and turning around and you can't buy diesel anymore."
Evident frustration
Tape vendors such as Revolt Pro Media Inc. in Van Nuys are frustrated, too, as they try not to alienate longtime customers – large and small – by running out of supplies or charging astronomical prices.
"I see people selling tapes for $600 to $700 a pop that used to cost $80," said owner Aaron Gilman.
Gilman said he has had to raise his prices between 100 percent and 200 percent because he's been buying tapes from sellers on eBay or Craigslist for much higher prices. A 40-minute tape that had a price tag of $40 is costing at least $175 – if he can get it in stock. A 64-minute tape that he used to sell for $100 now goes for $400.
His frustration with Sony is evident.
"It is simply mind-boggling for a multibillion-dollar company to have no contingency plans to speak of," he said.
The plant shutdown has exposed the fragile supply chain between Sony and its customers.
"You need to have redundancy built into your supply chain and if you don't, you run the risk of something unforeseen shutting you down," said David C. Logan, faculty member at USC's Marshall School of Business. "Companies have underestimated just how risky the world is."
In the past, tapes were used once and discarded. But some customers have discovered they can be used again as long as they have been magnetically erased.
"The idea that you need new tapes every time is a myth Sony was all too happy to perpetuate," said Fancy Film's Macomber, whose company will work with used tapes if a client doesn't object.
The increased reliance on used tapes has benefited companies with tape-recycling programs, such as Burbank-based Media Distributors.
"We started it as an environment thing, to reduce the amount of tapes in landfills," said Jim Gibilterra, vice president of marketing for Media Distributors. "After the tsunami and supply got scarce, it turned into a godsend, a lifeline, a way for people to keep going."
For reprint and licensing requests for this article, CLICK HERE.