In the Raw
Santa Fe Springs' Fuji Food adds sales outlets to its plate by scooping up sushi rival Okami.
Monday, May 23, 2011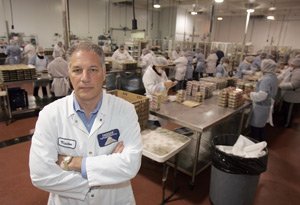 America has a growing appetite for all things sushi, and that's done nothing but feed the growth of local Asian food maker Fuji Food Products.
The Sante Fe Springs company, which claims to be the largest provider of prepackaged sushi in the United States, is swallowing a competitor called Okami Inc.
The deal, announced this month, joins two local rivals that sell their products in food markets. But it will give Fuji something it doesn't have: an Okami distribution network that includes 7-Eleven stores better known for hot dogs and doughnuts.
"I think the sushi industry has a lot of potential growth," said Alex Meruelo, whose Downey-based Meruelo Group holding company has owned Fuji Foods since 2009.
Terms of the deal were not announced.
Fuji, founded in 1990, sells a broad variety of ready-to-eat Asian food under the Gourmet Kitchen and Chef Select brands. Among its products are a variety of California rolls, more traditional sushi with raw fish, and other items such as Kung Pao chicken, pot stickers and Mongolian beef. The typical sales price is about $6 and the products are distributed in 4,000 stores nationwide, including Trader Joe's and Vons markets.
Fuji also operates fresh sushi bars – counters where customers can sit and watch a sushi chef prepare food – in 300 U.S. markets, including at Albertsons.
Okami, which was founded in 1996 by Sun Valley caterers Mary DeMartinis and Laura McKee, sells typical items such as California rolls but also specialty foods such as bao, a form of dumpling, as well. DeMartinis and McKee are expected to stay on as consultants.
A company employee said they would not comment. However, Brad Schreiber, managing director with McGladrey Capital Markets in Costa Mesa, a unit of H&R Block, which represented Okami in the acquisition, said that the company has been "very profitable."
Bob Bartlett of Bartlett Joseph Associates, a retail consulting firm in San Rafael, said that the acquisition will allow Fuji to aggressively expand as more stores devote and expand shelf space to sushi products.
"Asian food has become so much a part of the fabric of world food choices that stores have to have it there," said Bartlett. "It's an important segment for any store."
Revenue growth
Fuji operates plants in Santa Fe Springs, Seattle, Boston and Denver, while Okami has plants in Denver and Sun Valley.
Fuji President Joe Marchica said there are plans to close Okami's Denver plant, but he would not discuss any potential layoffs of the combined companies' 700 employees.
Fuji would not disclose either companies' revenue, but is projecting the merger should spur double-digit revenue growth in each of the next five years.
Marchica said that with the acquisition, Fuji will have a larger share of the market in grocery stores, where the two companies previously competed.
"This gives us increased presence throughout the country," he said. "The Asian product line is a growing segment in the food industry, and this really enhances our product development."
Competitors include Ling Ling, Asian Home Gourmet and Melissa's Produce and other companies.
A study last year by Perishables Group of West Dundee, Ill., found that sushi sales at deli counters in supermarkets nationwide rose 6 percent to $357 million between June 2009 and June 2010.
Bob Goldin executive vice president of the Chicago market research firm the Knowledge Center, said that the perception of sushi as a high-priced luxury food found only in restaurants has changed in the last decade.
"The fact that it has become a to-go option is what helped it grow so much. When supermarkets started selling it packaged, that just increased the appeal," he said. "It has tremendous appeal to 18- to 30-year-olds, in addition to the Asian population. It has a very healthy image and plays to our interest in ethnic foods."
Schreiber, the investment banker, also noted that merger and acquisition activity in the food sector has picked up in the last year as the economy has shown signs of improving.
MegaMex Foods closed a deal to purchase Mexican snacks maker Don Miguel Foods, and Princes Limited bought Premier Foods, a maker of canned foods. Coca-Cola also purchased Honest Tea.
"Food is one of those categories that's never going away," he said.
For reprint and licensing requests for this article, CLICK HERE.