Hollywood Firm Jumps Into YouTube Video Stream
Clevver generates revenue with ad-friendly original content.
Monday, May 16, 2011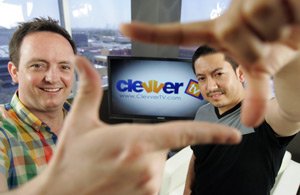 The conventional wisdom in advertising: Traditional dollars equal Internet pennies. In other words, TV and print ad sales bring real revenue, but online ads don't.
However, Clevver Media is among those companies challenging that conventional wisdom. The Hollywood company gets nearly all its revenue from free video-sharing site YouTube. Revenue in 2011 will reach more than $1 million.
Clevver produces short videos that run on its YouTube channels ClevverTV and ClevverMovies. The videos generate about 65 million views every month, and the company makes money from advertising attached to the videos.
Until recently, Clevver depended on YouTube, a subsidiary of Google Inc., to place the ads and give the company a percentage of revenue. But in January, Clevver signed up with Alloy Media & Marketing, a New York-based media sales company that specializes in the teen market. Through Alloy, Clevver videos have carried ads for Walt Disney Co., Macy's Inc. and Kohl's Inc.
Michael Palmer, a USC School of Cinema graduate who co-founded Clevver Media in 2006, said the income from his business has nearly tripled in the last year. And he doesn't see it slowing down.
"This is the best time ever for online video," said Palmer, who has worked in Internet businesses for 10 years. "In the next three to four years, a lot of advertising dollars from TV is going to shift online. Those pennies of online advertising have become dollars, and in the future they'll be even more dollars."
A typical ClevverTV video looks like a segment from a show-business news program on TV such as "Entertainment Tonight." A host or reporter introduces the subject and then shows a clip from an in-studio celebrity interview, a movie trailer or some red-carpet footage. Each video lasts one to two minutes.
ClevverTV's 12 employees produce more than 30 such segments a day. Once editors have finished with the video, a content manager writes some accompanying copy for viewers and search engines, and uploads the package to YouTube.
The company has 300,000 free subscribers, who get a message or pop-up video on their computer screen as soon as a video uploads. This provides an instant audience of hundreds of thousands of people for a popular video and accompanying advertisements.
While it might seem that nearly anyone with a video camera could compete against ClevverTV, it's not as simple as taping a talking head spouting the latest Hollywood gossip. Advertisers want their messages placed on a constantly updated YouTube channel with broadcast-quality video that doesn't look like user-generated content.
Above all, they're wary of associating their products with negative, scandalous or even illegal content. ClevverTV productions have no swear words, lewd material or negative coverage of celebrities. The company vets all video, photos and audio clips.
Those standards help attract marketers who are skittish about posting their ads on Hollywood sites known for their snarkiness such as TMZ.com or PerezHilton.com.
Jorge Maldonado, the other co-founder and executive producer at ClevverTV, said many of his company's competitors attract enormous audiences by comparison. But they draw the big crowds with comedy sketches or gags that make advertisers uncomfortable.
"That stuff is hard to monetize because it's not advertiser friendly," he said.
Dave Martin, senior vice president of media at ad agency Ignited in El Segundo, said other companies such as Machinima, an L.A.-based producer of snippets about video games, and Vevo, a New York-based channel of music videos, prove that YouTube can host fast-growing businesses. However, a strategy based solely on YouTube can't maximize revenue in a market where cable TVs, cell phones, iPads and game consoles offer video.
"ClevverTV needs to diversify its distribution because all those platforms will be monetized differently," Martin said. "They have to think about other forms of distribution that could give them more reach and a better value proposition for advertisers."

Comparative marketing
Although most Internet advertising costs only pennies, online video ads measure up nicely against traditional TV ads.
Marketers typically measure the cost to reach 1,000 people, abbreviated as CPM. In 2010, the average nonprime-time TV ad cost $6.16 for each 1,000 viewers. By comparison, Palmer said ads on YouTube generally get a CPM slightly below $5, with occasional prices closer to $10.
"When you have big numbers of viewers, it gets interesting in terms of revenue," Palmer said. "This is an actual business, not just a fad."
For now, Palmer is building up a library that already contains more than 7,000 videos. He said that the one advantage of posting on YouTube is that the videos continue to generate incremental revenue for years. For example, the anticipated release on July 15 of the final "Harry Potter" movie has led people to watch videos that ClevverTV produced years ago about the series' previous films.
"Even if you were counting pennies, when you're doing 30 million views per month those pennies add up quickly," Palmer said. "And in a couple of years, advertisers won't consider online video versus TV. People will access video, whether it's made by CBS or ClevverTV, on the same devices so the market will become even more mainstream."
For reprint and licensing requests for this article, CLICK HERE.