Wealthiest Angelenos: Steven Spielberg - #8
Special Report: Wealthiest Angelenos 2011
Monday, May 16, 2011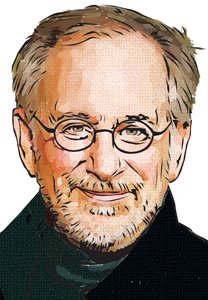 The skinny on the fat wallets of L.A.'s 50 wealthiest.
Steven Spielberg
NET WORTH: $3.2 billion +3%
LAST YEAR: $3.1 billion
AGE: 64 RESIDENCE: Pacific Palisades
SOURCE OF WEALTH: Entertainment
THE MONEY: Annual residuals topping $100 million and presumed strong investment returns more than compensated for declining value of his 5.4 million shares in DreamWorks Animation, which slipped 30 percent.
BUZZ: Never stops working. DreamWorks Studios jumped back into spotlight producing teen-friendly hit "I Am Number Four," grossing around $130 million since February release. Sitting in director's chair for adaptation of World War I children's novel "War Horse"; overseeing other DreamWorks films such as $100 million "Cowboys & Aliens." Busy year included executive producing big-budget sci-fi TV series "Terra Nova." Running DreamWorks with longtime partner Stacey Snider after scoring an $825 million financing deal, with funding from India's Reliance, J.P. Morgan and Disney. Made appearance at exclusive, $35,800-a-plate dinner for President Obama organized by fellow DreamWorks co-founders David Geffen and Jeffrey Katzenberg. Presented Katzenberg with USC Shoah Foundation Institute's Ambassadors for Humanity Award, calling longtime friend "great inspiration." Nominated for Mikhail Gorbachev's "The Man Who Changed the World" award but lost to media titan Ted Turner. Decided to spend a little on himself last year, buying $200 million 282-foot megayacht Seven Seas built to his specifications. Famously rejected from USC's film school, but later awarded honorary degree and became trustee.
For reprint and licensing requests for this article, CLICK HERE.