Wealthiest Angelenos: Ray R. Irani - #38
Special Report: Wealthiest Angelenos 2011
Monday, May 16, 2011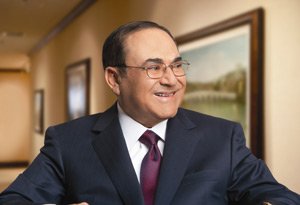 The skinny on the fat wallets of L.A.'s 50 wealthiest.
Ray R. Irani
NET WORTH: $1.05 billion
LAST YEAR: Not on list
AGE: 76 RESIDENCE: Bel Air
SOURCE OF WEALTH: Stock grants, options
THE MONEY: Former Occidental Petroleum chief new to list and makes it based on accumulated converted stock options and performance-based stock grants worth nearly $900 million. Received $110 million in salary and bonuses over past decade or so.
BUZZ: Controversial figure for outsized compensation package. Wall Street Journal analysis ranked him third among all chief executives, with $857 million in total compensation between 2000 and 2009. Last fall, in response to passage of shareholder resolution demanding say on executive pay, agreed to relinquish chief executive post, effective May 6; will remain chairman until end of 2014. Born in Lebanon to Palestinian parents, moved to Los Angeles in 1953 to pursue chemistry studies at USC. Worked as researcher, amassing more than 150 patents under his name. After serving as president and chief operating officer of chemical company Olin Corp., came to Occidental in 1983 to help struggling chemical division. In 1990, named successor by business tycoon Armand Hammer. During 21-year tenure, built up U.S. portfolio, and used extensive Middle East contacts to win major oil and gas contracts in region. Notoriously media shy. Built Bel Air mansion, where he lives with his wife, Ghada; couple has three children. Serves on board at USC, where life sciences building is named for him. Vice chairman of American University of Beirut. Served on several administration advisory bodies for Presidents Clinton and George W. Bush.
For reprint and licensing requests for this article, CLICK HERE.