Wealthiest Angelenos: Michael Eisner - #45
Special Report: Wealthiest Angelenos 2011
Monday, May 16, 2011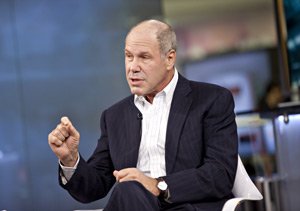 The skinny on the fat wallets of L.A.'s 50 wealthiest.
Michael Eisner
NET WORTH: $850 million +16%
LAST YEAR: $730 million
AGE: 69 RESIDENCE: Los Angeles
SOURCE OF WEALTH: Stock options, grants
THE MONEY: Former Disney chief, still company's second largest shareholder, saw fortunes swell after continued rebound of Mouse House. Online video production company Vuguru reaped rewards from jump in online video advertising.
BUZZ: Eisner co-authored book about successful business partnerships that hit shelves in September; practices what he preaches, doing deals through Tornante Co. venture firm. Vuguru reached agreement with AOL to make at least six original online video series for the Internet company. Tornante made foray into live-action TV with comedy "Circling the Drain"; shopping to networks. Portfolio trading card company Topps brought Sharkies fruit chews business into its Bazooka Candy division. Eisner was rumored to be candidate for ailing Tribune Co. board. Instead, teamed up with old buddy Barry Diller and joined board of IAC/InterActiveCorp; granted small handful of shares not yet vested. Was active in last year's election, donating to Democrat Jack Conway in closely watched Kentucky U.S. Senate race and to re-election campaign of Democratic Rep. Jane Harman.
For reprint and licensing requests for this article, CLICK HERE.