Software Security Firm Cries En Garde
CyberDefender aims to improve profile and stock price.
Monday, May 9, 2011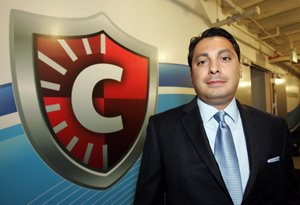 On the plus side, CyberDefender Corp. has had 12 consecutive quarters of revenue growth.
But on the minus side, the downtown L.A. provider of computer security software and call-in tech support isn't profitable, its stock has taken a beating and the company's products have been flamed on the Internet.
Gary Guseinov, the company's co-founder and chief executive, recognizes that the company needs to show improvement to regain investor confidence.
"We're focused on building our business and reaching sustainable profitability," he said. "As we do that, the stock will take care of itself."
CyberDefender started out selling a suite of downloadable security software meant to find and remove computer viruses, malware and spyware. But the majority of the company's revenue now comes from providing technical support to customers, a service called LiveTech. Its staff can remotely control a customer's computer and help solve problems.
CyberDefender began to ramp up its LiveTech business last year, expanding its office space in a corporate building on downtown's Seventh Street by 17,000 square feet to accommodate up to 600 LiveTech call center employees. The company has 533 employees and contractors in Los Angeles, with 716 total worldwide.
Of CyberDefender's more than 800,000 subscribers, only about 100,000 pay for LiveTech. But those customers contribute 65 percent of the company's revenue because they usually sign up for multiyear subscriptions that cost more than the security software. LiveTech prices start at $180 for a one-time repair and go up to $650 for a three-year plan that covers three computers. Security software prices range from a free diagnosis to nearly $100 for a three-year subscription.
Although CyberDefender will continue to develop security software, Guseinov said the company is spending more research, development and marketing dollars on LiveTech than software products.
"We see that the role for us is to become a leader in the LiveTech space," he said.
The market for home tech support is expected to grow from $2.3 billion in 2010 to $11.8 billion in 2015, said Kurt Scherf, vice president and analyst with Parks Associates in Dallas.
It might seem like a good time for CyberDefender to be jumping into that market, but Scherf said it's already crowded. Major office supply retailers, other Internet security software vendors and service providers also provide tech support to customers.
"It's a highly competitive market," he said. "The biggest challenge is managing and driving growth."
Accounting adjustments
Although CyberDefender is not profitable, the company recorded its 12th straight quarter of revenue growth in the first quarter this year. Revenue was $15.4 million, up 62 percent from $9.5 million in the same period last year. The net loss was $5.9 million compared with a loss of $8.3 million in the fourth quarter last year.
Kevin Harris, the company's chief financial officer, said the higher-price LiveTech subscriptions and an increase in renewals helped boost revenue.
Part of the company's losses can be attributed to high spending for marketing. CyberDefender contracted with GR Match, an affiliate of Santa Monica infomercial firm Guthy-Renker, in 2009 to conduct aggressive TV and radio ad campaigns. GR Match also provided $5 million in debt financing to fund the company's expansion last year.
In 2010, CyberDefender spent more than $42 million on media, marketing and related expenses. (Although almost $19 million was noncash expenses related to warrants issued to GR Match.) The company's total annual revenue was $45.6 million. Marketing spending was down in the first quarter this year compared with the same period last year.
"We've improved efficiency in advertising," Guseinov said. "For every dollar of advertising we spend, we're driving more revenue."
CyberDefender changed accounting policies late last year. Because customers buy yearlong and multiyear subscriptions, the company defers some of its revenue to reflect that. But it had also deferred some expenses the same way, making its numbers look more attractive. The company hired a new auditor that adjusted past expenses so they were not deferred.
As a result, CyberDefender missed the deadline for its third quarter filing. It did submit an amended filing before the end of the year, within Nasdaq's 180-day deadline.
James Ragan, an analyst at downtown broker Crowell Weedon & Co. who owns CyberDefender shares, said CyberDefender was right to make the accounting changes.
"They're more conservative now in how they do their accounting," he said. "It's better in the long run."
But CyberDefender's stock took a hit after the company missed its filing deadline. Shares fell to $1.88 on Dec. 8 – about half their level of a month earlier.
The stock quickly rebounded after the company announced it would straighten out its accounting practices and file with the Securities and Exchange Commission. Shares were more than $3 at the end of December but swooned again after the first of the year, hitting an all-time low of $1.71 on April 18. The recent drop could be because CyberDefender still isn't profitable, Ragan said.
CyberDefender launched in 2003, went public on the OTC Bulletin Board in 2007 and was promoted to the Nasdaq Global Market in June last year with shares trading at $4.70.
Ragan said the company hasn't been able to recover investor interest since it changed auditors and restated earnings late last year.
"The new auditors wanted them to reclassify how they accounted for certain expenses. That spooked investors a bit," he said. "The stock's still continuing to languish."
But Ragan is bullish on the stock after CyberDefender's first quarter earnings announcement and gives it a "buy" rating.
Critical reception
CyberDefender's December stock slump was also partly the result of a scathing article on muckraking blog TheStreetSweeper.org. The piece criticized the company's accounting policies and high marketing spending. It also called into question the reputation of a CyberDefender executive and the effectiveness of the company's software. Guseinov dismissed the criticism at the time, saying it came from an unreliable source.
However, the company's software has been the target of harsh reviews on the Internet. One user on ComplaintsBoard.com said, "Their product messes up your PC." Another: "They created more problems than they fixed."
In a forum on DSLReports.com, one user described CyberDefender as "a rogue security product known for hijacking people's computers and being a huge scam."
Guseinov said many of the negative reviews come from customers who aren't happy when they learn that the software isn't free.
"There's a ton of consumer opinion on the Internet but most of these are from noncustomers that want to voice their view of the TV commercial or say that our product isn't free," he said. "They're from people who downloaded our software but when they realized there was a payment for activating it, they became angry."
While the company's emphasis is on marketing and developing LiveTech, it's also working on its software business. The company plans to release new antivirus and computer optimization software next year, but is now also selling third-party software in addition to its own.
In addition, CyberDefender has launched backup software that saves customers' important files to the cloud – a remote server that can be accessed online.
Parks Associates estimates that the cloud-based backup market could have as many as 23 million subscribers by 2015. Analyst Scherf blames a lack of consumer awareness and understanding for lagging interest in such services.
But CyberDefender's Harris said the new backup software is meant to help customers avoid the ultimate computer crisis: a crash that renders files and photos unrecoverable.
"There are some computer problems that are unavoidable," he said. "You can always get a new computer, but what you can't always get back is your data."
For reprint and licensing requests for this article, CLICK HERE.