Software Security Firm Cries En Garde
CyberDefender aims to improve profile and stock price.
Monday, May 9, 2011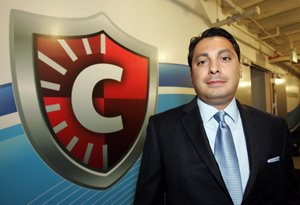 On the plus side, CyberDefender Corp. has had 12 consecutive quarters of revenue growth.
But on the minus side, the downtown L.A. provider of computer security software and call-in tech support isn't profitable, its stock has taken a beating and the company's products have been flamed on the Internet.
Gary Guseinov, the company's co-founder and chief executive, recognizes that the company needs to show improvement to regain investor confidence.
"We're focused on building our business and reaching sustainable profitability," he said. "As we do that, the stock will take care of itself."
CyberDefender started out selling a suite of downloadable security software meant to find and remove computer viruses, malware and spyware. But the majority of the company's revenue now comes from providing technical support to customers, a service called LiveTech. Its staff can remotely control a customer's computer and help solve problems.
CyberDefender began to ramp up its LiveTech business last year, expanding its office space in a corporate building on downtown's Seventh Street by 17,000 square feet to accommodate up to 600 LiveTech call center employees. The company has 533 employees and contractors in Los Angeles, with 716 total worldwide.
Of CyberDefender's more than 800,000 subscribers, only about 100,000 pay for LiveTech. But those customers contribute 65 percent of the company's revenue because they usually sign up for multiyear subscriptions that cost more than the security software. LiveTech prices start at $180 for a one-time repair and go up to $650 for a three-year plan that covers three computers. Security software prices range from a free diagnosis to nearly $100 for a three-year subscription.
Although CyberDefender will continue to develop security software, Guseinov said the company is spending more research, development and marketing dollars on LiveTech than software products.
"We see that the role for us is to become a leader in the LiveTech space," he said.
The market for home tech support is expected to grow from $2.3 billion in 2010 to $11.8 billion in 2015, said Kurt Scherf, vice president and analyst with Parks Associates in Dallas.
It might seem like a good time for CyberDefender to be jumping into that market, but Scherf said it's already crowded. Major office supply retailers, other Internet security software vendors and service providers also provide tech support to customers.
"It's a highly competitive market," he said. "The biggest challenge is managing and driving growth."
Accounting adjustments
Although CyberDefender is not profitable, the company recorded its 12th straight quarter of revenue growth in the first quarter this year. Revenue was $15.4 million, up 62 percent from $9.5 million in the same period last year. The net loss was $5.9 million compared with a loss of $8.3 million in the fourth quarter last year.
Prev Next
For reprint and licensing requests for this article, CLICK HERE.