Red Building Gets Green Light for Leasing to Start
Design Center in West Hollywood asks $5 per square foot.
Monday, March 14, 2011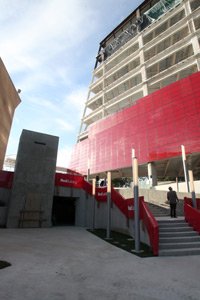 Leasing started this month on the final phase of West Hollywood's landmark Pacific Design Center, which will open at year's end to a real estate market dramatically different from the thriving one when construction began before the financial crisis.
Known as the Red Building, the long-anticipated mid-rise would easily have leased for top-dollar rates at the height of the real estate boom. Today, it may be a struggle for the 400,000-square-foot office building to command its asking rent of $5 or more per square foot when similar Class A space with lower asking rents remains vacant in nearby Beverly Hills.
However, Pacific Design Center developer Charles Cohen believes the unique structure designed by renowned architect Cesar Pelli will buck that trend. He has hired commercial real estate brokerage Cushman & Wakefield Inc. to jumpstart the global leasing of the building.
"The price will be commensurate with the quality, which we believe is unrivaled," Cohen said. "This building will create a significant address for whoever moves there. They will all be known for being in the Red Building."
The 14-acre Pacific Design Center, at the corner of Melrose Avenue and San Vicente Boulevard, was conceived as a central hub for interior designers. It opened in 1975 with one blue building, nicknamed the Blue Whale; the second building, known as the Green Building, opened in 1988. Cohen said both are about 90 percent occupied today.
Purchased by Cohen in 1999 for $157 million, the center includes an outpost of the Museum of Contemporary Art, a 380-seat theatre, two restaurants, a conference center and furnishing showrooms.
The $165 million Red Building is shaped like a ship's bow and covered in red frit glass for the appearance of an entirely ruby-colored structure. It comprises two towers—a seven-story West tower and an eight-story East tower – and parking for 1,500 vehicles.
The building, which was re-entitled for office space from showroom space before construction, is catering to media and entertainment companies, as well as related businesses such as law firms with an entertainment focus, Cohen said.
Highlights include two large sky lobbies as well as an elevator that can transport visitors from the valet directly to an individual office.
"Almost every facet of this building plays to the (entertainment) industry base," said broker Bruce Mosler, who has worked with Cohen on several other deals nationally and is leading a brokerage team that includes Chairman John Cushman. "We are marketing it as a unique piece of architecture in a great location."
Not everyone in the local commercial real estate community believes that the building's pedigree, style or amenities will attract tenants willing to pay such high lease rates. In the fourth quarter, the highest average asking rents for Class A office space in the county were $4.41 per square foot in Century City, according to Grub & Ellis Co. Landlords in nearby Beverly Hills were only asking $3.75.
Also, with Westside and West Hollywood vacancy rates well into the double digits, it's a renter's market for premium, large-scale Class A offices. Several locations have roughly between 100,000 and 200,000 square feet of space available, including the former Hilton Hotels Corp. headquarters space in Beverly Hills.
"Today, it's an unknown," said Jay Luchs, an executive vice president at CB Richard Ellis Group Inc. "It's a lot of space to be hitting the market at one time, anywhere, even in a good market."
However, Luchs acknowledged that a tenant looking for several hundred thousand square feet of space, now available in the Red Building, would find few if any alternatives.
Joel Frank, a senior vice president of First Property Realty Corp., which held the building's listing prior to Cushman, said there has been interest in the Red Building but no one has yet signed on.
Among interested companies have been United Talent Agency and television production company Endemol USA Inc., said Frank, who added that he has met many landlords like Cohen who seem overly optimistic given the still slow economy.
"The reality is there seemingly is a lot of optimism on behalf of owners right now across the board. I think (Cohen)'s going to be disappointed for a while," he said.
Cohen, whose Cohen Bros. Realty Corp. owns and manages more than 10 million square feet of Manhattan, Los Angeles, Florida and Houston office and showroom space, said his track record as a landlord is noteworthy.
"We like to distinguish ourselves as very stable owners," he said. "We don't over leverage our properties. We have never lost a property."
For reprint and licensing requests for this article, CLICK HERE.