Port of Long Beach Sets Sail for New Headquarters
REAL ESTATE: Officials are mulling purchase or lease of 1 World Trade Center.
Monday, June 20, 2011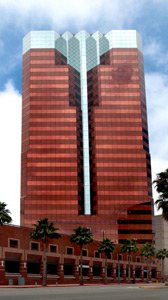 Officials at the Port of Long Beach are close to finalizing negotiations with Legacy Partners Inc. to make a new home at that city's largest office tower, 1 World Trade Center.
The two parties met behind closed doors June 13 to discuss whether to lease or purchase the 27-story building between the Hilton Long Beach & Executive Meeting Center and Long Beach City Hall, only a few blocks from the port. Sources familiar with the deal but who were not authorized to speak said that negotiations have leaned toward a purchase and that a decision should be reached within the next two weeks.
The port has outgrown its 48-year-old building at 925 Harbor Plaza, requiring it to put trailers in the parking lot. The structure also needs substantial retrofits to bring it up to seismic code. The port occupies about 90,000 square feet, not including the trailers.
One World Trade Center, a 600,000-square-foot Class A office building, has about 156,924 square feet available for lease split between six floors. Asking rents average $2.48 per square foot a month, according to CoStar Group Inc. At that rate, the port would pay rent of nearly $2.7 million annually, or nearly $27 million for a 10-year lease of 90,000 square feet.
The building, which houses the Long Beach Film Office and a Morgan Stanley office, among other tenants, is not listed for sale. It was assessed at $154 million last year. Legacy purchased it for almost $150 million in 2007 and put the building temporarily up for sale in 2009.
Port officials originally intended to build a $295 million headquarters, but the plan was vetoed last year by Long Beach Mayor Bob Foster on concerns about the appearance of a public agency spending such a sum during a recession.
Phil Brodkin, of CB Richard Ellis Group, who represents the landlord, declined to comment. Charles McClure of Legacy did not return calls or e-mails; Karl Adamowicz, the port's real estate director, declined to comment.
Downtown Philanthropy
The California Community Foundation is moving and expanding in downtown Los Angeles.
One of the county's largest charitable foundations, the non-profit signed a 10-year lease for 26,336 square feet at Figueroa Courtyard. The deal, inked last month, is valued at $8 million.
U.S. Bank owns the five-building, low-rise complex at 221 S. Figueroa St. near the corner of Third Street and the Harbor (110) Freeway. Other tenants include the Associated Press and the Los Angeles Department of Water & Power.
Prev Next
For reprint and licensing requests for this article, CLICK HERE.