Weight Loss May Feed Broadcaster
L.A.-produced diet show to bulk up Univision's exports.
Monday, June 6, 2011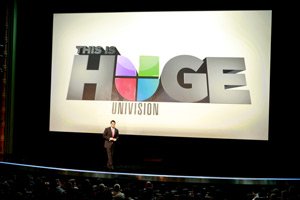 Univision Communications will soon produce a weight-loss reality show based on "Biggest Loser," and a big winner could be Los Angeles.
But Univision could be an even bigger winner. That's because the show represents the first time the Spanish-language broadcaster has launched a U.S. production since the 1980s, when it created its now-fading mainstays "Cristina" and "Sabado Gigante."
What's more, the new reality program will be exported to Mexico and, eventually, other Latin American countries – something of a reversal of the one-way stream of telenovelas from Mexico that Univision broadcasts in the United States.
Los Angeles stands to come out ahead because the show will be made here. And there's a chance additional Univision-produced shows could be as well.
The weight-loss show, called "Si Se Puede" ("Yes You Can"), will be produced by 25/7 Productions in North Hollywood, the same outfit that makes "Biggest Loser" for NBC Universal.
Cesar Conde, president of Univision Networks, a programming division of the company, said the show is a milestone in the company's development.
"'Si Se Puede' is another example of the powerful, exclusive entertainment programming Univision brings to Hispanic America," Conde announced last month at Univision's annual presentation to advertisers in New York, where the company is based, although it maintains substantial operations in Westchester near the Howard Hughes Center and elsewhere in Los Angeles.
"Particularly because families will be competing from their homes, we thought Los Angeles was the best location," Luis Fernandez, president of Univision Entertainment and Univision Studios said in an e-mail to the Business Journal. "It will give us access to our own production facilities in Los Angeles, as well as to the Hispanic community in this diverse, young city."
The other new Univision-made shows that illustrate its strategy are "Protagonistas," a Miami series featuring aspiring actors who compete for a role in a telenovela; and "Talisman," a telenovela filmed in Venezuela with financing from Univision.
"Si Se Puede" will follow three or four families in the L.A. area as they deal with weight issues. To appeal to Univision's Spanish-speaking audience nationwide, the cast will include participants with Mexican, Puerto Rican, Cuban, Dominican and other Latin American roots. Unlike "Biggest Loser," which features contestants sequestered at a training center in Calabasas, the show will be shot mostly in participants' homes, although some scenes will be taped at L.A. locations or in the 25/7 studios.
Dave Broome, creator of "Biggest Loser" and executive producer of "Si Se Puede" at 25/7, told the Business Journal the show will push emotional buttons familiar to Hispanic audiences.
"It will play out like a soap opera with different family dynamics and individual story lines," he said.
Univision will distribute the show and sell advertising, while Emilio Estefan, husband of Gloria Estefan of Miami Sound Machine fame, will act as a creative consultant to ensure the concept translates well for Hispanic sensibilities.
Broome said Univision will sell traditional TV ads for the show, while he and Estefan will sell product placements and location shoots. For example, local gyms or restaurants will be featured on the show – for a price. He reported "a tremendous response from advertisers" for appearances.
The show will also feature celebrity judges, some of whom will come from the sports world or other Univision shows.
Cynthia Corzo, editor of advertising trade publication Hispanic Market Weekly in Miami, said Univision has a history of product and talent integration on its shows.
"Original productions give them more opportunity for brand integrations and product placement," she said. "The reality competition format has worked very well in the Hispanic market for both Univision and Telemundo, so there is room for a weight-loss program on the schedule."
Exporting shows
Meanwhile, Univision has expanded its partnership with Grupo Televisa, a Mexican media conglomerate that has provided the bulk of Univision's programs. Under a new agreement, Univision may sell ads for online and mobile content, for example.
Significantly, the new agreement reverses the traditional flow of programming by stipulating that Televisa broadcast Univision shows in Mexico. Broome said the deal applies to his program, and he hopes it will eventually be shown in other Latin American countries.
Although research shows obesity and diabetes as epidemic among U.S. Hispanics, Broome believes that if "Si Se Puede" tries to preach the virtues of a healthy lifestyle, it will fail.
He recalled that when he first pitched "Biggest Loser," a network executive told him, "No one wants to see a bunch of fat people on prime time TV."
That turned out to be untrue. However, the Spanish version will have to be done right.
"If 'Si Se Puede' is just an educational show, it will bomb," Broome said. "We're making entertainment first and foremost. But it's entertainment that could change the lives of millions of people."
Julio Rumbaut, a Spanish-language TV consultant in Miami, said Univision's move into the weight-loss format is designed to appeal to young bilingual Latinos who are familiar with "Biggest Loser." It's an audience that Televisa shows don't reach, and Rumbaut expects Univision competitor Telemundo, a unit of NBC, will go after the youth market aggressively under its new owner, Comcast Corp.
But Rumbaut sees a potential conflict for the new show with Televisa's telenovelas when it comes to scheduling. Like U.S. soap operas, telenovelas air a new episode every weekday at the same hour. This schedule makes it difficult to position a weekly show like "Si Se Puede" during prime time.
"They have a huge issue because the strip programming from Televisa is very valuable for advertisers," Rumbaut said. "They'll have to work around that."
Corzo at Hispanic Market Weekly said Univision will probably put "Si Se Puede" in the time slot she called "Sunday prime time," which stretches from the late afternoon into the evening. Univision has aired specials, such as beauty pageants and dance contests, during those hours.
"Their weekday lineup is 100 percent telenovelas," she said. "They won't mess with that."
But Fernandez of Univision said: "Our goal is for it to run on prime time during the week."
"Si Se Puede" is tentatively set to start filming in October with the first episode airing in January.
Univision is also establishing networks that could carry other new programming, and it could put some on its secondary network, Telefutura.
Tangled plot
Haim Saban, ranked No. 7 on the Business Journal's list of Wealthiest Angelenos with a net worth of $3.7 billion, and a group of private-equity investors bought Univision in 2007 for $12.3 billion. The losing bidder was Televisa.
Saban inherited a number of lawsuits with Televisa that were spawned by Univision's previous owner, Jerrold Perenchio, ranked No. 11 on the Wealthiest Angelenos list with a net worth of $2.8 billion.
The most contentious lawsuit involved a programming license agreement that set the price Univision would pay for the economically produced telenovelas from Mexico. But before a jury could hear the case, Saban settled by negotiating a new program licensing agreement that gave more revenue to Televisa. Another suit over Televisa's attempts to stream its shows via the Internet into the United States was later decided in Univision's favor.
As Univision settled its legal squabbles, TV advertising sales plummeted amid the economic meltdown. By 2008, the new owners had written off $5.4 billion of the company's value.
The new in-house programming strategy is part of a larger plan to build the company's value. An analysis of the company published in April by investment research firm Gerson Lehrman Group stated that the company appears to be preparing to go public in 2012.
"For Haim Saban and his partners, a public market float is a next logical step to build value," said TV consultant Rumbaut. "These guys are trying to get back to their purchase price and then surpass it."
For reprint and licensing requests for this article, CLICK HERE.