Reading the Market
Discount One Dollar Bookstores help landlords fill some Borders shops before permanent replacements move in.
Monday, June 6, 2011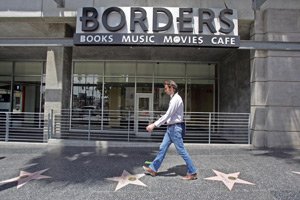 Several shuttered Borders stores in Los Angeles may be turned into temporary buck-a-book shops until landlords find longer-lasting tenants.
One Dollar Bookstore, a discount chain that temporarily sets up shop selling remainder books, is eyeing L.A.-area spaces left empty by the closure of Borders.
Some shopping center owners say they welcome the addition of One Dollar as a stop-gap measure to fill sprawling empty storefronts until they find permanent tenants. Others may be reluctant to bring a down-market merchandiser into an upscale space.
Long Beach's Pike at Rainbow Harbor leased its former Borders store, a prominent 20,063-square-foot space, to One Dollar. The store, dubbed Piccolo's Books because Long Beach doesn't allow signs with the discount concept such as One Dollar in names, opened last month after Borders shuttered in April.
"Our center is primarily a dining and entertainment destination and having it occupied in the short term is certainly preferred over a vacancy," said Jeff Miyaoka, general manager at the Pike at Rainbow Harbor, which is 81 percent occupied.
One Dollar pays minimal rent under bridge leases, so when the shopping center gets a tenant that will pay market rate, One Dollar moves out.
The Borders at the Pike at Rainbow Harbor was one of 12 Los Angeles County locations that Borders Group Inc. closed after filing for Chapter 11 bankruptcy in February amid mounting losses and increased competition from online retailers such as Amazon.com. Other closed locations have left empty shells at such high-profile sites as Sunset Boulevard at Vine Street, Westfield Century City shopping mall and Promenade at Howard Hughes Center.
The vacant Borders spaces range from about 14,000 square feet to 30,000 square feet and total 280,955 square feet. That's a small percentage of the L.A. area's total retail inventory, but the additional empty space could be a setback to individual centers as retail real estate is recovering from the recession and previous wave of bankruptcies that left empty space on the market, some of which remains there today.
L.A.'s retail vacancy rate has dropped during the previous four quarters to 4.9 percent for the first quarter of 2011, according to Washington, D.C.-based commercial real estate research firm CoStar Group Inc. There was 874,969 square feet of vacant retail space on the market for the first quarter, including former Mervyn's, Linen 'n Things and Circuit City stores that have been empty for years.
Indeed, Glendale added an empty storefront to its major commercial thoroughfare when the Borders there closed in April. The sprawling space at Brand Boulevard and Broadway sits next to long-vacant Linens 'n Things and Mervyn's sites.
Raud Alamin, a real estate investor based in the Bay Area who owns the ex-Borders property in Glendale with a group of partners, said it's not easy to find tenants.
"It's a little bit more challenging because of the nature of the two-story format," Alamin said. "But it's nothing that isn't surmountable."
Industry analysts expect specialty grocery store chains such as Henry's Farmers Market or discount apparel stores such as T.J. Maxx to snatch up some of the former Borders sites because of their desirable locations.
"Borders, for the most part, took good space," said Scott Trafford, senior vice president of retail in the L.A. office of real estate firm Jones Lang LaSalle.
Meanwhile, Westwood private-equity firm Gores Group, led by L.A. billionaire Alec Gores, last week was reportedly in discussions to buy more than 200 of Borders' 405 remaining stores. The deal would allow the Ann Arbor, Mich.-based book chain to continue operating as a going concern, but wouldn't affect the already closed Borders.
Creative opportunity
Promenade at Howard Hughes Center is working to find a tenant for its former Borders store, a 25,138-square-foot space on the shopping plaza's first level.
Howard Wong, director of leasing at the center, said the closure of Borders gives the shopping plaza the opportunity to bring in new tenants such as entertainment and restaurant concepts, or discount apparel retailers. But he recognized that it could be difficult to find a tenant that will complement the center's other offerings, which include Marie Callender's Bakery & Café; Nordstrom Rack; and Gymboree Play & Music, a kids' activity space.
"The challenge is bringing the right mix," Wong said.
One Dollar is negotiating to temporarily move into the Borders space at the center under its Piccolo's moniker within the next several months.
"We are welcoming the opportunity to work with Piccolo's," Wong said. "We want to continue the synergy in our center."
Ward Albright, a consultant working with One Dollar Bookstore, said the discount bookstore chain is also eyeing other former Borders spaces.
Some shopping centers might not want the cheapie look of a discount bookstore in their ex-Borders space, he acknowledged. But he said the vacancies have created an opportunity for the company to expand and take over significantly larger spaces than it usually occupies.
"We provide a space that isn't empty and that has a functioning tenant," Albright said.
For reprint and licensing requests for this article, CLICK HERE.
Stories You May Also Be Interested In