No Concessions for Movie Theater?
Luxury cinema too tall for Beverly Hills.
Monday, July 25, 2011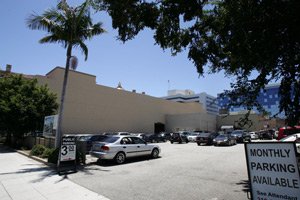 Beverly Hills may be home to some of Hollywood's biggest stars, but surprisingly it doesn't have a single first-run commercial movie theater.
And it doesn't look like it's getting one soon.
A proposal to build a nine-screen multiplex has elicited strong opposition, even though the complex would feature $29 tickets and gourmet food befitting its 90210 ZIP code.
The problem? The proposed theater would be a large development in a city that's antidevelopment.
"We are not interested in being West Hollywood or Century City," said Marilyn Gallup, a member of the Beverly Hills Municipal League residents group, at a Planning Commission meeting. "We have our own brand and cachet. This does not include a high-rise."
Boca Raton, Fla., movie theater developer iPic Theaters, which owns Gold Class Cinemas, wants to open the largest of its signature theaters on Canon Drive. It would feature waiters, food prepared by chefs, and recliners with pillows and blankets.
However, the proposed luxury multiplex near Wilshire Boulevard in the city's Golden Triangle shopping district would be just inches short of 80 feet tall, nearly double the allowable height for the area. That has prompted residents and even some local business owners to say it should be dramatically scaled down and, if not, abandoned.
The project site is a parking lot at 257 N. Canon Drive that is only steps from some of the city's prime destinations, including Spago, Mastro's Steakhouse and the Montage Beverly Hills.
At the July 14 Planning Commission meeting, Gallup and other opponents spoke out against the proposal, and the commission asked iPic to come back with a smaller project in September.
Mark Mulcahy, vice president of marketing for iPic, said the company would try to do so.
"We're committed to getting this project done 110 percent, so we are going to regroup as a team and go through what our options are," he said. "We think this is the perfect place and we need to see what logistically is feasible."
Theater plans
The only movie theater in Beverly Hills is the aging Music Hall, a three-screen venue owned by Laemmle Theatres on Wilshire and Doheny Road that plays independent and art films. There's also the Paley Center for Media and the Academy of Motion Pictures Arts & Sciences headquarters, which both have screening rooms, but generally don't show first-run movies. If residents want to see the latest big-budget Hollywood release, they need to head to Century City or the Beverly Center mall in Los Angeles.
Prev Next
For reprint and licensing requests for this article, CLICK HERE.