Firm on Second-Name Basis With L.A. Lawmakers
Partners related to public officials say they avoid conflicts of interest.
Monday, July 18, 2011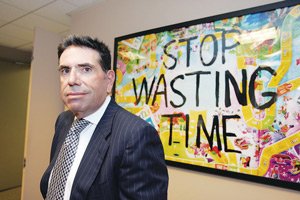 How much name recognition is too much?
That's the question for lobbying firm Englander Knabe & Allen.
Two of the firm's name partners have close relatives who are prominent elected politicians in Los Angeles County. Partner Matt Knabe is the son of Don Knabe, longtime member of the Board of Supervisors. Managing Partner Harvey Englander is uncle to Mitch Englander, who became a member of the Los Angeles City Council on July 1. In addition, Harvey Englander's son Joshua works for the Los Angeles County Metropolitan Transit Authority as its Washington, D.C., lobbyist.
Do these names and any potential conflicts of interest help or hinder the growth of EKA, which is ranked second on the Business Journal's list of public relations firms with revenue of $6.8 million?
Harvey Englander, who founded the firm in 1980, said he doesn't see the family connections as either an advantage or disadvantage.
"The story of our firm is one of phenomenal growth, and it wasn't based on relationships with one or two people," he said. "There is no advocacy going on between me and Mitch or between Matt and Don Knabe."
Roman Porter, executive director of the California Fair Political Practices Commission in Sacramento, said that elected officials are required to recuse themselves from voting on issues if they have a direct economic interest in the decision. The financial interest is limited to the income or assets of the politician, his or her spouse and any dependent children living at home. The situation at EKA doesn't meet those criteria.
When an EKA client needs to advocate a position to either Don Knabe or Mitch Englander, a nonfamily member at the firm who has a relationship with those people handles the matter.
Englander said he has heard criticism about the Knabe relationship, but he pointed to a Board of Supervisors vote in November to ban plastic bags in supermarkets as evidence that his firm doesn't enjoy any special privileges. EKA represented the American Chemistry Council, which opposed the ban, but Knabe and the board approved it.
Englander said he's aware that it's important to avoid even the appearance of a conflict. People have asked him to specifically lobby only Don Knabe or former Councilman Grieg Smith. (Mitch Englander was Smith's chief of staff for eight years before winning Smith's seat when he was termed out.) EKA refused these requests.
"We say, 'No, we can't do that,' " Englander said. "It looks like influence peddling and we won't do it."
Prev Next
For reprint and licensing requests for this article, CLICK HERE.