Jerry Digney: Stunt Man
P.R. veteran has used everything from a public clown marriage to putting the pope on the Harlem Globetrotters to stoke the careers of his show business clients.
Monday, July 11, 2011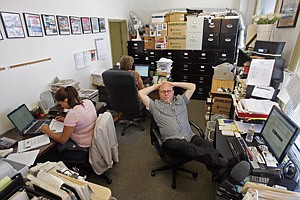 Pop culture and Hollywood history clutter the office of Jerry Digney. Located in a cramped suite at the legendary crossroads of Hollywood and Vine, his office looks like a set from a 1940s movie with paper piled high on the desk and old movie posters on the walls. Digney's clients now include Lady Gaga, Gwen Stefani, the TV show "Glee" and Josh Groban. But his first contract was with Ringling Bros. and Barnum & Bailey Circus, an act that brings to mind a bygone epoch of entertainment history. Past clients have included Frank Sinatra, Muhammad Ali, Bob Newhart and Michael Jackson. Digney is known for outrageous publicity stunts: He once weighed a herd of elephants at a truck stop in Florida to promote Ringling Bros. He arranged the marriage of a clown couple at the Love statue in Philadelphia, also for Ringling. In 1984, he mounted a mock presidential campaign for Larry Harmon in his Bozo the Clown character, earning coverage by Time magazine. Digney, who took over his agency last year when longtime partner Lee Solters died, met with the Business Journal at his office and discussed how he worked on behalf of the Harlem Globetrotters to make the pope an honorary member of the team and how Secret Service agents flipped out when he had a president's daughter ride a circus elephant.
Question: What was the best idea of your career?
Answer: Putting Laurel and Hardy on a postage stamp.
How did you arrange that?
In the 1980s, we represented the Laurel and Hardy estate. We were looking for ways to generate some buzz since the property had been around forever and both Stan Laurel and Oliver Hardy were dead. I came up with the idea of a commemorative postage stamp. This was before the Hollywood Legends stamp series, so I put together a committee of luminaries to approach the Postal Service with the idea.
Who was on the committee?
Lucille Ball, Jackie Gleason, Johnny Carson, Jimmy Stewart – basically every comedian immediately jumped on board because they loved Laurel and Hardy. It took two years to get the project moving. Ernest Borgnine was on the Citizen's Stamp Advisory Committee that makes recommendations to the postmaster general. He finally kicked the ball through the goal. The post office called me after two years and gave us approval.
And another great idea?
Making the pope an honorary Harlem Globetrotter. I worked through contacts with the U.S. Embassy in Rome and the Vatican. That happened in 2003 and it was a publicist's dream, a home run. Pope John Paul II loved the idea because he had a sense of humor and was an athlete in his youth. The publicity for the Globetrotters was truly global.
What's the worst part of your job?
Clients have unrealistic expectations. It's frustrating because sometimes you have a client that you think is worthy of publicity, but for some reason the story never gets traction. It makes everyone feel disappointed.
Can you give an example?
I remember B.B. King had an incredible story. He was born on a plantation in Mississippi and become one of the great blues guitarists. When he reached his 80th birthday, I thought he would be a slam-dunk to get on the Oprah Winfrey Show because she's from Mississippi. Never happened. I had to explain that Oprah had her own tastes and sometimes it's all a matter of timing.
What were your favorite corporate clients?
We launched two projects that changed popular culture in the United States. We handled publicity for the launch of People magazine in 1974, and for the TV show "Entertainment Tonight" in 1981.
What were the challenges?
People was easy. It was based on the People page in Time magazine, which had a readership of millions at the time.
How about "Entertainment Tonight"?
Tough. No one in the entertainment business, including the publicists, could believe that people would care enough about entertainment news to watch it every night. Can you imagine? Part of the assignment was to book people on the show, and we had to beg, borrow and steal celebrities to sit for an interview. They just didn't see the value. But "ET" created a whole genre of TV shows, just like People created a whole genre of magazines.
Did you go to school to become a publicist?
No, I went to acting school. My father asked me how I would make a living as an actor. He scared me off being an actor. I signed up to go to Graham, a local college in Boston where I lived. But I still liked show business, so while in school I got a job as a radio news announcer. That's where I got my exposure to publicity.
How?
I would see these publicists come through with their clients for interviews at the station. They had what appeared to be a very cushy gig. They just shut up and let these glamorous people talk. Then they left the station and checked into the Ritz-Carlton.
When did you make the jump from radio announcer to publicist?
When Lee Solters came to town looking for someone who could write, I submitted some samples. He called me up and said, "So when is the next time you're coming to New York?" Like I go there every day. I said, "Next week." So he hired me at age 22. I didn't know anything about publicity, even the word "publicist."
How was your relationship with Solters?
We instantly bonded. He became my mentor. Lee was a pioneer in the entertainment business, along with Warren Cowan, Henry Rogers and few others. Before them the publicity for movies was controlled by the studios. As the studio system broke down, actors and producers became independent contractors and suddenly they needed their own publicity agencies.
Who was your first client?
Ringling Bros. and Barnum & Bailey Circus. The owners of the circus were Irvin Feld and his son Kenneth Feld. They owned the circus plus Ice Follies and Holiday on Ice. They also developed the Siegfried & Roy act in Las Vegas. For a 22-year-old guy, it was pretty exciting work.
Wasn't the circus a lost art by the 1970s?
Actually, it was called the second golden age of the circus. When Ringling Bros. decided to switch from tents to buildings, Irvin Feld decided to buy them. Irvin was such a natural promoter he soon had not one but two circuses that toured simultaneously around the country. We played Madison Square Garden for 12 weeks every year. The newspapers would write, "It must be spring because the elephants are in town."
Did you deal with the circus folk?
Yes, a different type of people. Most had been in the circus for generations. They didn't speak terrific English. And the animal people had their own attitude. They were more comfortable with animals than people, very antisocial. If you asked them to pose the elephants for a photographer, they would just snarl.
What's your favorite circus memory?
When Ringling Bros. opened in Washington, D.C., Susan Ford came to see it. She was the daughter of President Gerald Ford. She came from the White House to the circus. I said, "Do you want to ride an elephant?" She said sure. I put her up on an elephant for the opening parade.
How did the audience respond?
They loved it, but the Secret Service guys went crazy. There were two Secret Service agents on each side of the elephant, trying to protect her. It was the funniest thing you ever saw.
How did you get to Los Angeles?
In 1979, I quit the Ringling Bros. circus because I was burned out from traveling. There was a guy out here named Cliff Vargas that owned Circus Vargas in Lakewood. I agreed to work for him at the main office, but not on the road. Vargas was this crazy, wild impresario character who wore flamboyant clothes and outrageous wigs. The circus people were intimidated by him – he was liable to throw a hammer at them if they disobeyed him. It was old-school circus management.
How long did you stay with Vargas?
Two years. By that time Lee Solters had relocated to Los Angeles and he called me to work for him the second time.
And later you left Solters again?
Yes, I jilted him one more time. In the late 1980s, I went to work in product licensing for Larry Harmon Pictures. Larry was the actor who played Bozo the Clown. After 11 years at that job, Lee called me. He was getting older and wanted to prepare someone to take over the business. I came back as a partner in 1997.
Did you ever consider leaving Solters and starting your own company?
I did but I was afraid of failure. That's why I stuck with Lee. There was great comfort in soliciting his opinion about clients or projects. His counsel calmed me down.
What was the turning point of your career?
I guess when I came back to work with Lee in 1997, that was the turning point because I decided I wouldn't change careers again. It was make-or-break time. I've learned to enjoy the business more and not be consumed by nagging thoughts about the unpredictability of the business.
Were you nervous previous to that time?
Well, I thought about all the factors beyond your control. I remember one time, just after I started with Lee, we had this wonderful press event in San Francisco with huge turnout. Then the announcement came out that Nixon had resigned. Every press guy in the room ran out of the event and we didn't get any publicity. It's totally out of your control.
Who was your favorite celebrity client?
I worked with Ray Charles the last 10 years of his life. He produced the "Genius Loves Company" album that won eight Grammy awards. A movie of his life was produced. It was fun to see all this come together while he was still alive and could enjoy it.
What is the most difficult assignment of your job?
You always have celebrities asking you to kill stories in the press. Nowadays it's harder than ever because the sources of information are so many.
How do you kill a story?
Horse trade. You say, look, if you don't run that story I'll give you a better story next week with another client. That worked best in the old days with columnists like Army Archerd at Variety, Bob Thomas at Associated Press and Vernon Scott at UPI. You could call Army and ask him to set one aside in return for a better column item next week.
What are your hobbies when you're not working?
I have two hobbies – art and collecting circus memorabilia.
What are your favorite circus items?
Programs from the early days when P.T. Barnum was owner of the circus. And personal letters from Emmett Kelly. In 1979, I was still with Ringling Bros., so I was the person who announced to the world that Emmett Kelly, one of the great clowns of all time, had died. I've kept stuff from these people I knew.
What about your art hobby?
I've painted oils and pastels, totally self-taught and mostly figurative art. I've had shows all over the country.
Have you sold any paintings?
Many times. But I gave up painting because I didn't have time in this business. It was easy when I was an employee, but when I became a partner with Lee, it became much more difficult.
How do you pursue art now?
I had a large collection of art books, some coffee-table books, but mostly catalogs and academic works with limited edition plates.
Do you still have the collection?
I sold about half of it to a friend in Seattle last year. It was six tons of books – a full truck load. I still enjoy the other half.
Who are your heroes?
I don't have any. The downside of this business is you get up close and personal with celebrities. You realize what rats they are.
Gerard 'Jerry' Digney
Title: Owner and chief executive
Company: Digney & Co.
Born: Boston; 1950.
Education: Leland Powers School of Acting; two years at Graham Junior College in Boston (never graduated).
Career Turning Point: Leaving product licensing to return to work for Lee Solters in 1997.
Most Influential People: Lee Solters
Personal: Lifelong bachelor, lives in Toluca Lake. Mother is still alive in Boston and working as a dental hygienist at 87.
Hobbies: Oil painting; collecting art books and circus memorabilia.
For reprint and licensing requests for this article, CLICK HERE.