Matter of Tastes
Wine bar dispenser lets customers control size of pours and bill.
Monday, July 11, 2011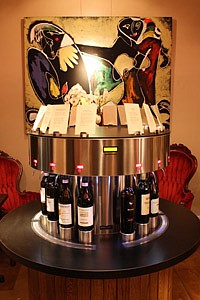 Want to enjoy Cabernet Sauvignon followed by a Pinot Noir? And then a Chardonnay and a Sauvignon Blanc? You can taste them all at one sitting thanks to special dispensers that are showing up in local restaurants.
The latest is 3Twenty Wine Lounge, which recently opened at La Brea Avenue and Third Street with two hand-made dispensers from Italy.
"The wine dispensers dole out 1.7 ounce pours, and you can taste 40 different kinds of red and white wine," said Edgar Poureshagh, a sommelier and owner of 3Twenty.
The wine bar joins others in Santa Monica, Culver City and downtown Los Angeles with similar dispensing machines.
This is how it works. The customer gets a plastic card that's inserted into the machine. The customer selects the wine, and the machine pours a small amount into a glass. The customer can return to taste a second wine, then a third and so on. The card records each purchase and the customer turns it in later to pay.
A big advantage: You can taste expensive wines that you otherwise might not have tried, and only pay for a small quantity.
"The most expensive wine we have now is Spring Mountain Vineyards 1987, Cabernet Sauvignon, which costs $195 for a bottle. People don't want to pay this much money, but you can get a pour at $15, which is affordable," Poureshagh said.
The pours start at $1.50, with most in the $7-$8 range. The bar at 3Twenty also serves an additional 15 wines hand poured by the glass.
Will the pouring machines become commonplace in bars and restaurants?
"It's too early to say it's becoming a trend," said Jerry Prendergast, a restaurant consultant in Culver City. "But the idea that people can pick whatever they want is beginning to attract more people."
For reprint and licensing requests for this article, CLICK HERE.