Dean Scarborough: Sticking to It
Chief executive has spent almost his entire career working for label and office products maker Avery Dennison.
Monday, February 28, 2011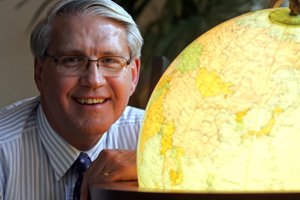 Dean Scarborough loves labels. That's because, as chief executive of Avery Dennison Corp. since 2005, he oversees a Fortune 500 company in Pasadena well-known for its adhesive labels and office products used in more than 60 countries. In fact, Scarborough, 55, is one of those increasingly rare Americans who has spent virtually his entire career working with the same company. He grew up in Cleveland, where his father started several businesses, most notably a machine tool distribution company where Scarborough worked as a young man. The experience, he said, whetted his appetite for business and set the stage for what was to come. Today, Scarborough spends a good deal of time traveling abroad to confer with Avery's manufacturing and sales executives worldwide. He also serves as a trustee at his alma mater, Hiram College in Hiram, Ohio. When he isn't traveling, playing golf or watching the Food Network with his wife at their Pasadena home five minutes from work, Scarborough oversees the vast international label empire from a sunny office overlooking the Foothill (210) Freeway. That's where the Business Journal caught up with him.
Question: You're in the label business. Was that your lifelong dream?
Answer: No, it certainly wasn't. When I was in my late teens, however, my goal was to run a Fortune 500 company. The funny thing was that I had kind of forgotten about it. Then when I became CEO, I got all these letters from my college buddies saying, "You did it!" I thought, "Oh, yeah, that was my declared goal back then."
How does one acquire a goal like that at such an early age?
My dad was an entrepreneur who ran a machine tool distribution company he had started in the basement. Later in life, he ran an upscale deli and then a kite shop when he was semiretired. So there's been an entrepreneurial spirit in the family. I was brought up with a business perspective. I loved economics and, as an undergraduate, read the Wall Street Journal every day.
How did you end up at Avery?
I came here right out of business school. They were hiring M.B.A. graduates at the time and I had lots of job offers, including one from Proctor & Gamble, but I turned them down because what I heard there was, "We're going to teach you how to write a one-page memo in your first year." Avery lent itself more to the entrepreneurial culture I had grown up in. I felt that they were going to give me lots of responsibility early on.
Prev Next
For reprint and licensing requests for this article, CLICK HERE.
Stories You May Also Be Interested In