CEO Carousel for Koreatown Banks
Chief exec post is often a short-term, shifting gig.
Monday, February 28, 2011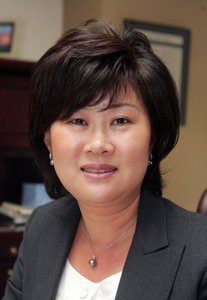 There's an epic game of musical chairs going on in Koreatown's banks.
Jae Whan Yoo, a one-time chief executive of Hanmi Bank, was fired recently as the top executive at Center Bank, only to take the same title this month at nearby Wilshire State Bank, replacing Joanne Kim, herself a former Hanmi officer.
But that's not all.
Yoo's shuffle came not long after Nara Bank's chief executive, Min Kim, stepped down and took the helm of a nearby lender now named Open Bank. In the middle of all of this, Saehan Bank's leader, Chung Hoon Youk, resigned from his post, which has not yet been filled.
Confused yet?
L.A.'s ultracompetitive Korean-American banking industry has a rate of turnover among top executives not seen at other local banks. Among Koreatown's "Big Four" institutions – Nara, Wilshire, Center and Hanmi – all but Hanmi have changed CEOs since last year.
Analysts say the heavy turnover stems from a custom in South Korea where top executives typically sign three-year contracts and are replaced frequently to keep leadership fresh.
"Usually three or six years and the person is gone," said Sung Won Sohn, a noted Southern California economist and former chief executive of Hanmi. "If the person stays on for six years, that's a long time. That's the way the Koreans do it in Korea."
But lately the turnover has been exacerbated by the weak economy, which has strained the Korean-American banking sector and led to hundreds of millions of dollars in losses primarily on commercial real estate and construction loans. For an industry accustomed to fast growth and strong returns, the losses have been difficult, and the strong personalities that populate Korean-American bank boards have shown a willingness to shake up management at a moment's notice.
The next duty, of course, is to find a replacement. Typically, the new hire is a familiar face, someone who worked just a few blocks down Wilshire Boulevard at another bank.
Observers say the particular challenges of running a Korean-American bank – namely, language and culture barriers – limit the universe of qualified candidates.
"There is a tremendous competition for talent because the talent is limited," Sohn said. "You can't get an American from Florida and then place them in Koreatown, L.A. You should be trying to get that person from another Korean bank."
By comparison, other local banks, including ethnic Chinese institutions, look downright static. Cathay Bank's top officer has been in place for 17 years; East West Bank's leader is going on 20; and City National Bank, which is not an ethnic bank, has had the same chief executive for 16.
For reprint and licensing requests for this article, CLICK HERE.
Prev Next