CEO Carousel for Koreatown Banks
Chief exec post is often a short-term, shifting gig.
Monday, February 28, 2011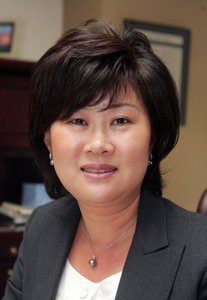 There's an epic game of musical chairs going on in Koreatown's banks.
Jae Whan Yoo, a one-time chief executive of Hanmi Bank, was fired recently as the top executive at Center Bank, only to take the same title this month at nearby Wilshire State Bank, replacing Joanne Kim, herself a former Hanmi officer.
But that's not all.
Yoo's shuffle came not long after Nara Bank's chief executive, Min Kim, stepped down and took the helm of a nearby lender now named Open Bank. In the middle of all of this, Saehan Bank's leader, Chung Hoon Youk, resigned from his post, which has not yet been filled.
Confused yet?
L.A.'s ultracompetitive Korean-American banking industry has a rate of turnover among top executives not seen at other local banks. Among Koreatown's "Big Four" institutions – Nara, Wilshire, Center and Hanmi – all but Hanmi have changed CEOs since last year.
Analysts say the heavy turnover stems from a custom in South Korea where top executives typically sign three-year contracts and are replaced frequently to keep leadership fresh.
"Usually three or six years and the person is gone," said Sung Won Sohn, a noted Southern California economist and former chief executive of Hanmi. "If the person stays on for six years, that's a long time. That's the way the Koreans do it in Korea."
But lately the turnover has been exacerbated by the weak economy, which has strained the Korean-American banking sector and led to hundreds of millions of dollars in losses primarily on commercial real estate and construction loans. For an industry accustomed to fast growth and strong returns, the losses have been difficult, and the strong personalities that populate Korean-American bank boards have shown a willingness to shake up management at a moment's notice.
The next duty, of course, is to find a replacement. Typically, the new hire is a familiar face, someone who worked just a few blocks down Wilshire Boulevard at another bank.
Observers say the particular challenges of running a Korean-American bank – namely, language and culture barriers – limit the universe of qualified candidates.
"There is a tremendous competition for talent because the talent is limited," Sohn said. "You can't get an American from Florida and then place them in Koreatown, L.A. You should be trying to get that person from another Korean bank."
By comparison, other local banks, including ethnic Chinese institutions, look downright static. Cathay Bank's top officer has been in place for 17 years; East West Bank's leader is going on 20; and City National Bank, which is not an ethnic bank, has had the same chief executive for 16.
"There's been more turnover in the ranks of Korean-American banks than we've seen elsewhere," said Aaron James Deer, an analyst with New York's Sandler O'Neill & Partners LP.
Out in the open
While most of the moves happen behind closed doors, the drama spilled out onto the public stage last month with Center's unexpected firing of Yoo, one year after he signed a three-year contract extension.
In December, Center and Nara announced that they would merge to form the country's largest Korean-American bank, with more than $5 billion in assets, a move driven by the desire of the two relatively healthy institutions to consolidate power in a crowded industry.
Under the terms of the deal, expected to close later this year, Nara Chief Executive Alvin Kang is assuming the same role in the merged institution, while Yoo was set to become president, a title traditionally held by the chief executive. The move was an attempt at compromise, but some in the community saw it as a snub for a respected banker like Yoo.
"Anytime there's a merger of equals, it's likely that there is going to be some difficult management decisions," Deer said.
According to multiple sources familiar with the situation, several Korean-American banks, most notably Hanmi, began trying to poach Yoo after it was revealed that he would not become the top executive. Center's board terminated Yoo after confirming that he had entertained other offers.
Yoo, Center and Hanmi either declined to comment or did not return calls requesting comment.
Wilshire, which will be the largest Korean-American bank until Nara and Center's merger closes, quickly recognized the opportunity. The $3 billion-asset bank had stumbled recently, posting an unexpected $30 million loss in the fourth quarter, its second loss in three quarters.
In short order, Joanne Kim stepped down as chief executive Feb. 18 after three years at the helm of Wilshire. She could not be reached for comment and the bank declined to comment about her departure. But a source familiar with the situation said her relationship with the board had soured amid the losses. After her resignation, the board did not hesitate to nab Yoo.
"He's well-respected with lots of experience in our community," said Alex Ko, Wilshire's chief financial officer. "For the CEO of a public bank in our community, there's a lot of qualifications needed. It's not a big community (and) he does have previous experience as CEO of Hanmi Bank and Center Bank."
Center and Wilshire were not the only Korean-American banks shaking up management recently. In January of last year, Min Kim (no relation to Joanne) stepped down as chief executive of Nara, just months after signing a three-year extension. She said her departure – and that of a number of other banks' leaders – came about after butting heads with the board over the direction and performance of the bank.
Director disagreements
Like most Korean-American banks, which have heavy concentrations of commercial real estate and construction loans, Nara was hit hard after the financial crisis. After setting aside $60 million to cover loan losses in 2009, the bank endured its first annual loss in well over a decade.
Kim said Korean-American bank directors tend to be active in the day-to-day operations of the institutions, which stems from the fact that many of the individuals have historically held large ownership positions. Performance issues, therefore, frequently generate friction between officers and boards.
"Oftentimes they want to dictate management," she said of Korean-American bank boards. "Many CEOs don't want to work for that. They don't want to be told what to do on a daily basis."
Though outright terminations are relatively rare, she said most boards won't hesitate to force an executive to resign because "they think that stability of the CEO is not that important."
But Kim did not stay out of the game for long, joining First Standard Bank as chief executive in May to help the small Korean-American bank resolve lingering credit issues and improve its image. The bank, also headquartered on Wilshire Boulevard, has since changed its name to Open Bank.
Other local banks have made executive changes while struggling with credit problems. Youk, for instance, resigned in October from Saehan after the bank was hit with heavy losses on commercial real estate and construction loans.
Saehan, which lost $10 million in the fourth quarter, remains under a 2009 federal regulatory consent order that requires it to retain a "chief executive officer with proven ability in managing a bank of comparable size and risk profile." The bank is being run on an interim basis by CFO Daniel Kim, who did not return calls for comment.
Joseph Gladue, an analyst with West L.A.'s B. Riley & Co., said there is no doubt the economy has played a role in the turnover, which can be disruptive. In fact, Center recently issued a statement saying it does not expect Yoo's ouster to affect its merger with Nara.
Gladue said that Center and Wilshire, which both installed new leaders quickly, will likely see little disruption, but said other institutions that have a more unsettled management situation, such as Saehan, could have a tougher road to recovery.
"The lack of a CEO could potentially be a disruption," he said. "They still have a number of bad loans to work through."
For reprint and licensing requests for this article, CLICK HERE.