Moving Furniture
PROFILE: Couple snapped up two near-bankrupt businesses to create firm that makes antique reproductions.
Monday, February 21, 2011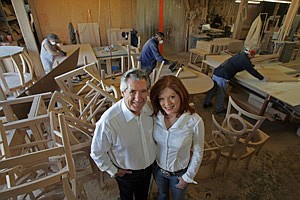 When the recession started, Keith and Gayle Hudson decided they needed to do something as a hedge against the deteriorating economy.
He had a background in manufacturing consulting, she in interior design. The couple started looking around for opportunities, and that led to the creation of GLP Designs Inc.
"We wanted to find a business in which we could use our skills compatibly," recalled Keith, 66. "We wanted something that we could work on together as a vocational hobby."
Two prospects presented themselves almost immediately. One, a company called Quackenbush & Winkler, had been created by two entrepreneurs in 1968 to reproduce antique 18th century French and English furniture at a factory in Inglewood. The other, Antique Designs, was a major competitor offering more refined reproductions made in Mexico.
Both, as it happened, were on the verge of bankruptcy.
So the couple acted quickly. They bought Quackenbush for about $325,000, mostly from their savings. Later, they acquired Antique Designs by promising its struggling owner an 8 percent royalty on sales for the next several years.
"They were absolute gems," Keith said of the two failing furniture companies. "The furniture was beautiful; the gorgeous kind our grandparents grew up with. We felt it was a heritage that needed to be saved."
And a way to make money, too. The Hudsons bucked a national trend by moving all production into the United States at a single facility in Inglewood. In addition, they initiated a "lean manufacturing" mode: building furniture only after it is ordered and paid for.
"That gives us cash flow allowing us to work from operating income instead of having to borrow money for inventory," Keith said. "We have no receivables and therefore no risk."
Skilled craftsmen
Today, GLP Designs employs 19 people – many of them skilled craftsmen. That's more than quadruple the number of a year ago. The company displays samples of its furniture, mostly custom built for interior designers serving high-end customers, at its West Hollywood showroom and at locations in 16 cities including Denver; Washington, D.C.; Atlanta; Chicago; St. Louis; New York; Cincinnati; Dallas; Seattle; and San Francisco. The majority of it ends up in the homes of the designers' clients, ranging from wealthy doctors and lawyers to entertainment industry executives and company chief executives.
The company also sells manufactured furniture directly to Starbucks, KB Homes and Paramount Studios.
Annual sales have jumped from about $700,000 in 2009 to just over $2 million last year.
Furniture sales fell during the recession, but the industry's high end, which the Hudsons serve by offering custom-built furniture to people who can afford it, was relatively unscathed.
"Those of us who had good clientele never stopped working," said Victoria Reitz, president of the L.A.-area chapter of the American Society of Interior Designers, a trade organization representing 1,350 designers from Paso Robles to Orange County.
The Hudsons aren't alone in bringing some production back within U.S. borders. While manufacturing offshore may make sense for mass-produced items, industry analysts say, the formula is different for customized goods.
"GLP isn't the only high-end company building its domestic production," said Pat Bowling, vice president of communications for American Home Furnishings Alliance, a national trade association in High Point, N.C.
While manufacturing furniture more cheaply abroad can pay off handsomely when it can be shipped to consumers by container, Bowling said, shipping items individually makes them too costly to compete.
"The whole reason the industry moved offshore to begin with was because it was cheaper to ship by container load," she said. "It's not so cost-efficient when you're shipping just one."
Not to mention, there's the problem of quality control.
"I am radically opposed to so much of everything being imported from China or Mexico," said Reitz. "No matter how good the Internet is, what you see isn't necessarily what you get because everything looks good on camera."
The Hudsons say their move to Inglewood has improved their production efficiency as well as allowed them to personally oversee the product quality with a quicker turnover and delivery.
"We felt that if we could control our manufacturing processes, introduce new technologies and efficiencies, eliminate waste and change the way we build products to make them look more authentic that we could be competitive," Keith said. "It's worked out fine; we're hiring instead of firing."
For Gayle, 57, there's a personal motive as well.
"Wouldn't it be terrible," she said, "if our children didn't have a chance to see this kind of furniture?"
Currently the company manufactures about 1,400 pieces of wood furniture ranging from a dining room table that sells for $1,200 to an antique armoire priced at $25,000. In between is a wide range of items including antique dining tables for $6,000 to $10,000, coffee tables for $3,000 to $4,000 and beds for about $6,000.
Designers say the company has simplified the buying process.
"I think the niche they fill has to do with their ability to connect with the designer," said Deborah Davis, owner of Deborah Davis Design Inc., an L.A.-based interior design firm. "Sometimes there are three layers – the designer, showroom contact and a factory rep, not to mention the person actually giving instructions on the line. What GLP does is cut through several layers."
But has the company met its founders' goal of protecting them from the downturn?
"It's making enough money to support itself and enable us to invest in new sales and marketing programs as well as new product development," Keith said. "We've been approached twice already to sell and the answer has been no."
GLP Designs Inc.
YEAR FOUNDED: 2009
HEADQUARTERS: West Hollywood
CORE BUSINESS: Designing and manufacturing high-end reproductions of antique furniture for use by interior designers.
EMPLOYEES: 21 (up from five last year).
GOALS: To double the company's size in the next three years.
THE NUMBERS: Annual sales have jumped from $700,000 in late 2009 to more than $2 million last year.
For reprint and licensing requests for this article, CLICK HERE.