Leading Role in Hollywood
Special Report: WHO'S WHO IN BANKING
Monday, February 21, 2011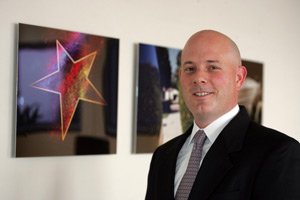 The Business Journal turns the spotlight on local bankers who lend the money to keep Hollywood rolling.
Some of Hollywood's biggest movies might never have been made without David Shaheen, yet his face doesn't grace the tabloids and his name can't be found in the end credits.
At just 39, Shaheen heads JPMorgan Chase's entertainment industries group, one of the largest film-financing divisions in the banking industry. With $10 billion in loan commitments to production companies, the group has helped producers make scores of box office smashes and Oscar winners such as Alcon Entertainment's "The Blind Side" and Lakeshore Entertainment's "Million Dollar Baby."
"I don't like to overstate it," Shaheen said, "but it is fair to say that there are companies out there that we have stuck with from the beginning and gotten them to the point where they were able to hit pay dirt with a big film like a 'Blind Side.'"
As in many industries, the financing markets for Hollywood productions contracted during the economic downturn. But while a number of banks pulled out of the industry, including many divisions of foreign institutions, JPMorgan has remained among the most active, bankrolling seven of the last 10 Best Picture Oscar winners.
The institution has been known to give smaller loans for individual pictures, but more typically arranges nine-figure credit lines with studios. JPMorgan typically acts as the so-called administrative agent when syndicating loans, taking the largest stake in partnerships that often include City National Bank, Comerica Bank and a handful of other major film finance specialists. On average, Shaheen said, the syndicated loans total upwards of $300 million.
The bank also provides investment banking services to the industry, including underwriting last year's initial public offering of RealD Inc., a Beverly Hills 3-D film projection company.
Shaheen, who grew up in the northeast, did not envision that he would one day become one of the most powerful bankers in Hollywood. He got into the biz almost by accident.
In 1995, shortly after joining JPMorgan in New York, he transferred to Los Angeles and took the one job he could find within the bank: a one-year assignment under legendary film financier John Miller, who bankrolled films ranging from "Revenge of the Nerds" to "The Aviator."
Gruff and plainspoken, Miller was known as a by-the-numbers guy who shunned the glitz of Hollywood and relied on mountains of data to drive his lending decisions. After more than a decade working with him, Shaheen has picked up where Miller left off.
Shaheen said he doesn't try to guess whether a movie will be popular and won't bother with scripts.
"I've actually never read a script personally," he said. "There's a reason I'm on this side of the table. I understand the corporate finance and how to construct the right financing structure, but I would be lost in trying to pick a winner."
Shaheen's decisions are driven by a careful analysis of the producers' business plan. He will assess the track record of the management team and examine the distribution partnerships in place. The risk is spread by syndicating loans with other banks or other lenders. With some large projects, the bank's participation may be less than 25 percent of the total financing.
But there is one aspect in which Shaheen differs with his longtime mentor: Shaheen doesn't avoid the red carpet.
"It is a fun business, there's no doubt about it," he said. "After you've done this for a decade-plus – I've been doing this for 16 years – you start getting a little bit jaded, but it is still fun to go to premieres and walk the red carpet."
David Shaheen, 39
Managing director, head of the entertainment industries group JPMorgan Chase, West Los Angeles
Residence: Westwood
Education: B.A., economics, Boston College; M.B.A., UCLA Anderson School of Management
Years in Industry: 16
Notable Films Financed: "The Blind Side," "Million Dollar Baby"
For reprint and licensing requests for this article, CLICK HERE.
Stories You May Also Be Interested In