Joke Over for Comedy Brand?
Ponzi claim may force Lampoon sale.
Monday, February 21, 2011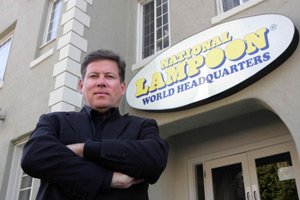 National Lampoon Inc., the comedy company in West Hollywood, could be sold as the result of a lawsuit over an alleged Ponzi scheme run by its chief executive.
The suit was filed last week by the bankruptcy trustee for Fair Finance Co., a defunct Akron, Ohio, company formerly controlled by Timothy Durham, National Lampoon's chief executive.
Creditors forced Fair Finance into bankruptcy last year after the FBI raided its offices. Court documents filed at the time alleged that Durham and a partner had run Fair Finance as a Ponzi operation and siphoned about $200 million out of the company into other businesses they controlled.
Last week, the court-appointed trustee for Fair Finance filed a lawsuit seeking to recover assets from two investment companies that Durham controlled. The goal is to use the companies' assets to repay about 5,300 people and organizations in Ohio that loaned money to Fair Finance.
The suit alleges Durham's companies perpetrated "a fraud with shocking proportions and consequences." Durham personally is not a defendant in the suit and has not been charged.
Durham did not return repeated phone calls for comment. In December 2009, he discussed the FBI raid with the Business Journal shortly after it happened and denied any wrongdoing. At the time, he had a home near Beverly Hills.
Although National Lampoon isn't mentioned in the suit, it remains part of Durham's business empire – he serves as chief executive and owns about 8 percent of the stock. As a result, the company could become part of the settlement with the creditors, said Kelly Burgan, attorney for the bankruptcy trustee for Fair Finance at the firm Baker & Hostetler LLP in Cleveland.
"Tim Durham has interests in more than 70 companies," Burgan said. "This complaint doesn't ask for a dollar amount, but we think we are entitled to everything those companies have – every last dollar."
Burgan alleged that National Lampoon received indirect loans with money from Fair Finance. The money had been loaned to other Durham companies or friends, and then loaned again to National Lampoon.
Laikin convicted
Daniel Laikin, National Lampoon's former chief executive and a business associate of Durham's, was the largest individual recipient of loans from the alleged Ponzi scheme. The suit states Laikin owes more than $20 million, including interest, to Fair Finance. He was convicted on securities fraud charges related to his conduct at National Lampoon and is serving a four-year sentence.
National Lampoon would appear to offer little compensation to any creditors. Its largest source of income is royalty payments on decades-old films such as "Animal House." The company trades on the Pink Sheets, closing Feb. 17 at 5 cents a share. It has a market capitalization of $475,000.
However, Burgan said she has received numerous phone calls from people in Hollywood interested in buying the National Lampoon name, should the trustee gain control of it through the bankruptcy proceedings.
Originally, Fair Finance was a factoring company that borrowed money by issuing certificates to individuals and used the proceeds to purchase accounts receivable from businesses at a discount. If it could collect the full value of the accounts receivable, or something close to it, it would profit. The certificates were similar to bank certificates of deposit but were not insured.
The lawsuit alleges that after Durham gained control of Fair Finance through a leveraged buyout in 2002, he switched from factoring to making direct loans to his other companies. These loans were never repaid, so Fair Finance started taking money from new investors to pay certificates that came due.
Durham operated Fair Finance "as a Ponzi scheme, enabling him to loot every last penny," the suit states. "Durham admitted to Fair Finance's attorney in 2008 that between 89 percent and 93 percent of new money brought in from investors was 'used to repay' debts to other investors."
By the time the court appointed trustee Brian Bash, a partner at Baker & Hostetler in Cleveland, Fair Finance had about one-tenth of a penny in liquid assets for every dollar of unsecured debt on its books, according to the suit.
In his December 2009 interview with the Business Journal, Durham acknowledged Fair Finance had loaned money to companies he controlled, but denied any wrongdoing. He said Fair Finance disclosed to its creditors the nature of the loans and Ohio regulators approved each of the company's investment offerings.
Peter Davidson, partner in the L.A. office of law firm Ervin Cohen & Jessup, said the trustee has a strong case for recovering assets. Davidson is not involved in the case but reviewed its outlines for the Business Journal.
"If companies received money as loans, then they have to pay them back and the trustee of Fair Finance has the right to demand payback," he said.
Davidson estimated the bankruptcy court would decide the suit in 60 to 90 days, but that won't be the end of the matter for Durham because the U.S. Attorney's Office in Ohio has an open investigation of criminal charges surrounding the Fair Finance collapse.
"The FBI has a longer statute of limitations than the bankruptcy trustee," Davison explained. "They take their time and are careful to make sure they can win a case before they file it."
For reprint and licensing requests for this article, CLICK HERE.