Banking On Studio Chief Experience
Special Report: WHO'S WHO IN BANKING
Monday, February 21, 2011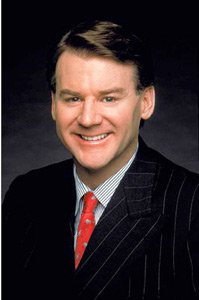 The Business Journal turns the spotlight on local bankers who lend the money to keep Hollywood rolling.
Brian Mulligan, 51
Vice chairman, media and telecommunications investment banking group Deutsche Bank, downtown Los Angeles
Residence: La Cañada Flintridge
Education: B.S., business administration, USC; M.B.A., UCLA
Years in Industry: 28
Notable Films Financed: "Erin Brockovich," "Meet the Fockers," "The Mummy," "The Grinch"
What are your responsibilities? I do everything from financing to advising IPOs and acquisitions, with a focus on media, which includes cable, satellite and, of course, traditional entertainment.
What's your film financing strategy? Deutsche Bank's media and telecom group broadly covers all kinds of financing, from high yield to investment grade to securitization, the entire landscape of which film financing is one piece of the puzzle. At a corporate level, we finance just about every studio. The strategy on any financing is to find the lowest cost of capital for our clients. It's not one cookie-cutter.
How do you evaluate potential deals? Having run Universal Pictures (as co-chairman) and having grown up in the industry, I think we have a good point of view on deals that make sense and the right risk-reward profile. We look at the quality of the individuals and management team, and judge each one off of that.
Tell us about some deals.
The bank is a major player in the space, although primarily at the corporate level. For example, we were involved with the recent capital raise for Legendary Pictures and the $500 million (bankruptcy) exit financing for MGM as well as a sole representative for Spyglass in the acquisition of MGM.
What attracted you to this business? From USC I went to Price Waterhouse in their entertainment specialty practice unit, and from there the rest is history. I worked under Lew Wasserman and Sid Sheinberg, legendary figures in Hollywood, and got exposed to the business at an early age – MCA was my first client. I enjoyed applying financial discipline to the entertainment business.
What's unique about doing business in Hollywood? I think one thing I would say is that the entertainment industry is a business that needs to be managed sort of uniquely. You have to not squeeze it so tight that you hurt the asset and not let it so loose that it hurts you. There's a real balancing that goes on.
Ever been on the red carpet? I think I've been to every major event: the Grammys, the Academy Awards, all the premieres we had over the years. I think the Oscars are magical, as are the Grammys.
What's your favorite movie? I have many favorite movies, but "The Verdict" and "It's a Wonderful Life" are at the forefront. I also have a poster in my office of "To Kill a Mockingbird."
For reprint and licensing requests for this article, CLICK HERE.