Raising Curtains
Eatery Mohawk Bend latest L.A. business to roll into old movie theater.
Monday, August 8, 2011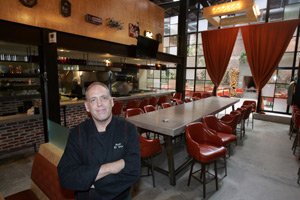 After two decades of sitting vacant, the old Ramona Theater in Echo Park is back in business.
But if you go there, you can't see a Hollywood blockbuster or even a Woody Allen movie. You will, however, be able to down a meal of herbed flat bread with mashed avocado and goat cheese.
Inside the old shell of Ramona's is Mohawk Bend, a mostly vegetarian and vegan eatery that opened last week.
This isn't the first new business to be created in one of L.A.'s historic movie theaters. Over the past two decades, old theaters have been put to new use as nightclubs, jewelry stores, bars and even a branch of Barnes & Noble.
However, Ramona's is perhaps the first to become a restaurant. And for owner Tony Yanow, who also runs Burbank pub Tony's Darts Away, the choice was simple.
"I love that neighborhood, and I wanted to be able to use an area nearby. This space was ideal for me because of the location and size," he said.
The conversion of the building at 2141 W. Sunset Blvd. into a restaurant is the latest twist on a trend that began in the late 1980s as developers sought new uses for single-screen theaters driven out of business by modern multiplexes.
Among the most notable was the 1990 transformation into a nightclub of downtown's ornate Mayan Theater, a designated cultural landmark built in 1927 featuring pre-Columbian motifs inside and out.
Since then, some theaters, including the El Capitan in Hollywood and downtown's Orpheum Theatre on Broadway, have been renovated and still show movies, but most house new ventures, with nightclubs among the most common.
In the past couple of years, Hollywood hot spots Supperclub and Playhouse opened at two old theaters; in March, the Belasco nightclub opened at the former Belasco Theater in downtown.
Vaudeville venue
The Ramona doesn't have the glorious architectural heritage of the Mayan, but it does have a historic past.
It was constructed in 1914 as a venue for vaudeville acts and called the Garden Theatre, and only later became the Ramona. In the 1960s, its name was changed again, to Studio One, and the theater showed second-run and Spanish-language films in the years before it closed.
By the time Yanow discovered it last year, the marquee remained but the venue's interior had been stripped. Not even the seats remained.
"I know it hadn't been used since even before the Northridge Earthquake," he said.
Prev Next
For reprint and licensing requests for this article, CLICK HERE.