Raising Curtains
Eatery Mohawk Bend latest L.A. business to roll into old movie theater.
Monday, August 8, 2011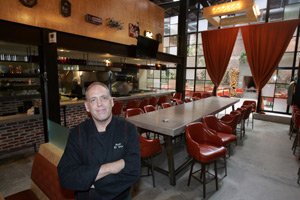 After two decades of sitting vacant, the old Ramona Theater in Echo Park is back in business.
But if you go there, you can't see a Hollywood blockbuster or even a Woody Allen movie. You will, however, be able to down a meal of herbed flat bread with mashed avocado and goat cheese.
Inside the old shell of Ramona's is Mohawk Bend, a mostly vegetarian and vegan eatery that opened last week.
This isn't the first new business to be created in one of L.A.'s historic movie theaters. Over the past two decades, old theaters have been put to new use as nightclubs, jewelry stores, bars and even a branch of Barnes & Noble.
However, Ramona's is perhaps the first to become a restaurant. And for owner Tony Yanow, who also runs Burbank pub Tony's Darts Away, the choice was simple.
"I love that neighborhood, and I wanted to be able to use an area nearby. This space was ideal for me because of the location and size," he said.
The conversion of the building at 2141 W. Sunset Blvd. into a restaurant is the latest twist on a trend that began in the late 1980s as developers sought new uses for single-screen theaters driven out of business by modern multiplexes.
Among the most notable was the 1990 transformation into a nightclub of downtown's ornate Mayan Theater, a designated cultural landmark built in 1927 featuring pre-Columbian motifs inside and out.
Since then, some theaters, including the El Capitan in Hollywood and downtown's Orpheum Theatre on Broadway, have been renovated and still show movies, but most house new ventures, with nightclubs among the most common.
In the past couple of years, Hollywood hot spots Supperclub and Playhouse opened at two old theaters; in March, the Belasco nightclub opened at the former Belasco Theater in downtown.
Vaudeville venue
The Ramona doesn't have the glorious architectural heritage of the Mayan, but it does have a historic past.
It was constructed in 1914 as a venue for vaudeville acts and called the Garden Theatre, and only later became the Ramona. In the 1960s, its name was changed again, to Studio One, and the theater showed second-run and Spanish-language films in the years before it closed.
By the time Yanow discovered it last year, the marquee remained but the venue's interior had been stripped. Not even the seats remained.
"I know it hadn't been used since even before the Northridge Earthquake," he said.
He leased the property from the Lotito family, the longtime owners, for five years with four additional five-year lease options. Construction on the restaurant took almost 12 months. One thing that wasn't a problem was the theater's floor, which was flat when Yanow took over.
Given the theater's location in a hip and young neighborhood – across the street is wine bar City Sip and next door is Elf Café, a tiny vegetarian restaurant – he decided on a menu that is 60 percent vegan; 20 percent vegetarian; and 20 percent fish, bison, pork and duck – but no beef, said executive chef Randal St. Clair.
And even with all the neighborhood's new residents, he kept many structural elements of the venue, including the marquee, to appeal to the long-timers.
"Some residents would drop by and tell us that they watched '101 Dalmatians' or the Beatles' 'Help' for the very first time," St. Clair said.
The marquee now features the restaurant's name, which alludes to nearby Mohawk Street, and the interior reflects its heritage. The original brick walls are visible and the dining rooms feature unusually high ceilings.
Indeed, Mohawk Bend is not small. The first floor is more than 6,000 square feet, of which 3,600 square feet is devoted to the dining and bar area for customers. The second floor contains offices.
Yanow would not disclose what he spent on the conversion, but Jerry Prendergast, an L.A. hospitality consultant, said such projects are relatively cheap compared with alternatives.
"The cost of renovating an old theater is much less expensive than buying out a building and doing a complete renovation or demolishing it," he said.
Mikayel Israyelyan, co-owner of Hollywood nightclub Playhouse, agreed.
"In Hollywood, when nightclubs came back on the scene, we looked at buying old movie theaters because of their size," Israyelyan said.
The partners settled on the Fox Theatre, but it ultimately took five years to get the club opened, including two for construction.
"It cost more than $6 million, but other options would have been even more expensive," he said.
More to come
There is no shortage of older theaters awaiting possible conversions. There are 61 theaters constructed more than 50 years ago in the city of Los Angeles alone, according to Ed Kelsey, a history buff and general manager of downtown's Orpheum.
Ten still screen movies and 14 host live shows, but nine are used as retail outlets, including several on Broadway, while a dozen are closed. Nine others are used as churches.
"There are lots of open theaters," Kelsey said.
There also isn't much opposition from historical conservationists if a project is done with sensitivity, which often is the case with the renovations.
"The days of the single-screen theater have come to pass, and by necessity, they need new uses," said Ken Bernstein, manager of the city's Office of Historic Resources. "In many cases, developers are looking for an authenticity and beauty that can only be provided by historic architecture."
Meanwhile, Yanow is continuing to expand his business. Now, he working on opening Golden Road Brewing, a craft brewery in Atwater Village. The plan is for Golden Road to serve his Burbank tavern and Mohawk Bend, as well as other restaurants.
"Hot spots can come and go, but we want to be here and be a real part of the neighborhood," he said.
For reprint and licensing requests for this article, CLICK HERE.