Fit for L.A.
Local apparel makers bring production home
Monday, August 8, 2011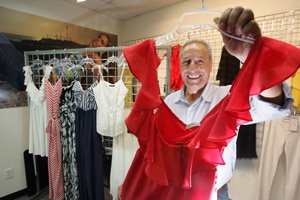 The tags on nearly all the fashionable tops, pants and dresses manufactured by Velvet Heart, a downtown L.A. company that makes apparel for retail chains and boutiques, now read: Made in USA.
It's a big change at Velvet Heart, which had been manufacturing mostly in Asia. Only 30 percent of its clothing was made in Los Angeles until the beginning of this year. That figure is now up to 95 percent.
Moshe Tsabag, founder and chief executive, cited two driving forces: the increasing costs of labor and raw material in China, and the need for quicker turnaround here at home to accommodate his fast-fashion retailers.
"There's a need for faster delivery, and this is where Asia is not able to accomplish as much," said Tsabag, who noted that it may take three or four months to get a new item from China. "Here, I can get the fabric in a couple of weeks, (have the apparel made) in three weeks and get it in the stores in five weeks."
Tsabag isn't the only one boosting manufacturing in Los Angeles.
"We are getting calls every day from brands saying, 'We want to shift our production back to the United States,' " said David Perry, founder of apparel design, sourcing and production firm DSP Group in downtown. "Financially, it works; logistically, it works. It's a trend now."
For more than a decade, the apparel manufacturing industry in Los Angeles County had lost jobs to global competition. Companies started moving garment production to factories in Mexico after the North American Free Trade Agreement went into effect in 1994. Many jumped to China when quotas on apparel goods from there were phased out from 2002 to 2005. Before then, companies couldn't take advantage of labor costs, which were so low that the savings more than compensated for transport costs.
As a result, the number of workers in the county's apparel manufacturing industry plunged 54 percent, from 104,300 in 1996 to 48,300 last year, according to the state's Employment Development Department. About 98 percent of all apparel sold in the United States is imported now, with 40 percent coming from China, according to the American Apparel & Footwear Association.
Quickening pace
But the landscape is changing. Now, employment in L.A.'s apparel manufacturing sector is increasing for the first time in more than a decade.
Employment in the industry grew 1 percent from 47,900 workers in 2009 to 48,300 last year, the first year-over-year increase for the county's apparel manufacturing industry since the mid-1990s, according to the state's Employment Development Department.
Prev Next
For reprint and licensing requests for this article, CLICK HERE.