Jay Grossman: Biting Down
Dentist treats both Hollywood stars and destitute veterans. Did it all start when he was fired from McDonald's?
Monday, August 8, 2011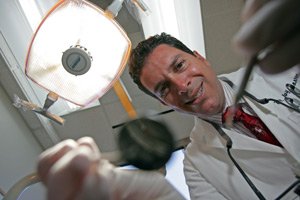 Jay Grossman has worked on the pearly whites of such celebrities as John Travolta and William H. Macy. In fact, Grossman's dental practice is so star-studded that the National Enquirers and TMZs of the world often call his office looking for dirt – the calls don't get returned, of course. Grossman, 48, may now be the dentist to the stars, but he didn't spend his youth around the rich and famous. He grew up in a 900-square-foot house on Long Island with a salesman father and homemaker mother who often argued about money problems. At 10, Grossman decided he wanted to drive a Cadillac and live in a nice house – like his dentist did. He graduated from the New York University College of Dentistry, then moved to California in the late 1980s with his wife and baby daughter. After two years in the Navy, Grossman started his own practice in Brentwood. That was 1991, and he has since built it to more than 11,400 patients. Grossman recently sat down with the Business Journal at his home in the Santa Monica Mountains between Malibu and Calabasas – where he parks his Maserati in the driveway and takes care of his chickens in a backyard coop – to talk about his childhood, a car accident that left him homebound for months and what it's like to have William H. Macy as a patient.
Question: How did you become a dentist to the stars?
Answer: I had a nanny coming in who worked for the Travoltas. She liked the care and told her bosses, and then Kelly Preston came in to interview me and I've been taking care of them ever since. They've been very generous with referrals in the celebrity community.
Who are some of your other celebrity clients?
William H. Macy; his wife, Felicity Huffman; Sharon Stone.
Any good stories about them?
The first time I met Bill Macy, it was about 10 years ago or so. He was referred by his wife, who was a patient of mine at the time. I'm waiting in the celebrity suite and I hear Bill outside yelling on the phone, the halls were shaking. As he puts his hand on the doorknob to open it up, he says, "What part of fat and ugly don't you get?" And he slams the phone shut. And just like the great actor he is, he turns to me and goes, "William H. Macy, I'm here for my appointment with Dr. Grossman."
How did you react?
I go, "I just heard a conversation that was a little loud and I want to make sure you are in a good space to get your dental work done." So he goes, "Let me explain something to you. When my wife and I met, we decided how great would it be to have a relationship where we actually love each other and don't sleep with everything that moves because that's what Hollywood does." So they decided that their house help and personal assistants would be gay or fat and ugly. So he had called his manager because he needed an assistant, and they sent last month's Penthouse pet of the month. So he was yelling at his manager when he said, "What part of fat and ugly don't you get?"
You also worked on the homeless man who became famous because of his "golden voice," Ted Williams?
I get a phone call from Dr. Phil and he said, "I have a favor to ask. I'm flying Ted in to interview and his teeth are a mess." So Dr. Phil sends him in and he was in there for hours and I said, "It looks like it's been a while since you've been to the dentist." And he goes, "I don't know, 20 years." And I'm looking at his mouth and his teeth look like a piece of dynamite went off, they are black and broken.
Did you treat him?
Four hours into it I said, "Ted, are you ready to get started (with intensive work)?" He goes, "I'm pretty tired. Can we do this tomorrow?" The next day I get a call from Dr. Phil and he said. "I'd like you to come on the show, Ted has checked into rehab." I have not seen him since.
I imagine that tabloids call asking about your clients?
I get calls all the time, especially when the Travoltas lost their son because he was my patient for quite some time. I don't take the calls and I don't return the calls. Every now and then somebody gets through and I say, "Do you really expect to get something out of me? Do you really think a word in your magazine would be worth losing all of my other clients."
When did you realize you wanted to be a dentist?
I was 10 years old.
What sparked your interest in dentistry?
Our family dentist, Mike, was about an hour away because it was my mom's best friend, and we went to him because we didn't have the money to go to the guy around the corner. I remember when we were walking down the street to his office and everybody was saying hello to him and calling him Dr. Mike, not his last name but his first name. And he had a comfortable lifestyle. He had enough money that he got a new car every five years, a Cadillac.
Where did you grow up?
Long Island. I was raised in a very white town an hour from New York City called Plainview. I was raised in a 900-square-foot house. The house was in a nice neighborhood, but it was probably the smallest house in the neighborhood.
What did your parents do?
My mom was a stay-at-home mom, which I really give her a lot of credit for because she's a brilliant woman. My father had one job his entire life, it had no bells or whistles or glory to it. He was a salesman for an electronics corporation.
It sounds like your family was middle class.
My parents were lower middle class. Recently, I had a conversation with my father asking him why he wasn't more entrepreneurial and he said it was the perfect job because it guaranteed no traveling and it was 9 to 5. He was home every day for breakfast and dinner and he could give use a bath every night.
Where you entrepreneurial growing up?
I had a paper route when I was 10. I was working at McDonald's in 10th grade.
What was working at McDonald's like?
They have a policy that once you cook food, it can stay in the warming bin for nine minutes and then it gets thrown away. If you were working a four-hour shift, you got a meal break and you could eat any item that was over nine minutes old. So new management comes in, and I'm on my break and I put six or seven Big Macs on my tray and a bag of fries. My manager says, "Grossman, come here."
Did you get in trouble?
He said, "What are you doing?" I said, "I'm on my break." I showed him the time stamp, the food was 11 minutes old. The next day there's a note above the time clock, "New policy, $3.50 limit on food." I said, "What do you want me to do with all the food that's old?" He said, "Throw it away." I go, "You would rather throw it away than feed your employees?" He said, "Grossman why don't you clock out." I go, "For the day?" He said, "No, forever."
How did that influence you?
I got fired from McDonald's because the boss was an idiot and didn't know how to take care of his employees. I remember saying to myself, "I will never work for somebody and I will treat my staff with respect and honor and perks."
How did you end up in Los Angeles?
I moved out here with my wife, a 3-week-old baby and no license. I moved in with my in-laws and my father-in-law said, "I think it's time to get a job." And he mentioned the military. He's a doctor and he graduated medical school and went into the Air Force. So I decided to go with the Navy because they have nicer uniforms. Have you ever seen their dress whites? They are smoking hot. That was the main reason and the second reason is that you are guaranteed a location on the beach.
And then?
I got out of the Navy in 1991 and I opened my practice in Brentwood. I built my practice through every technique known to mankind. I did mailers, I did coupons, I hired staff to walk around with brochures and I did a lot of internal marketing. I have 11,420 patients right now.
Tell me about your charity, Homeless Not Toothless.
My practice is on San Vicente and Bundy and the VA is on San Vicente and Wilshire. It's walking distance. So I used to live in Westchester and I would drive by the VA everyday and there's always a different guy on the corner with a sign that says, "Veteran, will work for food." So one day I drove by and handed him a dollar, the next I order a second lunch and when I drove home, I hand him some food. But I thought, "This isn't making a difference."
What did you do?
One day I handed him my business card and I said, "I just opened my practice down the street, I've got tons of time and no patients." I said, "Why don't you come in and see me and I'll fix your teeth. And I need you to show me you are 90 days sober so I need you to go to an A.A. program and bring me a 90-day chip and I'm going to set you up with a work program."
What are your other businesses?
A property management company that manages my personal real estate investments, which my wife and I have made over the last 20 years. I have a business where I provide expert witness testimony for dental malpractice cases. That takes up almost all Fridays, I'm either in trial or depositions or prepping for a case. I founded a company called Waiting Room Theater. When you walk into a dentist office, there's a TV playing information about products and services and photos introducing the patients to the staff and we provide that content.
Who has been the most influential person in your life?
Peter J. Daniels. He's an Australian billionaire who gave me some private coaching sessions. In his lifetime, he met Martin Luther King Jr. and Gandhi and he asked them each if they could redo their lives, what would they do differently. They both said they would have dreamt bigger. So he turns to me and says, "What are you going to do with your life?"
What was a turning point in your career?
Starting my non-profit. I find that as my non-profit has gained momentum and popularity, my practices has taken off. I think that most people who really love what they do would do it for free if they could, but everybody has bills to pay. So for me, it's the perfect combination.
What has been a life-changing moment?
I had a horrible car accident a few months ago and I'm just coming out of a lot of rehabilitation. I was on Pacific Coast Highway at a light and somebody was going north in the south bound lane. I got hit at about 60 mph head on in my Maserati, which was 11 days old. I'm glad to be on this side of the dirt. I was unconscious, my colon was perforated and they had to operate and put that back in, my nose was broken and my ribs were busted. I took months off of work and that was painful not being in there. My patients were worried and concerned, and I was worried about the practice.
How did the accident impact your family?
It was really trying on them because for months I was not functioning at all. I needed around-the-clock care and I had no short-term memory. They would keep asking me the same questions over and over again and wondering why I was not remembering. I got scared because my photographic memory was something that I relied on.
Did you see your life flash before your eyes?
I wasn't sure for quite some time whether I was alive or not, it was a near-death experience. It took me months to get past the trauma of dealing with the fact that I lived through it.
Jay Grossman
TITLE: Founder and CEO
COMPANY: Dr. Jay Grossman & Associates
BORN: New York; 1963
EDUCATION: D.D.S., New York University.
CAREER TURNING POINT: Starting his non-profit, Homeless Not Toothless.
MOST INFLUENTIAL PEOPLE: Peter J. Daniels, Australian businessman and life coach. Dentists Charlie Pillar and Mike Leiman, early mentors.
PERSONAL: Lives in Monte Nido with wife of 24 years, Briar. Couple has adult son and daughter and one teen-age son.
ACTIVITIES: Skiing, playing saxophone.
For reprint and licensing requests for this article, CLICK HERE.