Postproduction Company Looks to Channel 3-D TV
ADS sees conversion of 2-D shows as business boost.
Monday, August 1, 2011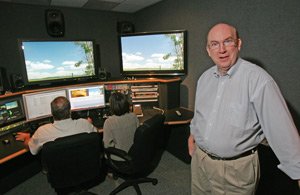 Postproduction and technology companies suddenly are competing to convert old reruns into new 3-D TV. They're hoping 3-D catches on in home theaters this year as it did in movie theaters in 2010.
Last week, Hollywood postproduction company Advanced Digital Services Inc. announced the addition of conversion services to its repertoire, looking for studios that want to convert 2-D TV libraries to 3-D. ADS is competing with Dynamic Digital Depth, a Westchester-based technology company that licenses mobile 3-D conversion technology.
Both ADS and DDD use software to identify where 3-D could be added to a shot. A technician then does the conversion.
Thomas Engdahl, chief executive of ADS, is marketing the new service to studios and production companies. Those customers can then sell the 3-D content to cable and satellite providers including Comcast and DirecTV, which both have 3-D channels.
In June, Disney became the first studio to launch a 3-D channel, ESPN 3-D.
But there could be more to come.
This March, studios began sending Engdahl clips of old shows, asking if he could convert them to 3-D on a trial basis. That spurred him to train three members of his postproduction team in stereography, the technique used for conversion.
In the following months, he has seen more interest from studios looking to convert and commercialize footage that would otherwise be sitting on a shelf. He said he's in talks with two studios and a production company, but declined to name them.
ADS' main business will remain in other areas of postproduction, including creation of media kits, high-definition conversions and editing. The company has 86 employees.
"We're all about monetizing," Engdahl said. "Two-D to 3-D is enhancing our customers' ability to make money."
ADS charges about $3,000 to $5,000 per minute of conversion, while DDD charges around $10,000 per hour for TV conversions. Both companies have a similar approach, but ADS has a more detailed technical process. And both are considered in the middle of the pricing pyramid. For comparison, conversion of theatrical films from 2-D to 3-D can run up to $100,000 per minute.
DDD, which has 30 employees, and ADS offer relatively lower prices in part because conversion for TV requires less labor. Rather than work on each frame individually, as is done for theatrical releases, TV technicians convert entire scenes at once.
Low demand
The conversion opportunities are ultimately tied to how popular 3-D TVs become. Last year, only 1.2 million 3-D TVs were sold in North America, according to New York market research firm ABI Research. High prices and little content were two reasons cited by El Segundo research firm iSuppli for low consumer demand.
But ABI projects 3.2 million 3-D sets will be sold in North America this year.
Still, TV buyers don't make their purchasing decisions based on 3-D, said Jason Blackwell, an ABI analyst. Sales are projected to increase because high-end TVs will offer 3-D as an added feature.
But with 3-D TVs arriving in more homes, even if not a result of direct consumer demand, Engdahl hopes to make the shows feel natural to the point where a viewer hardly realizes the added depth.
Engdahl compares the adoption of 3-D in the home to that of high-definition TVs a few years ago.
"It's a duplicate paradigm of when HD came on," he said. "It's richer and more interesting."
But the 3D-conversion business faces special challenges. Some content doesn't convert well. Shows like "The Office," filmed with handheld cameras, are poor candidates due to the shakiness and lack of depth in the sets.
Other shows, shot in standard definition, must be upgraded to high definition before being converted to 3-D.
In addition, channels such as 3Net, a joint venture launched in June by Sony, Imax and Discovery, will only show programming originally shot in 3-D, so no conversion will be necessary.
That leads some to believe that if 3-D TV catches on, converted footage may just be a place holder before native 3-D footage is widely available.
"There is a market for the near future," said Philip Lelyveld, program manager for the Consumer 3-D Experience Program at USC's Entertainment Technology Center. "But native 3-D content is coming a lot faster than people expected. Conversion may be just a transitional need."
For reprint and licensing requests for this article, CLICK HERE.