Residential Builder Homes In on Some Positive Signs
KB led L.A. market despite slow sales for new properties.
Monday, April 25, 2011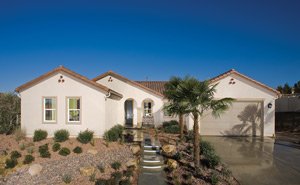 It's been down so long, anything looks like up to KB Home.
The Westwood-based homebuilder sold fewer homes last year than the year before. An executive there waxed optimistic, but expressed some frustration, too.
"It just feels like things are getting better," said Steve Ruffner, president of KB's Southern California division. "We are on the bottom of this thing and affordability is at an all-time high. I think those are the good ingredients for a good year."
The company's strategy has been to market a new home as a better purchase than an existing home. But it's a hard case to make these days.
"The frustration for us is trying to get the word out about what makes us different from a used home," Ruffner said.
Nevertheless, KB retained its No. 1 ranking on the Business Journal's list of largest real estate developers selling homes in Los Angeles County.
KB sold 299 new homes in the county last year, down 77 from 2009. The 25 largest residential developers built 2,346 last year, down from 2,907 the year before.
When tax incentives that spurred home purchases in 2009 and early 2010 came to a halt, sales dropped dramatically. Prices then followed, and developers stopped building.
The chain of events isn't mysterious, said Richard Green, director of USC Lusk Center for Real Estate. The weak economy and dramatically deflated home values for existing and new homes aren't good news for homebuilders.
"We're not building any houses for the very good reason that they are worth less than the cost of building them," Green said.
A point of interest: KB's best-performing price bracket in recent years was between $200,000 and $250,000. But even sales in that space narrowed from 148 in 2009 to 95 in 2010.
The company has opened new complexes in the outer reaches of Los Angeles, including Valencia and Lancaster, and is aggressively marketing apartments at its first urban-style complex on Erwin Street in Woodland Hills' Warner Center.
No. 2-ranked Miami-based Lennar Corp., a homebuilder and financial services company, reported a decline of only three homes in its year-over-year numbers.
Irvine-based Standard Pacific Corp., a luxury home builder, dropped to No. 7 from last year's No. 2 spot with a 44 percent decline in the number of homes closed. Standard Pacific closed the most homes above $1 million, with 53 sales in that price bracket.
The market typically sees a spike in home purchases in the spring season. But it's not clear that the trend will hold for this year, Green said.
"We're doing a third our normal pace of our new construction and we're not seeing a real pickup from that," he said. "It just makes people very skittish knowing that there are all these unsold houses out there."
For reprint and licensing requests for this article, CLICK HERE.