Is L.A. Taking Shots At Liquor Tastings?
Store owners say city pouring it on with permit fees.
Monday, April 25, 2011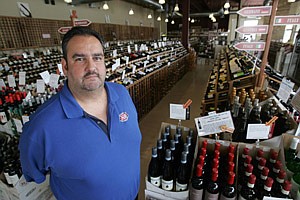 Want to sample that single barrel, 15-year-old Scotch before plunking down $64.99 to buy it? After all, you may hate the flavor.
A new state law allows liquor stores to provide tastings to customers – just don't expect to find many in the city of Los Angeles.
Unlike some other municipalities, Los Angeles is requiring liquor stores that want to hold tastings to get special permits. By some estimates, those permits could cost $15,000 or more.
City officials explain that the tastings need to be tightly regulated, but the cost is leaving a bad taste in the mouth of store owners who say the expense is so outrageously high they'll never get one."We're a fairly good-sized business, but we can't imagine paying this," said Tom Martinez, manager of the Hollywood outlet of K&L Wine Merchants, a Redwood City-based small liquor chain. "The city of L.A. is making it cost-prohibitive to obtain."
The law, which was backed by the liquor industry and went into effect Jan. 1, allows retailers to hold tasting events for hard liquor, wine and beer under strict conditions, including limiting the amount of alcohol that can be served. Stores also must apply for an instructional tasting permit from the state Department of Alcoholic Beverage Control.
However, the law also allows municipalities to further regulate the events, and the Los Angeles Zoning Department earlier this year issued regulations requiring store owners to get a conditional use permit, which requires a public hearing.
Tony Perez, spokesman for City Councilman Ed Reyes, chairman of the council's Planning and Land Use Management Committee, said the permit process will allow close case-by-case review of applicant liquor stores. But he acknowledged the fee also would be a deterrent to prevent overproliferation of instructional tasting licenses.
"Alcohol licenses are touchy because of proliferation," said Perez. "We shouldn't feel sorry for these people, because they make a lot of money selling alcohol."
He added the permits also will generate money to cover additional public safety costs, including more police patrols around stores that give out samples.
Nationwide trend
The tastings law was backed by the liquor industry, which sees it as a way to increase sales as distillers offer up more premium vodkas, whiskeys and other spirits to more discriminating palates. Tasting laws have been adopted by other states over the last several years, with California becoming the 44th state to do so.
"In today's economy, customers want to know what a single-malt Scotch tastes like if they're going to be shelling out $40 or $50 a bottle," said Ben Jenkins of the Distilled Spirits Council of the United States, a Washington, D.C.-based lobbying group that represents major distillers.
It's unknown how every one of the state's 482 cities are implementing the law, but at the state level, the Department of Alcoholic Beverage Control has received 18 applications, including just two from Los Angeles, where thousands of stores sell packaged liquor. (One application is from a duty-free shop at Los Angeles International Airport.) The ABC has issued three permits to stores in three municipalities, including Half Moon Bay south of San Francisco and Simi Valley. Neither of those requires a conditional use permit or charges a local fee.
"It seems like a low-impact thing. People go in and do a little tasting," said Simi Valley City Planner Paul Drury, who added that not charging a city fee "makes sense to me."
The state ABC permit process is not insubstantial in itself. A state permit runs about $561, and must be renewed annually at a cost of $261. Stores must show that they can meet the requirements of the law, which is highly prescriptive and limits tastings to stores with a minimum of 5,000 interior square feet.
The law specifies that the event or tasting area must be separated from a store's retail area, and also limits the amount of alcohol that can be poured: Hard alcohol shots must total no more than one-quarter of an ounce and customers cannot have more than three per tasting. In total, beer tastings cannot exceed eight ounces, three ounces for wine.
At Longboard Liquors in Half Moon Bay, owner Robert Garcia called the ABC permit application process a bit stringent.
He had to post a notice at his business saying he had applied for the permit, and then state inspectors visited to make sure the tasting area complied with the law. His business is not within 600 feet of a residence, but if it were, he would have to notify residences. It took about 90 days to get the permit, which the city simply reviewed and signed off on. Garcia plans to rotate liquor, wine and beer tastings – one type per weekend.
"I've got vendors lining up to do it," he said
Officials are taking an even more cautious approach in Los Angeles, where the city has been criticized for allowing liquor stores to proliferate, especially in South Los Angeles.
The conditional use process, which often takes months, requires that store owners put up on-site notices and notify nearby businesses and residences before a hearing in front of a zoning administrator. Chief Zoning Administrator Linn Wyatt said the cost for the permit would vary between $3,000 to $5,000 and reflects the personnel hours it takes to process them.
"We want to encourage applicants to apply for the permit and to work with applicants to facilitate the process," she said.
However, David Othenin-Girard, the spirits buyer for K & L, said the license fee only represents part of the costs. He estimated the license would cost his business more than $15,000, including a $6,500 expedited process fee, and legal and other city fees. (Some conditional use permits require sign-offs by other city departments.)
"The amount of product we would need to make up for these sorts of numbers is astronomical. It's just not feasible," said Gerard, who is applying for tasting permits in the chain's Redwood City and San Francisco stores, where there are no local fees.
Don Robbins, executive vice president of Youngs Market Co., a wine and liquor distributor in Los Angeles, said he doubts that many retailers will be offering tastings, especially since it's not clear they can pay for themselves.
"I've heard that retailers in L.A. are quite frustrated with the fee. No sane human being would pay $15,000 to engage in a business practice that doesn't necessarily generate any meaningful revenue," he said.
Problems avoided
The tastings bill, AB 605, was authored by Assemblyman Anthony Portantino, La Canada Flintridge-D. He wasn't willing to criticize how cities implement the bill.
"I feel it's important that local cities have a stake in the game," Portantino said. "The bill was crafted to give some deference to local control."
In Los Angeles, liquor sales and the proliferation of liquor stores have been a hot political issue dating back to the 1980s. As recently as two years ago, Mayor Antonio Villaraigosa was criticized for not getting involved in revoking the license of a South L.A. liquor store that neighborhood activists said was a magnet for crime.
Lauren Tyson, a Murrieta consultant who helps businesses get and keep liquor licenses, said there is no doubt there are crime problems associated with some stores – and having pourings could exacerbate that.
"Those problems lead to police services, which increase costs for cities," she said.
However, as far as some L.A. store owners are concerned, they see the city's actions as nothing more than a money grab – especially since the tastings are aimed at consumers who are willing to fork over big bucks for premium liquors.
"The law was passed to better educate consumers, and the city has taken it upon itself to use this as a revenue generator," said Martinez, the manager at K&L's Hollywood store.
At Simi Valley's Venture Liquors, which is one of the first businesses to get the permit, owner Bablu Sharma said he's eager to offer new products, such as Honey Jack Daniels, which has a suggested retail price of $22 for a 750-milliliter bottle.
"People are not willing to spend money, especially in this economy, if they've never tasted something," Sharma said. "If they try it and like it, I'm pretty sure they'll buy it."
For reprint and licensing requests for this article, CLICK HERE.