Is L.A. Taking Shots At Liquor Tastings?
Store owners say city pouring it on with permit fees.
Monday, April 25, 2011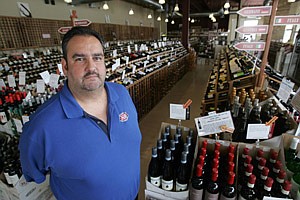 Want to sample that single barrel, 15-year-old Scotch before plunking down $64.99 to buy it? After all, you may hate the flavor.
A new state law allows liquor stores to provide tastings to customers – just don't expect to find many in the city of Los Angeles.
Unlike some other municipalities, Los Angeles is requiring liquor stores that want to hold tastings to get special permits. By some estimates, those permits could cost $15,000 or more.
City officials explain that the tastings need to be tightly regulated, but the cost is leaving a bad taste in the mouth of store owners who say the expense is so outrageously high they'll never get one."We're a fairly good-sized business, but we can't imagine paying this," said Tom Martinez, manager of the Hollywood outlet of K&L Wine Merchants, a Redwood City-based small liquor chain. "The city of L.A. is making it cost-prohibitive to obtain."
The law, which was backed by the liquor industry and went into effect Jan. 1, allows retailers to hold tasting events for hard liquor, wine and beer under strict conditions, including limiting the amount of alcohol that can be served. Stores also must apply for an instructional tasting permit from the state Department of Alcoholic Beverage Control.
However, the law also allows municipalities to further regulate the events, and the Los Angeles Zoning Department earlier this year issued regulations requiring store owners to get a conditional use permit, which requires a public hearing.
Tony Perez, spokesman for City Councilman Ed Reyes, chairman of the council's Planning and Land Use Management Committee, said the permit process will allow close case-by-case review of applicant liquor stores. But he acknowledged the fee also would be a deterrent to prevent overproliferation of instructional tasting licenses.
"Alcohol licenses are touchy because of proliferation," said Perez. "We shouldn't feel sorry for these people, because they make a lot of money selling alcohol."
He added the permits also will generate money to cover additional public safety costs, including more police patrols around stores that give out samples.
Nationwide trend
The tastings law was backed by the liquor industry, which sees it as a way to increase sales as distillers offer up more premium vodkas, whiskeys and other spirits to more discriminating palates. Tasting laws have been adopted by other states over the last several years, with California becoming the 44th state to do so.
"In today's economy, customers want to know what a single-malt Scotch tastes like if they're going to be shelling out $40 or $50 a bottle," said Ben Jenkins of the Distilled Spirits Council of the United States, a Washington, D.C.-based lobbying group that represents major distillers.
Prev Next
For reprint and licensing requests for this article, CLICK HERE.