California Looks for Hollywood Comeback
TV and film tax credits gain on rivals'
Monday, April 25, 2011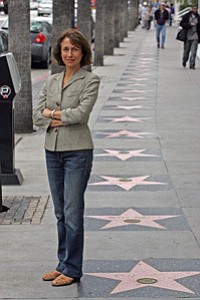 The $100 million in tax credits California has available each year to help convince movie and TV productions to shoot in the state have always seemed paltry compared with the lavish giveaways available in many rival states.
But there is growing political pressure in several of those other states to downsize or even end their programs because of tight budgets – a development that could work in California's favor.
Arizona allowed its film incentives to expire at the end of last year, while New Jersey suspended its tax credits for the current fiscal year. In addition, Michigan is considering capping its program for the first time, New Mexico has already trimmed its incentives and Pennsylvania is under pressure to do the same.
"It is probably less generous than almost every other state that's offering a program. But I think because of that, our program will be easier to sustain," said Amy Lemisch, director of the California Film Commission, which doles out the credits.
Since California's Film and Television Tax Credit Program was launched in 2009, 116 projects have benefited from it. To date, $300 million in credits have been distributed for films such as "Water for Elephants," which opened over the weekend, and the HBO miniseries "Cinema Verite," which premiered Saturday.
Hundreds of more productions are already expected to clamor for credits when another $100 million becomes available June 1. In the past, the commission has had to turn down about 60 percent of qualified applicants because credits run out.
"There's a lot of anxiety among the producers and those in the industry who will be applying," Lemisch said.
The commission claims the program is directly responsible for generating $2.2 billion in spending in the state since July 2009. Of that total, $728 million has been in wages for below-the-line workers, who are lower-profile production employees aside from actors, writers and directors such as grips, and lighting and camera crews.
"I think it's a pretty big spending impact for our $300 million investment," Lemisch said from her office in a high-rise on Hollywood Boulevard in Hollywood.
According to FilmLA, which coordinates film permits for the city and unincorporated parts of Los Angeles County, on-location feature film production was up by 8.1 percent in 2010 from a year earlier. FilmLA President Paul Audley attributes the entire increase to the state tax credit.
Otherwise, Audley said it would have been the worst year on record for county productions shot outside a studio. He credits the incentive with 26 percent of L.A.-area film production last year and with 15 percent so far this year.
For reprint and licensing requests for this article, CLICK HERE.
Prev Next