More Friction in Store at Rival Malls?
Glendale Galleria updates as Caruso takes stock.
Monday, April 18, 2011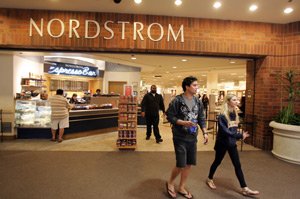 Glendale Galleria weathered the arrival of Americana at Brand across the street but now faces the departure of its high-end anchor, Nordstrom, to the ever-expanding rival shopping center owned by Rick Caruso.
However, the sprawling Galleria – which serves as an everyday shopping haunt for younger customers and families – remains attractive to some hot retailers. In fact, several trendy clothing retailers have moved there, and some of the mall's existing retailers have been sprucing up their stores.
"We appeal to so many different markets and neighborhoods all over Los Angeles. We are in what they call the battlegrounds," said Shoshana Puccia, senior marketing manager at the Galleria, which opened in the heart of Glendale in 1976. "Our retailers have an opportunity to test the market before they move forward, so it's a great place to be from a retailer perspective."
Popular fast-fashion retailers Foreign Exchange and Love Culture, and healthy fast-food eatery Stone Oven are set to open at the Galleria in coming months. Meanwhile, several retailers have launched concept stores during the previous several months – including fashion-forward teen and young women's clothing store BCBGeneration, women's apparel retailer Limited and lingerie boutique Candid Intimates. In addition, Target has added a grocery section to its three-level store.
Shopping center consultants said the retail complex is boosting its position with teens and 20- and 30-somethings as the new retailers complement Americana's higher-end stores.
"They are taking a little bit more of a moderate and younger approach to tenanting and that's exactly how that mall should be," said Jeff Green, president and chief executive at Phoenix retail consultancy Jeff Green Partners. "A moderate income, younger customer is actually the customer of the future."
With 1.5-million square feet, the Galleria is Los Angeles County's fifth biggest mall.
The addition of stores at the Galleria comes as developer Caruso expands Americana's footprint. Caruso lured Nordstrom away from the Galleria to his new wing of Americana last month, and his Caruso Affiliated Ltd. purchased the Nordstrom building from the department store. That means Caruso controls one of four anchors at his competitor.
He has reached out to Galleria owner General Growth Properties Inc. and has been floating ideas on how to revamp that section of the mall, which is home to fast-food restaurants, clothing and accessories stores, and an anchor building left vacant by Mervyns.
Caruso's plans
The developer said his renovation plans for the entire wing of the Galleria would include either razing or tearing down part of the Mervyns building.
Prev Next
For reprint and licensing requests for this article, CLICK HERE.