Cosmetics Maker Faces the Future With New Lines
Jafra creates products aimed at African-American market.
Monday, April 18, 2011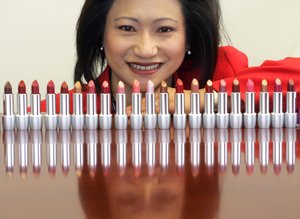 While several niche companies do makeup specifically for African-American women, mainstream cosmetics brands offer fewer color choices for darker skin. Jafra Cosmetics International Inc. thinks that jumping into that space can also solve the company's challenges.
The Westlake Village direct-sales company, which offers its products through sales consultants instead of retail stores, launched a line of makeup for darker complexions earlier this year as part of a larger facelift that executives hope will increase revenue after several years of decline.
In its heyday, the 55-year-old company was famous among California women for its skin care products, especially its best seller, anti-aging lotion Royal Jelly. Jafra uses a multilevel marketing approach, sending a sales force of 550,000 people worldwide to sell products directly to consumers one on one. Members of the sales force earn a commission on products they or their recruits sell.
Last year, Jafra had more than $500 million in sales worldwide. But while the direct-sales industry experienced only single-digit declines, Jafra struggled in 2005, 2007 and 2008 with double-digit drops in revenue. (Sales climbed slightly in 2006.)
Meanwhile, comparable direct-selling cosmetics businesses New York-based Avon Products Inc. and Mary Kay Inc. of Dallas have been creating products, drawing larger sales bases and pulling farther ahead of Jafra.
"We did global studies and (our brand) was associated with a more dated image," said Jafra Chief Executive Connie Tang, who was hired in 2008 to spearhead the company's revitalization plan.
In response, Tang and her team crafted a plan for a complete overhaul. It includes a new makeup line targeting mostly African-American women, a rebranding campaign and a new online presence aimed at attracting younger and more diverse customers. The company also hopes to increase market share and grow its product base.
"We wanted to leapfrog the competition, not just catch up," said Tang. "That began with a facelift."
One component of that plan was tapping into an underserved market with ample buying power.
African-American women spend 80 percent more money on cosmetics than the general market, and analysts project that sales of ethnic beauty products will see double-digit increases as the economy moves further into recovery.
"There's a vast world of skin tones that we neglect in the cosmetic industry," said Aliesh Pierce, an L.A. African-American makeup artist who helped craft Jafra's new colors. "There's still a huge gap. So however it's put out, whether natural products or direct selling, it's going to be well-received. The market is large enough to expand."
New products
Jafra's revitalized makeup line includes eight foundations, three specifically for dark complexions; two concealer palettes; seven new eye-shadow trios; and 10 new nail polish shades. The colors all complement African-American skin shades while also working for lighter complexions. Each sells for between $8.50 and $20.
Jafra Cosmetics International Inc.
YEAR FOUNDED: 1956
HEADQUARTERS: Westlake Village
CORE BUSINESS: Direct sales of skin care and cosmetic products.
EMPLOYEES: About 201; same as last year.
GOALS: To expand makeup line and freshen the company's image.
THE NUMBERS: Revenue from makeup grew by 25 percent last quarter.
While creating new colors for dark skin, the company also reformulated its existing makeup. Most notably, Jafra developed a finer texture for its powders, and developed a line of seasonal lotions and colors.
The new color line for African-American women is part of the first update to Jafra's makeup in more than a decade.
Sales of ethnic beauty products increased by single digits to $2.7 billion in 2009 compared with the previous year, and that trend is expected to increase, according to market research publisher Packaged Facts. People of color account for more than one-third of the U.S. population today, and are anticipated to have a spending power that will surpass $4.2 trillion by 2013.
Other companies are positioning themselves to capture part of this market, too. Mary Kay, an international direct-sales giant, introduced three shades for darker skin tones earlier this year.
Will the strategy work?
"It's a very saturated marketplace right now. There have been a number of lines in recent years that have targeted African-Americans or people with darker skin, and it's not quite the opportunity it was 10 years ago," said Phyllis Klein, president of Beverly Hills-based Phyllis Klein & Associates Public Relations, who's a former Jafra marketing representative.
One advantage for Jafra in this segment, Klein said, is that it has consistently ranked highly among Hispanic buyers, and was the No. 1 selling cosmetics brand in Mexico last year.
Company overhaul
Founded in Malibu in 1956, Jafra was created by Jan and Frank Day as a direct-sales skin care company. The title is a combination of the founders' first two names. It was acquired in 1973 by Gillette Co., which moved the cosmetics company's headquarters to Westlake Village.
Germany-based direct-selling corporation Vorweck & Co. acquired Jafra in 2004 to diversify the company's portfolio and international presence.
Little has been done to update the company's image since.
As part of its $21 million facelift, Jafra is marketing through a multiyear, $15 million online strategy, new glossy product magazines, a glossy makeup tip book as well as new logos on the products.
A $1 million, six-month remodeling of headquarters is nearly complete. Jafra also opened a $32 million manufacturing facility on 23 acres in Queretaro, Mexico, in early 2010. That development was financially supported by Vorweck.
The changes from the company's makeover seem to have stabilized Jafra's revenue, Tang said.
Michael Weber, a spokesman for Vorweck, wouldn't disclose the company's current revenue, but said ownership is looking for big numbers.
"We have every confidence that Jafra will achieve its target to be a $1 billion company within the next five years," said Weber.
For reprint and licensing requests for this article, CLICK HERE.