Church Lender Prays for Fuller Plates
L.A. savings and loan hurt as congregations' donations dip.
Monday, September 27, 2010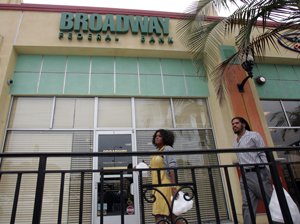 Broadway Federal Bank has a long history of lending to churches in L.A.'s low-income communities. Nearly one of every four loans made by the savings and loan is to a house of worship.
But those loans are taking a toll on the institution and some other church lenders as a swoon in church donations has left many congregations unable to keep up their payments.
This month, federal regulators ordered the L.A. thrift to raise capital to stem recent losses resulting from deteriorating loans, particularly in its $100 million portfolio of loans to churches.
The institution, owned by Broadway Financial Corp., has been lending to area churches for six decades, but executives now admit that they got overextended in that market.
"We grew way too fast," said Wayne Bradshaw, chief operating officer of Broadway, which hopes to raise as much as $10 million to solve its financial problems. "We did a lot of church loans in that growth period. We might have gotten a little overexuberant in our commitment to churches."
In fact, a growing number of financial institutions are finding that churches, once considered among the safest customers, are facing many of the same problems as other borrowers.
Evangelical Christian Credit Union in Brea, one of the nation's largest church lenders, has foreclosed on more than 20 churches over the past three years. Vineyard Bank in Rancho Cucamonga had a large church loan portfolio before losses forced regulators to close the institution last year.
Comprehensive data on church loan delinquencies are difficult to come by, mainly because the loans, usually classified as commercial real estate, are not broken out in regulatory filings. But an analysis by Thomson Reuters found that more than 100 churches nationwide have filed for bankruptcy since early last year, while the foreclosure rate has tripled in the past three years.
To Mark Hammond, executive director of the Los Angeles Southern Baptist Association, which counts 227 member churches, the reason is simple: There's less money in the collection plates each week.
"Giving is down across the board," said Hammond, who declined to discuss specific churches. "If you have less money coming in, it's certainly going to be more difficult to pay your bills."
Building boom
Broadway, which was founded in 1946 to serve L.A's African-American community, has long maintained relationships with area churches.
It was not until recently, though, that the institution used its church loan division to bulk up. In the past two years, Broadway's assets have grown from $400 million to more than $550 million.
The thrift, like many community banking peers, expanded its lending in concert with the decadelong building boom that swept the country. From the mid-1990s until the middle of the past decade, church construction activity doubled to an annual rate of about $9 billion, according to a Reuters report citing the U.S. Census Bureau.
The boom was fueled in large part by the widespread availability of credit, which many churches took advantage of to upgrade to newer, better facilities, analysts say.
"Churches are no different than any other business," said Broadway Chief Executive Paul Hudson. "When credit was made easily available, they participated just like real estate developers, just like corporate America, just like consumers, just like homeowners."
Evangelical Christian Credit Union is credited as one of the main drivers of that surge in activity as its lending activity skyrocketed. Since 2000, its assets have ballooned from $260 million to more than $1.2 billion.
"We're among the country's largest church lenders," said Jac La Tour, a spokesman for the credit union.
Though the institution still has healthy capital reserves, it has watched as delinquency rates have jumped to more than 8 percent of its total loans. La Tour said the institution, which was chartered in 1964, had not had to foreclose on a church until 2007. Since then, the credit union has taken back more than 20 religious buildings.
The debt crisis is afflicting even the country's largest congregations. In a $2 million lawsuit filed earlier this year against the Crystal Cathedral in Garden Grove for failing to repay equipment loans, it was revealed that the 10,000-member megachurch is facing $55 million in debt.
Besides a decline in donations, some larger institutions are also facing losses on investments. The Roman Catholic Archdiocese of Los Angeles lost more than $20 million in 2009 on investments.
Still, money problems appear to be particularly hurting smaller churches in low-income areas where unemployment levels tend to be highest. Tithing and other donations, the main source of income for most churches, has dropped sharply.
"I have talked to a number of churches that are struggling," said the Baptist association's Hammond.
Widespread problems
Foreclosure is considered a last resort for most lenders. La Tour said Evangelical Christian has a team dedicated to advising borrowers that are having trouble repaying loans.
Broadway, too, tries to work with church leaders to find alternatives before foreclosure becomes necessary. The thrift, which has foreclosed on three churches to date, has specialists who provide advice on ways the churches can cut costs, including laying off paid staff members in favor of volunteers, subleasing space and offering child care services for a fee.
"We try and be as proactive as we can to contact the church, work with them on expense reduction, revenue enhancement," Hudson said.
Indeed, Hammond said many local churches have cut costs through layoffs and other measures.
Meanwhile, Broadway is trying to deal with the problems in its church portfolio. As the delinquency rate rose last year, the thrift padded its loan loss reserves, resulting in a $6.5 million loss, its first annual loss in 13 years. But the portfolio has continued to deteriorate. Today, about 20 percent of its church loans are at least 30 days past due; 12 percent are more than 90 days late.
The institution's declining asset quality and high concentration of commercial real estate loans prompted its primary regulator, the Office of Thrift Supervision, to issue a cease-and-desist order this month. Among the stipulations in the order, Broadway must submit a plan by Oct. 31 detailing how it will raise and maintain its capital levels.
Broadway has since hired AuditOne LLC to do a full review of its loan portfolio and enlisted PGP Capital Advisors, a West L.A. investment bank catering to minority-owned institutions, to raise as much as $10 million.
PGP did not return calls requesting comment, but Broadway's Bradshaw said the capital raise will likely come in the form of a stock offering. He added, though, that executives are open to alternatives, including selling a stake in the institution or even merging with another bank.
For reprint and licensing requests for this article, CLICK HERE.