Frozen Yogurt Chain Heats Up Growth Drive
RETAIL & APPAREL: Pinkberry CEO looks to serve up 100 stores by end of this fall.
Originally published September 20, 2010 at midnight, updated September 22, 2010 at 2:54 p.m.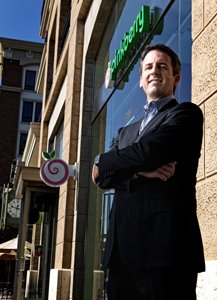 Pinkberry executives spent the past two years devising a growth plan, and now the frozen yogurt chain is opening stores at a rapid clip.
The L.A. company, which started the frozen yogurt craze more than five years ago with its tart-tasting treats, has already opened 25 stores this year, and is set to open 11 this month and next, including areas where it hasn't been before, such as Connecticut; Washington, D.C.; and Qatar.
The company expects there to be more than 100 Pinkberrys around the world by the end of this fall.
Ron Graves, Pinkberry chief executive, said the company started focusing on expansion once it had a team of executives in place that could provide enough support to so many new stores, which are mostly owned by franchisees.
"A lot of companies could grow for growth's sake, and we have had thousands of requests to open stores," Graves said. "But you need to have discipline, make the right choices, partner with the right people and have the right infrastructure to support them."
But Pinkberry faces competition amid its expansion efforts. There's Red Mango, which also offers tart-flavored frozen yogurt, and newer self-serve chains such as Yogurtland and Menchie's, which have become popular with consumers.
Pinkberry doesn't focus on the competition, Graves said, only catering to the tastes of its customers – a strategy that he believes has worked.
"There are people who eat Pinkberry parfaits for breakfast," he said.
Pinkberry has also introduced a 25-ounce container for people who want to take their favorite dessert home with them.
Fashion Fight
After studying the issue, the California Fashion Association is mounting vigorous opposition to a bill that would extend copyright protection to apparel designs. The issue pits New York and its high-fashion houses against Los Angeles and its thousands of quick-turnaround ready-to-wear companies.
The association, a downtown L.A. non-profit that represents the state's apparel and textile manufacturers, decided formally to oppose the bill earlier this month. Its members approved a list detailing why the bill should not be passed.
What's more, executives from L.A. apparel companies and representatives for some major retailers are planning to meet with members of Congress to discuss their opposition to the bill.
"We are doing our full-court press on this outrageous piece of legislation," said Ilse Metchek, executive director of the association. She declined to name the retailers involved in the fight because they didn't want to be identified.
Prev Next
For reprint and licensing requests for this article, CLICK HERE.