Clinical Lab Partnership to Kick Off in Burbank
HEALTH CARE & BIOTECH: Providence, Pathology Associates to launch business next year.
Monday, September 20, 2010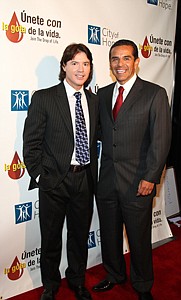 We Are the Registry
To celebrate the 10th anniversary of its effort to encourage Latinos to register with the National Marrow Donor Registry, City of Hope has turned to a star-studded recording.
A pop-infused song and video called "Gota de la Vida" ("Drop of Life") premiered at a gala event at L.A. Live's Nokia Theatre this month. The video is expected be shown on Spanish-language media, with a CD and digital recording available for sale. Proceeds will benefit outreach to Latinos, of which only a small percentage participate in the bone marrow donor registry.
About 46 Spanish-speaking artists, including Placido Domingo, Gloria Estefan and Luis Enrique, participated in the recording. The song and video, directed by Grammy winner Simon Brand, will be distributed by Universal Latino.
Other celebrities, such as champion boxer Robert "The Ghost" Guerrero, whose wife, Casey, received a bone marrow transplant in January, participated in the project.
Researchers estimate that more than 137,000 new cases of blood-related cancers, such as leukemia, will be diagnosed in the United States this year. Usually less than 40 percent of patients who need transplantation can find a match within their family. Unrelated donors must have the same blood type and compatibility increases within the same ethnic group.
"This is a 'We Are the World' for bone marrow," said Fran Rizzi, senior director of marketing for the Duarte cancer hospital, referring to the historic 1985 recording featuring a group of music stars that raised money for African famine relief.
Staff reporter Deborah Crowe can be reached dcrowe@labusinessjournal.com or at (323) 549-5225, ext. 232.
Prev Next
For reprint and licensing requests for this article, CLICK HERE.