Clinical Lab Partnership to Kick Off in Burbank
HEALTH CARE & BIOTECH: Providence, Pathology Associates to launch business next year.
Monday, September 20, 2010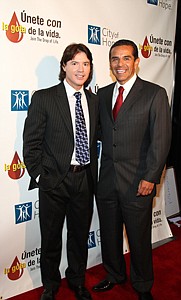 Providence Health & Services is partnering with Pathology Associates Medical Laboratories to create a clinical laboratory intended to compete in the region with national companies.
Plans call for the California Laboratory Associates LLC joint venture to begin business early next year. The venture was spearheaded by Providence Saint Joseph Medical Center, the Catholic hospital system's Burbank facility where the processing lab is located.
Rafel Millare, the hospital's director of laboratory and pathology services, said the venture hopes eventually to offer services throughout Southern California, providing competition to Quest Diagnostics Inc., LabCorp. and other big labs.
"Mom-and-pop laboratories run by hospitals and physician groups have been bought up over the years," said Millare, who believes the venture will be able to offer better prices and service than the larger labs.
Providence Health, based in Renton, Wash., already had a majority stake in Spokane-based Pathology Associates. The two entities collaborated on two laboratory companies in the Pacific Northwest and Rocky Mountain regions.
In addition to Providence hospitals and outpatient facilities, patients will be able to visit one of the hospital system's off-site patient service centers to have blood and other specimens taken. Courier services also will pick up specimens from doctors' offices.
"We have structured an outreach program here that will better serve our community," said Millare.
Initially, CLA will primarily use the newly updated Burbank lab to test specimens, with specialized testing handled by Pathology Associates' full-service lab in Spokane. The partnership should boost St. Joseph's outpatient lab business, while offering a greater variety of tests and more efficient billing. Millare said physicians with access to Providence's information technology system should be able to receive electronic lab results more quickly.
In Los Angeles County, Providence has a total of three hospitals in the San Fernando Valley and two in the South Bay.
Kythera Licensing Deal
Kythera Biopharmaceuticals Inc. has entered into a major licensing agreement with Bayer HealthCare dermatology unit Intendis. The deal gives Intendis limited rights to the Calabasas company's lead product, a fat-reduction drug candidate.
ATX-101 is a unique experimental drug now in midstage clinical trials that reduces fat under the chin. Kythera, a spinoff of the Los Angeles Biomedical Research Institute (LA BioMed) in Torrance, develops prescription products for the aesthetic market.
Under the agreement, Kythera will receive an upfront payment of $43 million for sales rights outside the U.S. and Canada, and be eligible for up to $330 million more if the drug reaches certain sales milestones. Kythera also will receive double-digit percentage royalties based on Intendis' net sales of the drug.
Prev Next
For reprint and licensing requests for this article, CLICK HERE.