L.A. Lacks the Juice to Land Electric Car Plant
Santa Monica's Coda to finish cars in Bay Area.
Monday, September 13, 2010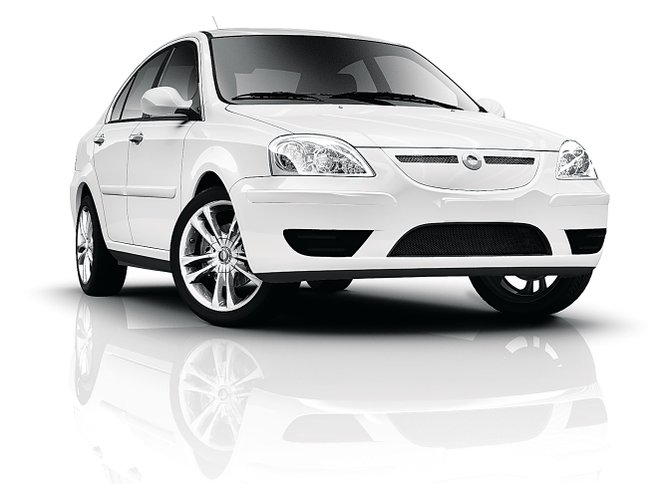 Setting back L.A.'s ambitions of becoming an electric car capital, the startup carmaker Coda Automotive Inc. is close to opening a final assembly plant in the Bay Area rather than in Los Angeles County.
The Santa Monica company, which has been in talks with Los Angeles city officials to open a local plant, is in negotiations with Amports Inc., an automotive processing services company that operates a 645-acre assembly plant in Benicia.
That facility is about 30 miles from the Port of Oakland. Coda plans to ship nearly complete vehicles from China to the plant for finishing. Once the operation is at full capacity it is expected to create about 100 jobs.
"We've reached preliminary agreement that Coda would like to have their cars final assembled in Benicia at the facility there. We don't see any obstacles," said Jimmy Triplett, a senior vice president of operations for Amports, who added it would take "a couple of weeks" to finalize the deal.
Forrest Beanum, vice president of public affairs and communications for Coda, confirmed the companies were in talks, saying in an e-mail interview that Coda hoped to sign a contract with Amports "in the near future."
However, if a final assembly plant is located in Benicia, that could be temporary. Coda continues to be in talks with Los Angeles Deputy Mayor Austin Beutner's office, said Beanum. Also involved in the talks is Los Angeles City Council President Eric Garcetti.
Coda also had been considering opening the plant in Oxnard but decided against it, company officials said.
Gary Toebben, chief executive of the Los Angeles Area Chamber of Commerce, said the apparent decision to go with the Bay Area was bad news for Los Angeles County, which has been trying to position itself as a center for the green auto industry.
"This is the kind of company that we would hope would conduct all of its operations here in Los Angeles County if at all possible," said Toebben. "It's the kind of business that we think, given the huge consumer market here in Los Angeles and the commitment to clean technology, that would be a natural fit for Los Angeles. It would also be a great customer for the ports of Los Angeles or Long Beach."
The decision by Coda is the second setback for local officials trying to woo the new generation of carmakers. Tesla Motors Inc. of Palo Alto, which has a design studio in Hawthorne, said earlier this year that it would open an assembly plant in the Northern California city of Fremont. The last-minute announcement spurned Downey, where officials thought they had an agreement for the plant.
But there has been a success. Beutner negotiated an incentive package that lured Chinese electric carmaker BYD to open its North American headquarters south of downtown next year. City officials hope eventually that BYD will locate an assembly plant in Los Angeles, though last week the Daily News reported that Lancaster officials were going to China to convince BYD to put its plant in the Antelope Valley.
Garcetti was not made available for comment. However, Yusef Robb, the councilman's communications director, said the city remains in the running for a permanent facility for Coda.
"Los Angeles needs jobs, especially high quality manufacturing jobs. And so we are working with Coda to bring its permanent final assembly plant to our city," he said.
Beutner could not be reached for comment.
The operation
Coda is the sister company of Miles Electric Vehicles Inc., a Santa Monica company that imports low-speed electric fleet vehicles from China that have been purchased by UCLA and NASA. Electric vehicle entrepreneur Miles Rubin is chairman of the holding company of both Coda and Miles Electric.
Coda's cars, expected to go 90 to 120 miles on a single charge, will be standard sedans aimed at middle-class commuters. But production is a complicated international affair.
The car is based on a five-seat gasoline-powered sedan first sold in 2005 by Chinese carmaker Hafei Motors, according to Inside Line, an auto industry webzine published by Edmunds Inc. It is being sub-assembled at a plant leased from Hafei. However, Beanum said the car has been extensively re-engineered by Coda, with steel added to the chassis and major drive-train and safety components almost exclusively sourced from the U.S.
Batteries are being supplied by a joint venture with Lishen Power Battery, a Chinese state-owned battery company. Last year, the venture completed an automotive battery plant in the Chinese port city of Tianjin that is producing its lithium-ion batteries. The overall battery system is assembled in Tianjin, but the electronics for the system are designed by Coda and manufactured in North America, Beanum said.
The power system and the sub-assembled chassis are then "final assembled" and tested by Coda in California.
Coda is in a race. It said it will get electric cars to American consumers by the end of the year. Meanwhile, automakers ranging from other startups to major manufacturers such as Nissan have announced intentions to start producing electric or partly electric cars in the next 12 months.
In Amports, Coda gets a partner with experience in assembly that can meet its timeline. Amports typically takes cars from the port and readies them for delivery to dealerships, handling installation of accessories, detailing, quality inspections and other services.
Automotive analyst Bruce Harrison of Waltham, Mass.-based IHS Global Insight said automotive companies regularly contract with third parties to handle such final assembly work. Amports' Benicia facility does work for General Motors, Ford and Toyota.
"This activity is quite common – it's been used for years and years," said Harrison. "It's usually used to install market-specific accessories."
Coda would like to deliver 14,000 of the cars, called the Coda Sedan, by the end of next year. In fact, that aggressive target was the reason Coda has backed away from locating the final assembly plant in Oxnard. Beanum said there were infrastructure concerns at the facility under consideration in Oxnard.
"The Oxnard facility had limited infrastructure capabilities to provide 14,000 vehicles," Beanum said.
The Coda Sedan features traditional styling and includes standard features such as six airbags and an iPod dock. It will have an electronically limited top speed of 80 miles per hour and take more than 10 seconds to reach 60 miles per hour, slower than a similar gasoline-powered sedan.
Though final pricing has not been released, company officials have said the car could have a $45,000 sticker price, which after state and federal subsidies, could come down to the low $30,000s. The company plans to offer test drives next month and begin delivering cars to customers in December.
Chief Executive Kevin Czinger said that Coda still hopes to one day set up a final assembly facility in Los Angeles County and is looking at the possibility of completely assembling its vehicles in the United States, possibly at a plant in California.
"We are trying to support our local economy and community as good, local citizens," said Czinger, who declined to discuss the company's decision on the location of the final assembly plant.
However, one industry veteran said that opening a Benicia plant would make it far less likely that a plant will be opened in Los Angeles County.
"I'm sure they would want to keep their options open. Having that one plant in Northern California may create some momentum (to stay there)," said John Boesel, chief executive of Calstart, a Pasadena non-profit dedicated to clean transportation technologies.
He said that if Coda is successful, suppliers could locate near the Benicia plant making it impractical and uneconomical to move the plant or open a second one in Southern California.
Nancy Sidhu, chief economist of the Los Angeles County Economic Development Corp., said Coda's decision shows how difficult it will be for Los Angeles or any other region to establish itself as a hub of the green auto industry.
"It's going to take more than what we've seen so far to have that kind of an industry cluster," she said. "I know that a number of companies are looking and a number of parts of the entire U.S. are in the hunt. There is plenty of competition."
For reprint and licensing requests for this article, CLICK HERE.