Missing Ingredient on Seventh Street
Downtown boosters look to add retail to street's dining scene.
Monday, October 25, 2010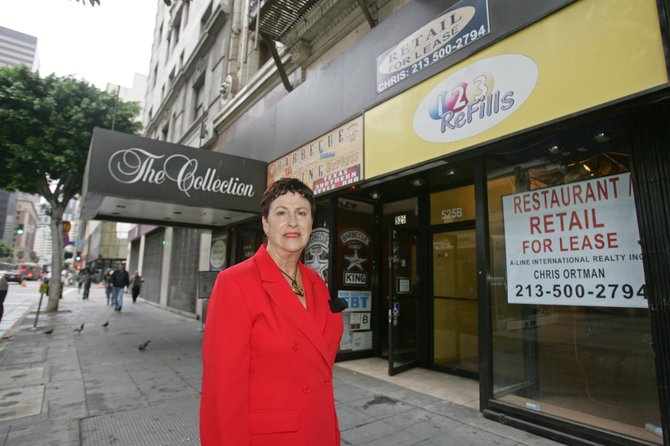 The trendy restaurants and bars that have popped up along Seventh Street in downtown Los Angeles have been drawing crowds of hipsters and young professionals.
So what's preventing this strip from turning into the Third Street Promenade of downtown, a destination for Angelenos and tourists alike? Not enough retail, downtown boosters complain.
Looking to capitalize on the phenomenal success of eateries such as Bottega Louie — a 10,000-square-foot Italian eatery at Seventh and Grand Avenue – business leaders are trying to lure stores that could complete the rebirth of the nearly one-mile stretch of Seventh from Figueroa to Main streets into a thriving corridor filled with shopping and dining businesses – and crowds spending money.
The Downtown Center Business Improvement District, a coalition of 1,200 area property owners, has begun recruiting distinctive retailers in hopes of getting clothing and shoe stores, booksellers and gift shops to open along Seventh. And they're not just targeting national chains.
"If we try to emulate what you can find on the Westside or the Valley, then there is no reason for people to come downtown," said Carol Schatz, president and chief executive of the Downtown Center BID. "But there is a reason for people to come downtown for unusual and eclectic kind of retail, iconic and eclectic retail that you can't find in another neighborhood."
Business and property owners in the area generally support the improvement district's efforts. Some downtowners, though, think the process will occur organically.
"I think the catalyst will be more successful restaurants creating more synergy and more of a compelling reason to come down to Seventh Street and party," said Mark Tarczynski, a broker with CB Richard Ellis Inc. who specializes in the downtown market. "And all of a sudden retailers will say, 'There's life down there.'"
Schatz recognizes that landlords looking for tenants aren't going to wait forever, and that property owners might want to sign up a fast-food place rather than continue losing money on vacant storefronts.
"We are trying to educate our property owners that perhaps there is a better use, and we help to recruit it," she said. "But all we can do is suggest. Ultimately it's a property owner's right, and they are going to do whatever they are going do."
Ups and downs
Major department stores such as Broadway, Robinson Co. and Bullock's once lined Seventh, but closed over the years as the neighborhood declined. In the past few years, Seventh from Figueroa east to Olive Street has turned into a "restaurant row" with eateries such as the high-profile sushi spot Sugarfish, which launched earlier this month. But the blocks between Olive and Main — which include a portion of the Jewelry District — became grittier and are dotted with establishments such as a check-cashing shops and discount retailer Big Lots. (Average rental rates along Seventh range from $4 a square foot a month near Figueroa and drop by 50 percent to $2 a square foot east toward Main.)
Renewal should come easily, said Ted Slaught, a broker at Charles Dunn Co. who specializes in the downtown L.A. market. He said Old Town Pasadena and downtown Santa Monica were in worse condition than Seventh before they became popular shopping districts.
"Rundown and gritty is not the issue," Slaught said. The challenge, he believes, is that there aren't a lot of empty spaces to fill on Seventh. Plans also include adding retailers in empty spaces nearby on Spring and Main streets between Seventh and Fourth streets.
Before the Downtown Center BID began its recruitment efforts, the organization commissioned a study by San Marino-based retail and manufacturing consulting firm Sperling & Hileman Group LLC.
The study, dubbed the Downtown Los Angeles Retail Strategy, was completed in June and includes an analysis of the strengths and weaknesses of the street, and recommendations on the kind of retailers that need to be added to make the street a shopping destination.
Among the strengths are: Seventh has generated buzz thanks to the restaurant openings, and it offers historic buildings and the Jewelry Mart. Weaknesses include cluttered storefronts, inconsistent signs, and lack of trees and lighting.
Schatz said retailers have already responded favorably to the BID's recruitment efforts. No one's signed a lease yet, but a "national brand" is actively considering a Seventh Street site.
"We are getting interest and people are circling," she said.
The focus is getting retailers to lease ground-floor spaces that currently sit vacant, including several empty storefronts on the first floor of the former Robinson department store at 600 W. Seventh St. where Sugarfish is located.
As attempts continue to turn Seventh back into the lively shopping district it once was, property owners along the street are doing their part to make sure that it's an attractive option. For example, major renovations are planned for the Seventh+Fig plaza, and brokers hope to sign tenants for vacant space once occupied by Macy's and Bullock's.
"What's going to end up happening is Seventh Street will become a dining and entertainment street – a restaurant row if you will – and people will want to be on Seventh Street," said Tarczynski of CB Richard Ellis. "The same thing happened to the Third Street Promenade."
For reprint and licensing requests for this article, CLICK HERE.