Clay Lacy: Air-Born
INTERVIEW: Kansas native Clay Lacy's childhood passion for planes and flying landed him atop his own charter jet company and led to work doing 'photo flights' for Hollywood productions.
Monday, October 25, 2010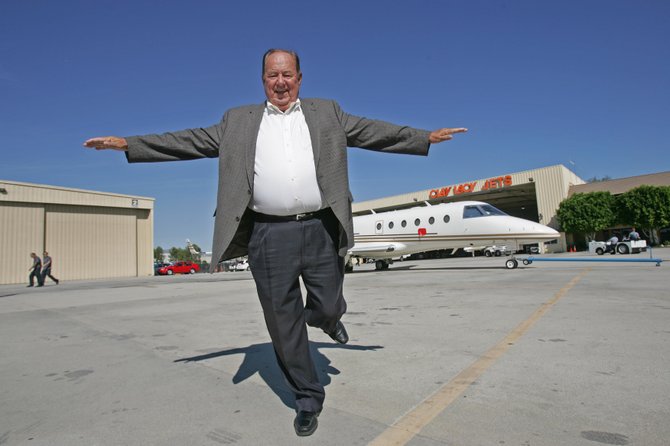 Clay Lacy has been in aviation for more than 60 years. When he was a boy in Wichita, Kan., his father fell ill with tuberculosis; the sanitarium was next to an airport and Lacy grew fascinated with the planes he'd see when waiting in the car while his mom visited. In his teens, Lacy worked at an airport in exchange for flying lessons and earned his pilot's license at 16. He moved to California in 1952 at 19 to work as a pilot for United Airlines. He started private charter company Clay Lacy Aviation at Van Nuys Airport in 1968 while he continued flying for United. At his charter company, Lacy built a clientele of Hollywood stars and prominent local business people. Success allowed him to purchase three planes within his first few years. He's also done a lot of work on "photo flights" – plane trips to capture images for movies – including scenes for the famous "Top Gun" film. He set a speed record for flying around the world, averaging more than 623 miles per hour. At 78, Lacy's still involved in running the business, although he finds time to attend aviation conventions – one of his favorite things to do. Lacy, who hasn't lost his Kansas twang, sat down with the Business Journal at his Van Nuys Airport office to talk about how his grandmother nurtured his passion for planes, his friendship with entertainer Danny Kaye and the best deal he ever got on a plane.
Question: How did you get interested in airplanes?
Answer: My dad contracted tuberculosis when I was quite young. He was in a tuberculosis sanitarium in those days and it was right out by the airport. I couldn't go and see him because I was too young to go in there. So my mother would go there on Saturdays and Sundays, and she would leave me in the car and go out on the porch and sit there and talk with him. And I would watch the airplanes. When we would leave, my mother would drive me over to the airport to see the planes.
Your father didn't survive the illness.
My dad died when I was 7.
So was your mother an influential person in your life?
Not really, but my grandmother was. My grandmother was a very progressive thinker. I think she was the first woman in Kansas to have a driver's license. And she had the airport on the farm so I could learn to fly.
For reprint and licensing requests for this article, CLICK HERE.
Prev Next