Tall Doll Brawl
Disney's Princesses take on Mattel's American Girl
Monday, October 18, 2010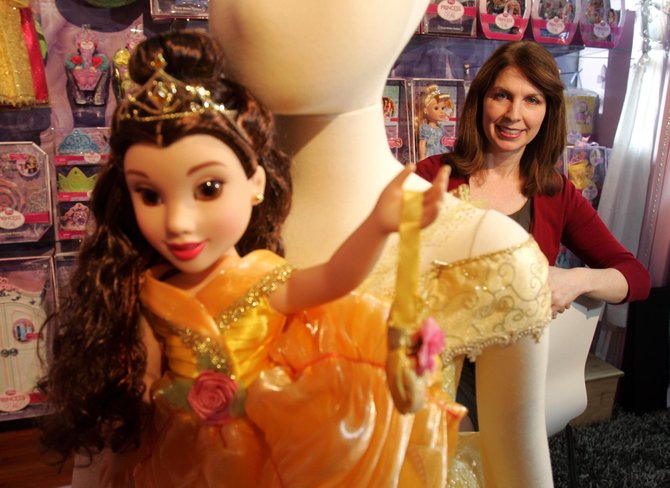 In what might be called a fight of the tall dolls, large versions of Disney's Princess dolls are starting to compete with Mattel's American Girl.
The Walt Disney Co. has teamed up with Jakks Pacific Inc., and they are now introducing 18-inch-tall versions of Disney's Princess dolls.
Traditional so-called fashion dolls, such as Barbie and Bratz, are 11 inches high and have long been the standard size. But now that the 18-inch-high American Girl dolls have proven successful, several toymakers have introduced their version of tall dolls.
However, the new Disney-Jakks dolls may be the most formidable challenge to the reign of American Girl. That's because they spring from Disney's existing Princess brand, which is a grouping of familiar big-screen Disney princesses including Belle from "Beauty and the Beast," Cinderella, Aurora from "Sleeping Beauty," Ariel from "Little Mermaid" and Tiana from "Princess and the Frog." (The Princess line already includes 11-inch fashion dolls, which ironically are made by Mattel Inc.)
"American Girl has basically been the category, and any time there's just one doll in the category, there is an opportunity for a second one," said Jim Silver, editor-in-chief of online toy industry publication TimetoPlayMag.com. "Disney Princess has been tremendously popular since they grouped all the princesses together, and doing a higher-end doll that would be more of a friend to young girls is a tremendous opportunity."
The battle of the tall dolls is centered in Los Angeles County since all the companies – Disney in Burbank, Jakks Pacific in Malibu and Mattel in El Segundo – are based here.

Disney Consumer Products, the business unit of the Walt Disney Co., teamed up with Jakks to create the new line, called Princess & Me.
The new dolls are made to appeal to a slightly older girl than the Disney Princess fashion dolls and are designed to be a make-believe friend in addition to a simple plaything. The American Girl dolls also are friendship-type dolls. They come with outfits based on storylines from both historical periods and contemporary times.
American Girl dolls sell for $95. Accessories are also available. The Princess dolls are $49.99. The dolls are dressed in a gown, but accessories include sleepwear such as matching robes, nightgowns and slippers for $19.99, bedroom furniture and life-size ball gowns so girls can dress as their princess.
Princess products became exclusively available at Toys "R" Us last month, and select Disney stores are set to begin carrying the line in the coming months.
"We looked out there at the large doll market and have been impressed with what brands like American Girl have been able to do," said Chris Heatherly, general manager and vice president of toys for Disney Consumer Products North America.
"It's not just about buying dolls, but the whole experience of buying clothes and furniture for your doll. And that's the type of play that we wanted to see in the Princess brand. And we think that Princess & Me can offer a different experience than American Girl and other large doll brands that are real-world scenarios. Princess owns fantasy."
Doll brawl
While the American Girl line leads the 18-inch-doll category – and had $463 million in sales last year – other toymakers are looking to duplicate its success.
Toys "R" Us debuted a line of private-label dolls called Journey Girls last month, which will remain on sale despite the arrival of Princess & Me. New York doll maker Madame Alexander also introduced a line called Favorite Friends last year.
And Mattel rival MGA Entertainment Inc. of Van Nuys last year launched its line of 18-inch dolls, called Best Friends Club Ink, which sell for $39.99. The line features five dolls that are dressed in fashionable clothes, come with journals and have storylines that "help girls deal with real life challenges," according to the company's website. There's also a book series featuring doll characters.
Isaac Larian, chief executive at MGA, said he wanted to create a line of 18-inch dolls that were more affordable than American Girl.
"Our tagline for this line is, 'Your best friend should not cost you a fortune,'" Larian said.
Larian expects Princess & Me to be a formidable challenge to Best Friends, but he welcomes more entrants into the category.
"The 18-inch doll has been a great play pattern for girls for a long time and American Girl had a monopoly on that," Larian said. "And I think that it's good for the business and the consumer that there's competition, whether it be from Jakks or MGA or anyone else. Competition is good."
Julie Parks, public relations director at American Girl, agrees. In an e-mail statement to the Business Journal, Park said shoppers will benefit from any competition.
"We're extremely proud to have created the 18-inch doll genre and welcome additions to the market if the ultimate goal serves girls in a positive way," Parks said.
But toy industry analysts said toymakers face some consumer resistance in successfully launching a line of 18-inch dolls. That's because it's tough to get parents to pay a premium for a larger doll when they can purchase a less expensive, 11-inch fashion doll. What's more, young girls are more likely to want a doll that they are familiar with, such as Barbie or Bratz.
"If there isn't a strong existing story line behind it, it's hard for the manufacturer to create that story line," said Sean McGowan, a senior analyst at New York investment banking firm Needham & Co. LLC who follows Mattel and Jakks.
Disney and Jakks have an advantage in that respect; McGowan pointed out that young girls and their moms are already familiar with the princess characters and therefore they're more likely to buy Princess & Me dolls.
"You need a very strong piece of intellectual property behind it to make it a real blow-out hit," McGowan said. "And Disney may have that."
McGowan estimates that Princess & Me will do about $35 million in sales from last month's release until the end of the year.
Collaborative effort
Disney created its Princess brand in 2000 as an extensive collection of 11-inch dolls, accessories and other merchandise, such as video games, based on the characters. The company claims $4 billion in worldwide sales.
Jakks executives last year pitched Disney on the idea of developing a line of 18-inch Princess dolls. Jakks convinced the Mouse House the concept would be successful.
"It's like taking your princess into your world," said Jennifer Caveza, vice president of girls marketing at Jakks. "Imagine having a pajama party with your princess friend, or you can throw a Princess & Me party or take your doll out with you to your ballet class. It really is a friendship positioning."
Under the partnership, Disney is licensing the Disney Princess name and characters to Jakks. Jakks is handling the manufacturing of the dolls and matching accessories, and the company also is overseeing the distribution and marketing of the line.
Disney's Heatherly said the company chose to work with Jakks because it has successfully developed other large doll lines through its Tollytots division, which, for example, makes life-size baby dolls that come with Graco strollers and other real-life baby items that allow young girls to play as if they are mothers to the babies.
Disney and Jakks worked together to develop storylines for the Princess & Me dolls that would resonate well with girls from 5 to 8. Princess & Me dolls are younger versions of each princess – not exact replicas – so that they look similar in age to the girls who are playing with them.
"It's a real breakthrough for Disney and Jakks," said Chris Byrne, content director of TimetoPlayMag.com. "This is an entire, well thought-out integrated play pattern that's inspired by these characters as if you were to write Belle's next chapter. That's the essence of the play."
QVC, a leading online and TV home-shopping company, featured the Princess & Me line during its annual "Christmas in July Sale" event. The products sold out, although Jakks declined to provide financial details.
"It exceeded all expectations," Caveza said. "It sold through the initial round of inventory and started pre-selling for the following shipment."
Meanwhile, Toys "R" Us pursued Disney and Jakks to serve as the exclusive retailer of the Princess & Me line. That kind of deal is a growing trend with the toy industry. The retail toy giant, which offers 52 feet of Princess & Me product in its stores including the desired end-of-aisle displays, was set to stage a Princess & Me royal party at many of its stores nationwide on Oct. 16.
"We identified this 18-inch larger scale as something that we wanted to go after," said Lisa Harnisch, vice president and divisional merchandise manager for Toys "R" Us. "And we saw the product in Jakks' showroom and thought it was a great product."
The relationship among Disney, Jakks and Toys "R" Us means that the toy retailer won't have to compete with others such as Target and Wal-Mart on price. And Princess & Me products will get premium display space in addition to higher-profile marketing campaigns.
Disney and Jakks declined to say how long Toys "R" Us will remain the exclusive retailer.
But as Princess & Me gains market share, Disney and Jakks are planning to roll out a website in the coming months where girls can participate in online activities related to the dolls. And Jakks has already developed a lineup for fall of next year that includes more clothing and accessories.
"This is a major initiative for Disney," said Silver of TimetoPlayMag.com. "When you think of Disney, you do think of Disney princesses. It's who kids go to the park and line up to see and take pictures with and get their autographs."
For reprint and licensing requests for this article, CLICK HERE.