Tall Doll Brawl
Disney's Princesses take on Mattel's American Girl
Monday, October 18, 2010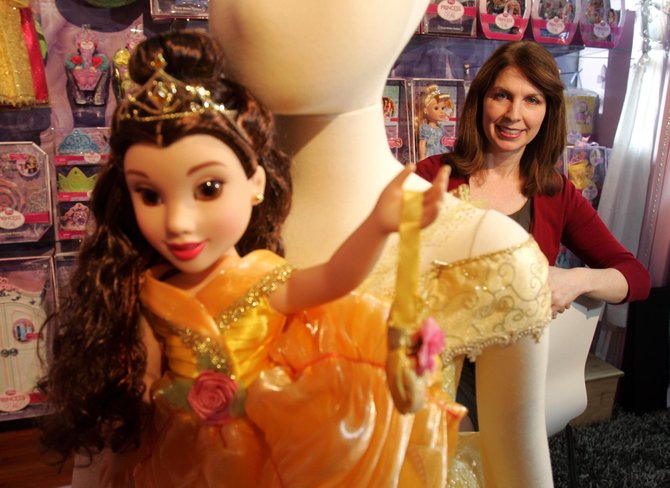 In what might be called a fight of the tall dolls, large versions of Disney's Princess dolls are starting to compete with Mattel's American Girl.
The Walt Disney Co. has teamed up with Jakks Pacific Inc., and they are now introducing 18-inch-tall versions of Disney's Princess dolls.
Traditional so-called fashion dolls, such as Barbie and Bratz, are 11 inches high and have long been the standard size. But now that the 18-inch-high American Girl dolls have proven successful, several toymakers have introduced their version of tall dolls.
However, the new Disney-Jakks dolls may be the most formidable challenge to the reign of American Girl. That's because they spring from Disney's existing Princess brand, which is a grouping of familiar big-screen Disney princesses including Belle from "Beauty and the Beast," Cinderella, Aurora from "Sleeping Beauty," Ariel from "Little Mermaid" and Tiana from "Princess and the Frog." (The Princess line already includes 11-inch fashion dolls, which ironically are made by Mattel Inc.)
"American Girl has basically been the category, and any time there's just one doll in the category, there is an opportunity for a second one," said Jim Silver, editor-in-chief of online toy industry publication TimetoPlayMag.com. "Disney Princess has been tremendously popular since they grouped all the princesses together, and doing a higher-end doll that would be more of a friend to young girls is a tremendous opportunity."
The battle of the tall dolls is centered in Los Angeles County since all the companies – Disney in Burbank, Jakks Pacific in Malibu and Mattel in El Segundo – are based here.

Disney Consumer Products, the business unit of the Walt Disney Co., teamed up with Jakks to create the new line, called Princess & Me.
The new dolls are made to appeal to a slightly older girl than the Disney Princess fashion dolls and are designed to be a make-believe friend in addition to a simple plaything. The American Girl dolls also are friendship-type dolls. They come with outfits based on storylines from both historical periods and contemporary times.
American Girl dolls sell for $95. Accessories are also available. The Princess dolls are $49.99. The dolls are dressed in a gown, but accessories include sleepwear such as matching robes, nightgowns and slippers for $19.99, bedroom furniture and life-size ball gowns so girls can dress as their princess.
Princess products became exclusively available at Toys "R" Us last month, and select Disney stores are set to begin carrying the line in the coming months.
For reprint and licensing requests for this article, CLICK HERE.
Prev Next