Out of a Deep Freeze
L.A. County health permits and design issues stalled Robert Herscu's drive for a self-serve yogurt truck.
Monday, October 4, 2010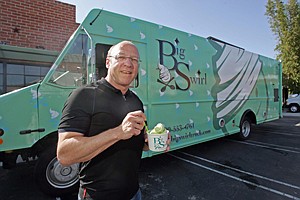 With so many food trucks roaming L.A.'s streets these days, you'd think it'd be easy enough to start one up.
But Robert Herscu can tell you how it takes a lot more than eye-catching graphics, a popular dish and a tankful of gas to hit the road.
In fact, the Century City entrepreneur went through so much trouble trying to launch a self-serve frozen yogurt truck that he had second thoughts about the endeavor.
Herscu spent nine months figuring out how to install five self-serve yogurt machines on the exterior of his truck and then going back and forth with Los Angeles County's Department of Public Health for an operating permit.
"If I would have known what it took to do this, I would have questioned if I was going to do it," said Herscu, who owns a small frozen yogurt chain called Big Swirl. "But we had a concept, so I persisted and we ended up getting through. But it was a lot of work."
The Big Swirl truck, painted in the same sea-foam green that highlights his chain of stores in Hesperia; El Centro; and Yuma, Ariz., finally opened for business in June. Now, Herscu's challenge is competing with the glut of brick-and-mortar frozen yogurt shops across the county. It's a $6.1 billion industry nationwide, but large competitors such as Pinkberry and Yogurtland are opening stores at a rapid clip.
Herscu recognizes that the competition among frozen yogurt establishments is fierce, but he believes the Big Swirl truck offers L.A. yogurt lovers something different: an updated version of the classic ice-cream truck.
"I saw a niche in the market because the evolution of the ice-cream truck has never really changed over the last 40 or 50 years," Herscu said. "So I thought not only can you change the market for this, but you can make it healthy. And that's why ours is natural products together with nondairy-based yogurt."
One industry analyst believes Herscu's biggest challenges likely lie ahead of him. Josh Hiller, co-founder of L.A. food truck consulting firm RoadStoves, said it may be difficult for Herscu to sell Angelenos on a product they can buy from one of many frozen yogurt shops in town.
"With a food truck, you have a product that people can't find anywhere else," Hiller said. "The odds are definitely stacked against them."
Risky business
An Australian native who moved to the United States in the early 1990s, Herscu has taken a circuitous route to his current business. He first worked as an investment banker in New York and then briefly returned to Australia to help run his family's development company. He moved back to the United States and started a company in 1992 that operated candy and soda vending machines in malls.
For reprint and licensing requests for this article, CLICK HERE.
Prev Next