Kevin Czinger: Driving Force
INTERVIEW: Former Yale football standout Kevin Czinger looks to tackle the U.S. market as chief exec of electric-car maker Coda Automotive.
Monday, October 4, 2010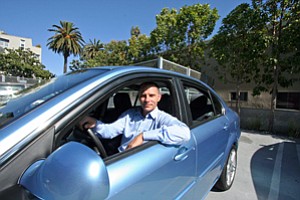 Kevin Czinger might just be the toughest executive in L.A.'s business world. The chief executive of startup Santa Monica electric-car maker Coda Automotive is something of a legend at his alma mater, Yale University, where he was a star defensive player for the football team. At just 185 pounds, Czinger has been described by Hall of Fame coach Carm Cozza as "the toughest kid to play football at Yale" in his three decades of coaching. Rather than shoot for the pros, however, Czinger, 51, decided his future was in the business world. After getting a law degree and briefly practicing the profession, he went to Wall Street, where he worked on international business deals at Goldman Sachs. He later joined a Silicon Valley venture capital firm before taking a job three years ago as chief executive of Coda, a spinoff from Miles Electric Vehicles, which imports small fleet vehicles from China. Czinger spends a good portion of his time these days in China, where Coda is working with partners to bring the first all-electric sedan that can go 100 miles on a single charge to the U.S. market by the end of the year. A hot rodder in his youth who now rides a bike to work, Czinger recently sat down with the Business Journal in Coda's Santa Monica offices to discuss his love of cars, his brief but distinguished football career and why Coda has a chance against the big automakers.
Question: Have you always been a car guy?
Answer: Sure. As a kid I'd draw all these cars with crayons or pencils. I love fast cars. I love building stuff. I had two older brothers. We repaired cars, built cars, raced cars. Twice we had a car that won the spring nationals.
The spring nationals?
The car we legitimately drag-raced was a '67 Barracuda. It was a 440 wedge automatic. It raced in super stock automatic, which we would race at primarily Dragway 42 in Ohio. We had a street-racing car, which was a '66 Chevelle with a big block motor that was set back and had all the interior sound deadening ripped out of it. That was a car that we could drive out and drive to the Manners Big Boy (restaurant). There was one where everybody that was going to race would go to on Friday and Saturday nights. You'd bet $50 or $100 or so.
For reprint and licensing requests for this article, CLICK HERE.
Prev Next