Cotton Proves Tough Squeeze
Clothing makers absorb soaring costs – for now.
Monday, October 4, 2010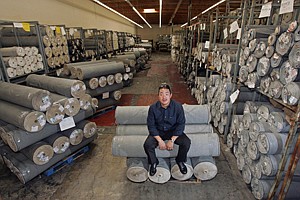 "The fabric of our lives" has suddenly become very uncomfortable for L.A.'s apparel manufacturers. They find themselves squeezed between the soaring cost of cotton and recessionary pressure to keep prices low.
Cotton futures prices have exceeded $1 per pound for the first time since 1995 amid supply concerns. That's up 33 percent from three months ago. As a result, the cost of producing cotton-intensive items such as T-shirts and jeans are up by as much as 25 percent. And because they can't raise prices due to the economy, apparel makers are absorbing much of the rising costs.
It's a particular problem for Los Angeles because the local industry is largely populated by companies that make denim, T-shirts and other cotton-based apparel.
"For the L.A. market, it hits much harder," said Jeremy Rubman, who specializes in retail strategies at New York consulting firm Kurt Salmon Associates. "Their costs are going up significantly."
Most companies said the money is coming straight off their margins. In an effort to mitigate the damage, some are stocking up on cotton yarn and fabric in anticipation of further increases. Others are negotiating with subcontractors to drive down the costs of knitting, sewing and stone-washing.
American Apparel, which produces about 1 million pieces of clothing weekly, including basic T-shirts and zip-up sweatshirts in addition to trendier items such as high-waisted pleated pants, has seen production costs jump by about $250,000 each week over the past few months.
It also does significant wholesale sales to fashion designers, and the company has hiked its prices to them by 3 percent to 5 percent.
Chief Executive Dov Charney is tracking cotton prices and consumer demand to determine whether he's going to raise retail prices as well.
"We did raise our wholesale prices a little bit and it seems to be sticking," Charney said. "But on retail, we haven't done it. Not yet."
The price of cotton, the main raw material in apparel manufacturing, rose to a three-month high last month for several reasons.
• China, the No. 1 cotton producer, suffered a planting delay due to bad weather.
• India, No. 2, stopped exporting on fears of shortages.
• In the United States, the No. 3 producer, the supply dwindled as many farmers moved to more lucrative crops such as peanuts.
• Pakistan, No. 4, was hit by massive flooding that destroyed much of this year's crop.
"We are well over $1 per pound because the market is scared that there is still not enough cotton to go around based on current demand projections," said Keith Brown, president of commodity futures trading firm Keith L. Brown & Co. in Moultrie, Ga. "Whenever you have a finite supply of a commodity, the market will ration that supply through a higher price."
Brown expects the price of cotton to continue to rise unless there's a double-dip recession, or farmers worldwide respond to the rallying price by stepping up production.
"We will probably go higher in this market and will find that peak or pinnacle," Brown said. "And then we will have a pretty sizable correction. But I think prices will stay high for a while."
Rubman of Kurt Salmon expects that retailers won't raise prices for the holiday season, but will rather not discount as deeply. After the holidays, however, retailers may be willing to raise prices by 5 percent, which could help manufacturers make up some of the cost.
Yarn to garment
L.A.'s apparel manufacturers and the companies that supply them with everything from yarn to pocket linings are watching the ICE Futures market, the U.S benchmark for cotton contracts, to plan how they're going to deal with the increase in the shorter term.
Brian Weitman, chief executive of downtown L.A.'s Stc-Qst LLC, a major supplier of fabric and some finished components such as pockets to local apparel makers, has seen his cotton costs rise by 30 percent in six months. He hasn't passed on the full cost to some clients, but he's raised the price of his 100 percent cotton pocket linings from $1 a yard to $1.30.
He's selling his 100 percent cotton pocket linings pegged to cotton prices of $1.30 a yard instead of $1 a yard.
"If I kept my old price, it would be below my costs," Weitman said. "At some point, it doesn't make sense to not raise the price."
But he said he risks losing clients to competitors that aren't raising their prices. So, he's been negotiating longer-term contracts with his cotton suppliers and he's also stocking up on inventory in anticipation that the price will go higher – a move he acknowledged could backfire if cotton prices plummet.
Among Weitman's clients for pocket linings are major denim houses, including premium denim maker Hudson Jeans in Commerce.
Hudson relies heavily on cotton-based fabrics and components such as pocket linings in manufacturing its 1 million pairs of jeans each year, 600,000 of which are made during the second half of the year with an eye on back-to-school and holiday sales. The company's production costs, including fabric, have increased by 15 percent to 20 percent recently.
Peter Kim, founder and chief executive of Hudson, declined to provide examples of hard production costs and wholesale prices for competitive reasons. But he said the company's profit margins are being squeezed because he's not raising his wholesale prices. He's also been asking the factories that produce his jeans and the wash houses that give his jeans their faded or distressed look to lower subcontracting charges.
"We do everything we can not to pass it on," Kim said. "In the end, we are absorbing some of it in our margins. Or, we are partnering with others to keep the costs down. We communicate that we aren't looking to raise prices, so help us out."
Hudson's jeans are sold at major department stores such as Bloomingdale's and Nordstrom, retailing for $150 to $220.
The higher price of cotton may result in an increase of only a few cents or perhaps $1 per item, but for many manufacturers, that could represent a fair chunk of their profits.
Isle Metchek, executive director of the California Fashion Association, said the increased cotton prices aren't likely to push many companies underwater. However, she noted that companies must be more careful. For example, they are extra cautious about the items they ship to retailers because they don't want be hit by markdowns and returned merchandise.
"They will look at what they are shipping 10 times before they ship it and insist on well-made merchandise," Metchek said. "The tighter you are squeezed, the more careful you need to become."
Kim acknowledged that the price increases aren't going to bankrupt him. However, it's still a significant issue for his business.
"It's going to be a big impact," Kim said. "We are being proactive and making all the adjustments and plans, and making sure our short-term strategies are in place to get through the current times."
Like other clothing companies, Santa Monica apparel maker Hard Tail Forever, which sells casual sportswear garments including leggings, sweatshirts and tank tops made from cotton-blended yarn, has seen its fabric costs increase by 15 percent to 20 percent.
Dick Cantrell, owner of Hard Tail, said the cost of fabric has gone up from $7 to $8.50 per yard. (A tank top doesn't require much fabric, but a full skirt might take a few yards to make.) In a normal year, the increase would be 10 percent to 15 cents per yard.
"I argue every time I call my knitters to place an order on a particular fabric and they say, 'We have to raise the prices,' " Cantrell said. "The knitters are actually absorbing part of it, but they have to pass on part of it. And I can't pass it on to my consumer unless I have a brand new style. I have to absorb it all myself because I can't raise my prices in an economic downturn like it is now."
Looking forward, another element adds uncertainty: The U.S. House of Representatives last week passed legislation that could be used to punish China, the No. 1 cotton producer, on trade policies, and the Chinese would likely retaliate.
While local apparel makers are navigating the rising cotton prices in various ways, they all acknowledge it's a difficult situation.
"Everyone is painted into a corner," said Weitman of Stc-Qst. "And nobody knows what the answer is."
For reprint and licensing requests for this article, CLICK HERE.