Rescue Mission in West Hollywood
Pet stores must find other means of revenue after city restricts pet sales to shelter animals.
Monday, November 15, 2010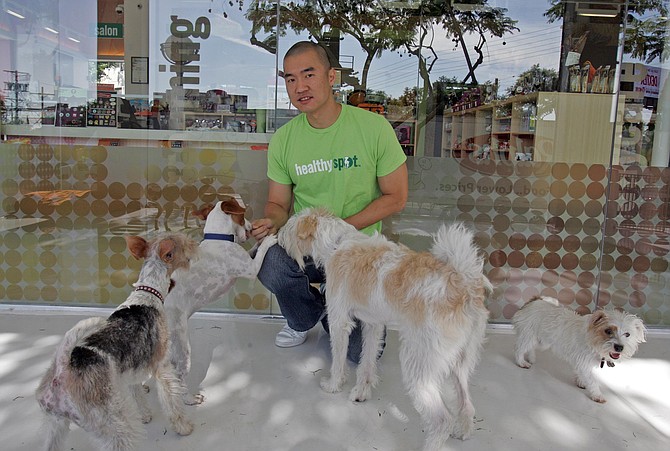 In West Hollywood today, buying a collar for a dog is easy. Buying a dog for the collar, however, is difficult.
That's because it's illegal for the few pet shops within city limits to sell anything but rescued dogs and cats. Stores can sell canines and felines only if they're from shelters.
As a result of the ban, which recently went into effect, some pet shops are struggling to survive.
Elite Animals, which was the original target of activists who pushed for the law, is only open sporadically these days. A ripple effect has even slowed business at the Orange Bone on Melrose Avenue – even though it's two blocks outside West Hollywood city limits.
Orange Bone has stopped selling pure-bred puppies, which the shop used to retail for $1,200 to $3,000. Instead, owner Doug Kim said the shop buys shelter dogs for $120 to $150 and sells them for $500. He's trying to make up for pet sale losses with more sales of pet food and accessories, as well as dog grooming services.
But Kim said the store's revenue has dropped 60 percent to about $10,000 a month.
"The grooming is keeping us in business, but without the purebreds something's got to give," Kim said. "I'm not going to lie; I still have the envelope for this month's rent, which I can't send because it's short."
Healthyspot, originally founded in Santa Monica, opened a second location in West Hollywood after this year's dog sales ban, which was adopted in February but gave store owners until September to comply. According to owner Andrew Kim (no relation to Doug Kim), the shop is now thriving by offering doggie day care and supplies.
"We moved here because we knew that residents of West Hollywood view their pets as family," he said. "We wanted to help pave the way by showing that one can run a successful business without selling puppies. We are the model of a pet shop that doesn't sell pets."
The ban has even created competition for pet stores outside the city that specialize in accessories and services.
Felix Prestin, owner of Hollywood Hounds on Sunset Boulevard near West Hollywood, said he's never sold dogs, only accessories, grooming and day care. Lately, however, Prestin said he's felt increased competition from other businesses forced by public pressure or the West Hollywood ordinance to do what he's done.
'Improper decision'
"We're all affected," said Prestin, adding that his sales are down about 40 percent. He believes increased competition is part of the cause. "Why do they have to force the dog sellers out? From a business perspective, that's an improper decision."
Animal rights organizations that pushed for the ban hope it will spread.
"We'd like to see this go nationwide," said Ed Buck, a West Hollywood resident and director of Internet-based Social Compassion in Legislation, one of several animal rights organizations that lobbied the City Council to ban pet sales.
The ordinance was the culmination of a three-year effort to eliminate the market for "puppy mills" by Buck and other activists, including Carole Davis, West Coast director of the Companion Animal Protection Society. Buck said the mills, often in the Midwest, are run by unscrupulous breeders who mistreat cats and dogs raised for profit. The breeders provide tens of thousands of pets for $400 to $600 apiece to brokers and pet shops that resell them for an average of $1,500.
Southern California, according to Buck, is the country's second largest consumer of such specially bred animals. New York is first.
"In a broad sense this is the factory farming of dogs," he said. "They keep them stacked on top of each other in wire mesh cages breeding every six months. They are essentially producing dogs as fast as they can without regard to genetic defect or socialization."
Several organizations including Buck's began staging protests at L.A.-area pet shops in 2007. They pressured as many as 20 stores to either stop dealing with puppy mills or close. Then they came across Elite Animals in West Hollywood, which, according to Buck, "just wouldn't budge."
So activists approached city officials. West Hollywood had a history of animal-friendly legislation; in 2002, its leaders had rewritten city code to replace the word "pet" with "companion" and "owner" with "guardian." The next year, the city had become the nation's first to outlaw the declawing of cats. So the activists' argument found sympathetic ears in West Hollywood and the ban was adopted.
Several calls by the Business Journal to Elite Animals were not returned. On a recent weekday afternoon, its doors were locked and no one was present. Signs offered pet grooming on an upcoming Sunday. A neighbor said the shop's owners are "in and out."
Violations of the law – the nation's second after a similar ordinance in South Lake Tahoe – can result in fines from $250 to $850 for the first, second or third offense, and a $1,000 fine and up to six months in jail for the fourth.
Spreading idea
The concept of preventing sales of all but rescued "companions" may be gaining ground. Seven months ago, Hermosa Beach enacted an ordinance similar to West Hollywood's, though the gesture was largely symbolic: The city had no dog- or cat-selling stores. Buck said he and other activists have been talking to L.A. officials about pursuing a ban.
"The fact that we were able to get the law passed in West Hollywood sent a message that it can be done," he said. "I think it will be passed state by state; in my heart I believe it will happen."
Not everyone is as enthusiastic.
One critic is Jack Plunkett, chief executive of Plunkett Research Ltd., a Houston-based retail consultancy firm. He sees West Hollywood's action as unnecessary government intrusion.
"It's an isolated example of local government diving deep into regulating stores," Plunkett said, "like saying that Happy Meals can't contain toys."
West Hollywood Councilman Jeffrey Prang, who authored the legislation, defended its underlying philosophy:
"Animals are not commodities and ought not to be treated as such," he said.
For reprint and licensing requests for this article, CLICK HERE.