Rescue Mission in West Hollywood
Pet stores must find other means of revenue after city restricts pet sales to shelter animals.
Monday, November 15, 2010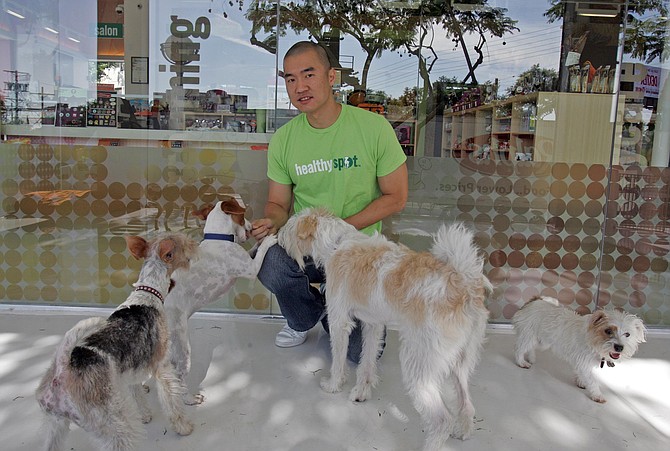 In West Hollywood today, buying a collar for a dog is easy. Buying a dog for the collar, however, is difficult.
That's because it's illegal for the few pet shops within city limits to sell anything but rescued dogs and cats. Stores can sell canines and felines only if they're from shelters.
As a result of the ban, which recently went into effect, some pet shops are struggling to survive.
Elite Animals, which was the original target of activists who pushed for the law, is only open sporadically these days. A ripple effect has even slowed business at the Orange Bone on Melrose Avenue – even though it's two blocks outside West Hollywood city limits.
Orange Bone has stopped selling pure-bred puppies, which the shop used to retail for $1,200 to $3,000. Instead, owner Doug Kim said the shop buys shelter dogs for $120 to $150 and sells them for $500. He's trying to make up for pet sale losses with more sales of pet food and accessories, as well as dog grooming services.
But Kim said the store's revenue has dropped 60 percent to about $10,000 a month.
"The grooming is keeping us in business, but without the purebreds something's got to give," Kim said. "I'm not going to lie; I still have the envelope for this month's rent, which I can't send because it's short."
Healthyspot, originally founded in Santa Monica, opened a second location in West Hollywood after this year's dog sales ban, which was adopted in February but gave store owners until September to comply. According to owner Andrew Kim (no relation to Doug Kim), the shop is now thriving by offering doggie day care and supplies.
"We moved here because we knew that residents of West Hollywood view their pets as family," he said. "We wanted to help pave the way by showing that one can run a successful business without selling puppies. We are the model of a pet shop that doesn't sell pets."
The ban has even created competition for pet stores outside the city that specialize in accessories and services.
Felix Prestin, owner of Hollywood Hounds on Sunset Boulevard near West Hollywood, said he's never sold dogs, only accessories, grooming and day care. Lately, however, Prestin said he's felt increased competition from other businesses forced by public pressure or the West Hollywood ordinance to do what he's done.
'Improper decision'
"We're all affected," said Prestin, adding that his sales are down about 40 percent. He believes increased competition is part of the cause. "Why do they have to force the dog sellers out? From a business perspective, that's an improper decision."
Prev Next
For reprint and licensing requests for this article, CLICK HERE.