Counterfeiters Closer to Home?
Police raid finds suspect jeans at Lynwood site.
Monday, November 8, 2010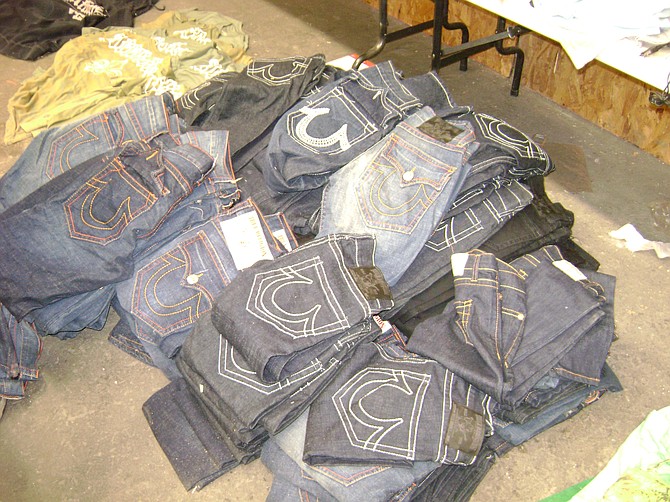 The majority of counterfeit brand-name denim, T-shirts and handbags sold on Santee Alley – downtown L.A.'s hotbed of fake fashions – have been manufactured in China for a decade or longer.
So it was highly unusual when a large apparel facility in Lynwood was busted last month for allegedly making counterfeits. The case has some in the apparel industry suggesting that counterfeit manufacturing has sprung back to life locally.
Amid increased law enforcement at the ports and in downtown Los Angeles, some believe that counterfeiters are moving manufacturing operations onshore: A record number of raids and arrests have swept through L.A.'s counterfeit scene this year. Seizures are up more than 40 percent and arrests in the first 10 months of the year are more than double all of last year's, both at the ports of Los Angeles and Long Beach, and in and around downtown L.A.'s Fashion District.
In response, counterfeiters are inventing more sophisticated ways of outmaneuvering local police, said federal agents and private investigators. Those include importing labels, buttons and material then assembling them here.
"As the feds get more involved and more containers are searched and as they prosecute more people, starting production locally makes some sense," said Kris Buckner, founder of Torrance private investigation firm Investigative Consultants who worked for True Religion Apparel Inc. on investigating the Lynwood factory. "Counterfeiters are smart. They come up with different ways of doing things. They are always one step ahead of us, and we always have to play catch-up with them."
The bust at the Lynwood factory, two nondescript buildings about eight miles from the fashion district, highlights the issue.
That's because Buckner and detectives for the Los Angeles Police Department uncovered a surprisingly large and complex facility packed with sewing, silk-screen, embroidery and heat-transfer machines. The equipment allegedly was being used to pump out thousands of fake True Religion jeans and sweat suits, in addition to what investigators claim were fake Ed Hardy, Lacoste, Nike and Affliction T-shirts and polos.
There are other indications that counterfeiters could be moving more aspects of their manufacturing process onshore.
Sandy Beattie, brand protection manager for Vernon-based True Religion, said the company believes that fake True Religion jeans are being assembled at local factories because customs officials have alerted her that they have seized counterfeit buttons, labels and patches being shipped in small quantities through carriers such as FedEx and DHL. The counterfeit items feature the company's signature image of a Buddha strumming a guitar. It's obvious that the material is destined for counterfeiting.
"There is no need for an individual to have 20,000 labels if they aren't manufacturing the product," Beattie said.
However, the extent of the trend remains debatable. Ilse Metchek, executive director of the California Fashion Association, said it's too costly and labor intensive to set up a major counterfeit manufacturing facility in the L.A. area.
"It's not easy to do counterfeit," Metchek said. "Someone has to be making the labels. So when we are talking about counterfeit, it's not just making the garment pattern. And making it locally cuts into your profits."
For example, a pair of fake True Religion jeans sells for $4.86 in China. By comparison, people at the Lynwood factory said it cost them $18 to $20 to make a pair of jeans, according to Rick Ishitani, supervising detective for the LAPD's antipiracy unit who was involved in the Lynwood raid. A pair of fake True Religion jeans locally sells for $40 to $100 depending on where the pants are sold. The lower prices are for jeans sold at swap meets or out of the trunk of a car; higher prices could be at local boutiques or through people who buy in bulk then resell to friends at so-called jeans parties.
Finding fakes
True Religion executives started thinking that counterfeit jeans were being made locally because the company was getting reports from Buckner that an increasing amount of jeans were sold in Santee Alley. Meanwhile, Buckner also reported that thousands of fake labels were seized locally, leading him to believe that the increase in quantity might be the result of local production. The LAPD then received a tip about the Lynwood facility and contacted Buckner.
LAPD's antipiracy unit then sent an undercover investigator to document the alleged counterfeit manufacturing.
Separately, an undercover investigator for Investigative Consultants purchased True Religion merchandise that was allegedly counterfeit.
Authorities raided the facility with a search warrant Oct. 21, seizing what they said was fake merchandise with a retail value of about $1.3 million and a street value of about $513,000 in addition to the equipment.
At the time, there were seven people working at the facility. One suspect, Nicolas Perez, was arrested. He has pleaded not guilty to counterfeiting a registered trademark. If convicted, he faces up to three years in state prison.
"It was one of the most sophisticated facilities I've seen in several years," Buckner said. "They were making jeans, T-shirts, any type of garment you could want. It was a one-stop shop for anyone in the counterfeiting world that's dealing in clothing."
Ishitani and Buckner, who've been working together for years investigating counterfeit merchandise, said they've shut down significantly smaller counterfeiting facilities in the L.A. area that were making basic items such as T-shirts or operating one embroidery or silk-screen machine. But both said they haven't come across a location comparable to the one in Lynwood in the past decade.
Counterfeit apparel was produced in local facilities before manufacturing moved to China, along with legitimate offshore production. Counterfeiters started importing containers filled with items such as fake designer denim, high-end handbags and name-brand footwear.
Although security concerns after 9/11 led to increased scrutiny at the ports, counterfeit shipping continued. In the past two years, however, local law enforcement organizations and federal agencies have started working together to stop the importation of counterfeit merchandise, working to build cases resulting in arrests and prosecution.
As a result, the number of seizures of fake products and prosecutions of people caught importing and distributing the goods has increased significantly.
U.S. Customs and Border Protection officials made 863 seizures at the customs office that serves the ports of Los Angeles and Long Beach, a 42 percent increase compared with the number of seizures during the same period last year. The LAPD's antipiracy unit served 35 search warrants and made 114 arrests during the period from January to October of this year, compared with 29 search warrants and 46 arrests last year. (About half of the search warrants and arrests were related to apparel, the rest were for DVDs and CDs.)
"I do think there is a correlation between the stepped-up enforcement by Customs and Border Protection and Immigration and Customs Enforcement and what was found in Lynwood," said Bob Barchiesi, president of Washington, D.C.-based non-profit International AntiCounterfeiting Coalition. "People know how to look for different ways to get around the increased enforcement."
What's more, counterfeiters looking to produce merchandise locally have a larger pool of skilled workers to grab from. That's because local manufacturing facilities have been shutting down as clothing companies have slowed production, gone out of business or, as in the case of American Apparel, laid off undocumented workers.
"We do have a skilled work force and a lot of the folks are undocumented," Buckner said. "And a lot of these companies have gone under and created a vacuum of folks who would have worked at legitimate places."
Apparel industry experts said clothing companies are also developing more ways to help detect fakes. For example, companies have been putting holographs on labels or embedding security threads, similar to what's woven into a $100 bill, so investigators can determine whether a garment is real or fake.
"As brands get more successful, they are getting more sophisticated about counterfeit and how to prevent it," Metchek said. "It's costly, but vital."
For reprint and licensing requests for this article, CLICK HERE.